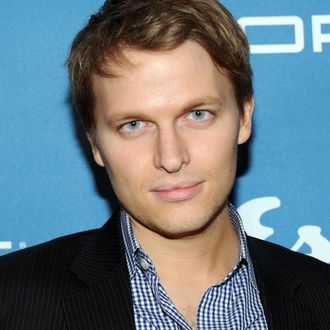 Ronan Farrow
Photo: Jamie McCarthy/Getty Images
The November issue of Vanity Fair has a seemingly scandalous profile of Mia Farrow, in which Farrow says that Frank Sinatra is "possibly" the father of her son Ronan. Until now it seemed Ronan was Farrow's only biological child with Woody Allen. Either way, the human rights activist and A+ Twitter person responded thusly:
In the same article, Allen and Farrow's adopted daughter Dylan maintains the allegations of sexual abuse she made against Allen back in the nineties. "I had to say something. I was seven. I was doing it because I was scared. I wanted it to stop," Dylan tells Vanity Fair. Dylan says that Allen has contacted her twice, including once when she was in college to send her a package of photos of the two of them.
According to her, the accompanying letter read, "I thought you'd want some pictures of us, and I want you to know that I still think of you as my daughter, and my daughters think of you as their sister. Soon-Yi misses you." It was signed "Your father." Dylan wonders to Orth, "How do your daughters think of me as their sister? How does that work?" When asked about the letters, Sheila Riesel, another of Allen's attorneys, called it a "private matter," adding, "This is a man who loves all of his children and should be respected for that."
You can read an entire fascinating and very horrifying account of Allen's alleged sex abuse and eventual marriage to Soon-Yi Previn here, should you so choose.