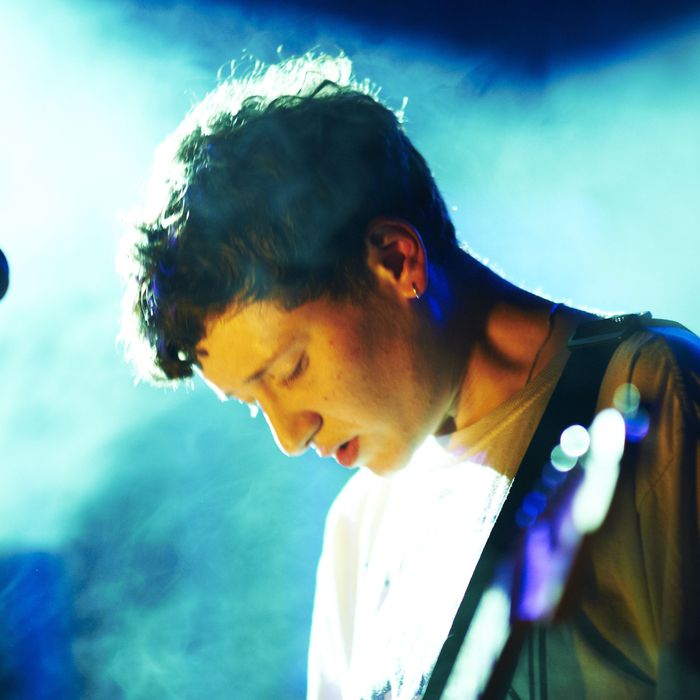 Micachu
Photo: Gary Wolstenholme/2011 Gary Wolstenholme
In 2009, a 21-year-old Englishwoman named Mica Levi released a debut LP, Jewellery, with her band Micachu & the Shapes. The album, co-produced by Levi and the electronica musician Matthew Herbert, was one of those that critics like to call "genre-defying," although that term doesn't do much to capture the exuberant weirdness of Levi's sound. The songs on Jewellery are short, loud, and raggedy, so full of rhythmic bustle that you wonder at times if your headphones are going to burst and spill their innards down your ear canal. A song like "Lips," which clocks in at just 81 seconds, plays like a demented skiffle band, turned loose on some busted old guitars; the beat in "Curly Teeth" sounds like what you'd come up with if you filled a duffel bag with a few dozen cats, a bunch of Casio keyboards, and a drum machine.
Last year, Levi did it again, releasing a second Micachu & the Shapes album, Never, an even more impressive assault. The songs, produced this time entirely by Levi herself, were just as compact as those on Jewellery, but more abrasive and dissonant. When your ears acclimate, though, you can hear hooks amid the clamor; eventually, the lyrics emerge, and stories take shape — wry, melancholy, very English vignettes about love and sex.
There's no one in pop quite like Levi. Her musical background takes in classical training (she studied violin, viola, and composition) and D.J.-ing in grime and garage clubs. She was commissioned by the London Philharmonic to write a symphonic piece, which the orchestra performed at Royal Festival Hall in 2008; her discography includes mixtape collaborations with rappers and electronic dance acts, and remixes for the likes of The xx and Bomb the Bass. Her sound, her feel for rhythm, holds a unique blend of gleam and murk, synthetic and earthy — a little bit Timbaland, and a fair bit more Tom Waits. Many of the instruments she plays on her records are homemade and jerry-rigged; the dull roar beneath the clattering percussion in "Easy," from Never, is a vacuum cleaner. She's never, to my knowledge, released a bad recording.
Levi is probably too odd, too willful and experimental, to be more than a cult star. Still, you can't help but wonder why her cult isn't bigger. She's received respectful but not quite rapturous reviews; in the U.S., Never was more or less ignored. You can't help but wonder, were Levi more conventionally feminine, less butch, if she'd be more of a blogosphere heroine. Certainly, her records merit a place beside those of indie favorites tUnE-yArDs and Grimes, whose music is similarly beat-savvy but less, to my ear, inventive.
In any case, the music keeps trickling out. Last week, I stumbled across a Levi-produced EP, I'm Not Dancing, by the singer Tirzah, which I'd somehow missed when it was released this summer. The songs on I'm Not Dancing are, no surprise, short — four tracks in under twelve minutes — but they're more straightforward and crisp, than Levi's own. Tirzah, a friend of Levi's, has a clear, pleasant singing voice with a mischievous edge, the slightest trace of a smile curling beneath her phrases. The result is something like Levi's twisted version of radio pop: "Top 40" refracted through Levi's slightly scuzz-caked lens. "Slow Jam" is just that: an R&B-style ballad with traces of Prince and Sade, that rolls atop woozy, sometimes dissonant keyboard chords. "Inside Out" creeps along and gets really interesting around the two minute, 30 second mark, when Levi unleashes some frantic mystery percussion.
Best of all is the brutishly minimalist title track, which is, plain and simple, one of the best dance songs of 2013. (It's definitely the only one that begins and ends with recorder.) In the video, Tirzah stares down the camera, while her producer awkwardly shadowboxes in the background. Levi's jab could use some work, but her beats land blow after blow.