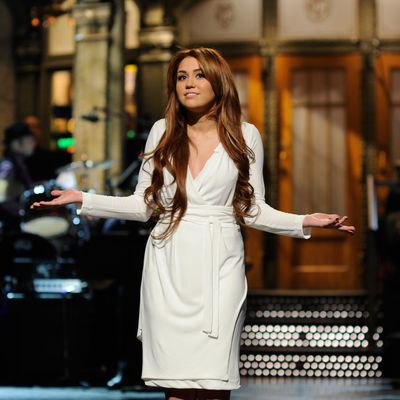 SATURDAY NIGHT LIVE – "Miley Cyrus" Episode 1592 – Pictured: Miley Cyrus – Photo by: Dana Edelson/NBC/NBCU Photo Bank
Photo: Dana Edelson/NBC/NBCU Photo Bank
Miley Cyrus is hosting Saturday Night Live this weekend for the second time. (This go-round, she's also the musical guest; last time, it was the Strokes.) When she last hosted, America was deep into its Charlie Sheen crazy-fame phase, and Miley was deflecting criticism for smoking salvia. The episode itself was nothing spectacular, but Miley actually did pretty well:
She sang a few songs, played Lindsay Lohan and Fergie, and even held her own as a weird loopy-tranquil infomercial character alongside Kristin Wiig. She nailed a sketch about the Disney Channel Acting School, and, most important, she did a Justin Bieber impression on "The Miley Cyrus Show."
It's easy to think of Miley Cyrus as simply a controversy magnet whose job it is to remain tabloid-scandalous. But she also did 98 episodes of Hannah Montana, in the corner of the Disney universe that teaches 12-year-olds how to yuk it up like a Borscht-belt reject. She was being taught how to sell a joke when most of us were being taught binomial nomenclature. (In the scheme of things, you're probably better off knowing your genuses from your species.)
As she demonstrated last time, she'll probably acknowledge her current state of controversy and poke a little fun at it. Presumably there will be the return of "The Miley Cyrus Show," though with someone else playing Billy Ray Cyrus now that Jason Sudeikis has left the show. And amid all that will be someone who's pretty good at this kind of thing, at singing and dancing and being silly and committing fully to something a little stupid. Then she'll put on a weird outfit and everyone can go back to clutching his or her pearls.