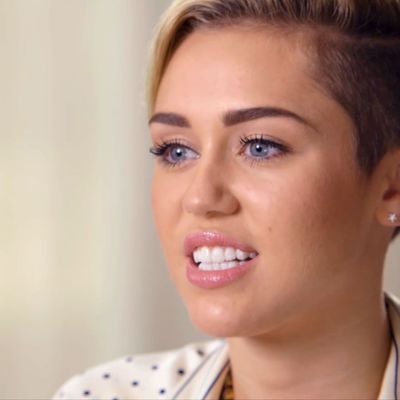 It's Miley's movement, and we're all just watching it on TV. Or, so MTV's documentary special, Miley: The Movement, would like to you believe. The hour-long special chronicled the recording of Bangerz (which involved Miley sitting in a recording studio chatting with – mostly at – a quietly agreeable Britney Spears), all the way up to the planning and performing of her infamous VMAs performance ("You can watch the VMAs performance and think it was a hot mess, but it was a strategic hot mess"). What did we learn? Well, Miley stands behind her message – sorry, movement ("For me the movement needs to be bigger than just the record"), and makes some good points about growing up in the public eye. Just be thankful no one's comparing your childhood photos to whatever you happen to be doing now (twerking or not!)
On growing up:
"I thought I was gonna come out and be a Paramore, like in a band. Like that's what I thought I was going to come out doing."
"There's something about watching people grow up. People get a connection, they feel like they really know you and get really entitled … Most people don't have their kid photos put up and then [people are] like, 'She changed.' Well, yeah!"
"And that's when I called P[harrell] and I was like, 'What would you think if I cut my hair and did it short, did it blond?' And he was like, 'I think you would look dope.' … We need to see change. Everything that happens, we need to see with our own eyes. I felt like I could finally be the bad bitch I already am."
"My mom is my home. If I win, she wins. Not because she's my manager, because she's my mom."
On social networks:
"I went to San Fran to visit Twitter. I'm obviously big on social networks, so this was important."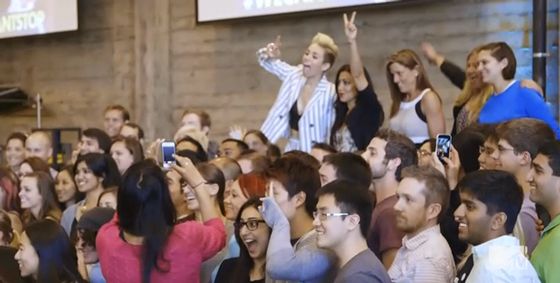 On that one time she moved to Philadelphia:
"It was the best time in my life because people didn't expect to see me there … I see people, they're walking behind their dog, they're cleaning up the poop. They're pissed about it. I'm so happy. I'm like, 'I'm doing a normal thing!' I'm picking up dog poop in a park. No one's bothering me. No one's talking to me. No one's taking my picture. I'm chillin'."
On Britney (and to Britney):
"I always say I only want one bitch on my record, and that's Britney, bitch."
"The way that I am about Britney, that's the way a lot of people are about me. She was my first record. I was a lot of peoples' first album. First idol. I'll be a diehard fan for Britney always."
[To Britney Spears] "I remember when the "I'm a Slave 4 U" video came out, [my dad] shook his head and was like 'My 8 year old is going to turn into a stripper.' But I wanted to be hot like Britney and that's still what girls wanna do in the pop industry."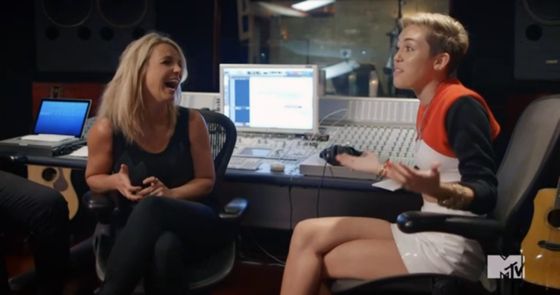 And what about the VMAs?
"Everyone takes the VMAs so seriously, but I just wanna come out and like shoot a hot dog gun."
"You can watch the VMAs performance and think it was a hot mess, but it was a strategic hot mess."
"We've been laughing about all the news because everyone else is so serious. It's great. Because I'm sitting here laughing, meanwhile you guys are all worked up and frazzled. I'm chillin'. I'm on to the next one. I forgot about the performance. That's so behind now."
"Yes, I am very comfortable with sexuality. I like pushing the boundaries. But I'm coming out in pigtails, looking like a giant adult baby basically, but doing really naughty stuff. That's obviously funny. If I really wanted to come out and do a raunchy sex show, I wouldn't have been dressed as a damn bear."
What's next, Miley?

[To Will.i.am] "What is your input on braids? Or am I gonna go 'Shaaaakira, Shaaaakira'" [Breaks into "Hips Don't Lie"].
I want people to think that they've drawn a line. We're in 2013. I live in America The Land Of The Free and if you can't express yourself, you're not very free.