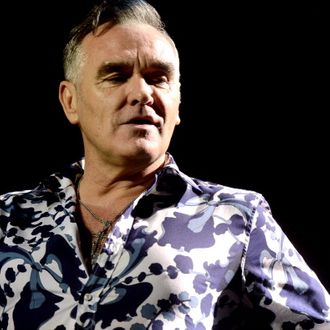 Photo: Kevin Winter/Getty Images
Were it not for a bit of controversy around the Tumblr This Charming Charlie, which uses Smiths lyrics in place of the dialog in Peanuts cartoons, we might never have heard of it, so in that way we're thankful for Universal Music Publishing's brief and ultimately unsuccessful attempt to have posts on the site removed on trademark violation grounds. Creator Lauren LoPrete fought the take-down requests with a fair-use argument. But now that the Moz himself has weighed in, it seems the site is not only safe but in good stead with its main inspiration.
"Morrissey is delighted and flattered by the Peanuts comic strip with its use of Morrissey-Smiths lyrics, and he hopes that the strips remain," the Morrissey zine True to You reports. Universal has already said it would stop pursuing the matter (and True to You reports that "Morrissey is represented by Warner-Chappell Publishing, and not Universal Music Publishing.") But it's nice to know This Charming Charlie will continue with Morrissey's blessing.