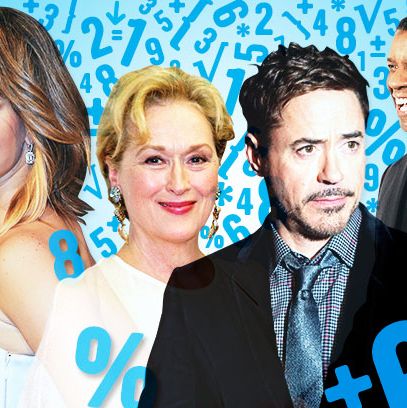 The Avengers grossed over $1.5 billion last year worldwide, cementing Marvel's superheroes as Hollywood's biggest franchise. While 2012's supergroup gave Marvel its biggest hit by far, Stan Lee's creations have all proved reliably huge on their own; the lowest-grossing entry, Captain America: The First Avenger, still made $370.6 million worldwide. All the actors behind the various heroes are now safely tied to a major worldwide craze that promises to last — and yet these stars' value outside of the Marvel universe varies wildly. Most non–Iron Man Robert Downey Jr. films are a major draw, but do Chris Hemsworth (Thor) and Chris Evans (Captain America) attract audiences out of uniform? In a national awareness survey by the company E-Score, only 22 percent of those polled could I.D. Hemsworth (Thor) by name or face, and for Evans it was 18 percent. (Downey lands at 69 percent.) One can't imagine such low awareness scores for the original Star Wars cast back in the seventies and eighties.
Star value has changed a great deal in the era of the modern blockbuster. Brands and spectacle are what largely sell movies, especially when an increasing share of grosses come from overseas, where high concepts and bombast translate most easily. With this in mind, last year Vulture developed a formula to calculate a list of the 100 Most Valuable Stars — the actors who can still most positively affect a movie's gross in a post-sure-thing world. But a lot can change in a year: a big hit can bring an actor new attention, or a blockbuster that was assumed to be a no-brainer could tank, causing Hollywood to question their previous assumptions about a star's drawing power. And so new data was collected and handed to our guest statistician, Harry Enten, elections and data analyst for the Guardian, U.S., and the result is 2013's ranking of the 100 Most Valuable Stars.
Remaining at the top of the list for the second year in a row is Robert Downey Jr., whose box-office power is indisputable after Avengers and Iron Man 3 led all moneymakers for the last two years, respectively. (He keeps a second hit franchise, Sherlock Holmes, in his back pocket, and can even make a mediocre comedy like Due Date into a worldwide hit.) In second place is Leonardo DiCaprio; while he doesn't have the career box-office tallies of a Will Smith, he has proved that he can help a studio make a prestige project pay off: Would The Great Gatsby have made nearly $350 million worldwide without him? Sandra Bullock safely sits in fourth place after following summer comedy hit The Heat with the enormous critical and commercial smash Gravity. Meanwhile, once potent comedy stars Ben Stiller, Adam Sandler, and Owen Wilson all slipped over twenty slots, displaying a possible vacuum for a new generation of comedy stars … like the unstoppable Melissa McCarthy, who leaped up 58 spots this year to No. 27. (Could anyone else have made a hit out of Identity Thief?) Michael Fassbender tied her for the biggest leap (he's now at No. 37) thanks to Prometheus and our studio panel's belief that he could be the next DiCaprio, a talented actor who could draw people to smart dramas. But while he has likeability, his E-Score awareness number is one of the lowest on the list; if 12 Years a Slave can bring his name into the public conversation more he could rise even higher next year. And remember that rank can also be relative. Ryan Reynolds (No. 71) climbed four spots from 2012 even after his disastrous summer, but that's largely a result of (A) his Studio Value staying the same, with execs not quite ready to write him off, and (B) others on the list dropping lower.
There is much more to discover in the list, where you can also look at the top stars by genre: Click on the upper left to see the list broken out by drama, action, and comedy stars. But perhaps you don't agree with our definition of star value? Below our featured lists you'll see sliders in which you can adjust the weighting of the different categories to reveal your own ranking. Think Vulture undervalued Oscars? Bump it up and see Meryl Streep show the young'uns who's boss. Think Tabloid Value can go higher? Jennifer Lawrence is now on top, and Mila Kunis has cracked the top ten.
How the Stars Were Ranked: A Guide for Statistics Lovers
Just as Hollywood executives must contend with a rapidly changing market, so must MVS regularly reappraise what gives a star value. So while the major data points in the equation remain the same as in 2012 (domestic and international box office, studio value, critics' score, likeability, tabloid value, and career Oscar wins and nominations), we did change one category and tweak another to better reflect what indicates a star's popularity. The categories are:
1. Domestic Box Office. First, actors' films released between January 1, 2008 and October 11, 2013 were counted. (For movies released at the very end of this window, total box office was roughly estimated based on a film's initial trajectory.) Only starring or large supporting roles were included; and in the latter case, only if their name or likeness was prominently used to sell the movie, as opposed to small, unbilled cameos. Also, for actors who broke out after 2008, only their star-making films and beyond were included; movies in which they were largely unknown, and therefore a selling point, were not included.
Once again Enten used the weighted median of an actor's recent box-office performance to stand as his or her Domestic B.O. number, as an average can be too skewed by one enormous blockbuster. (Last year we dubbed this "the Sam Worthington Effect.") A median — or the middle value in an actor's box-office tallies — negates the outliers (the most extreme hits and bombs) and lands on a number that more accurately signifies their usual box-office potential. As for the weighting, starring roles were worth twice as much as supporting roles; an actor's most recent live-action starring role was weighted slightly more heavily than the rest; and a penalty was given to actors who had supporting roles in the vast majority of their counted films, while a bonus was given to those who played the lead in the vast majority. (Being prolific often increases the drag on an actor's numbers, as compared to someone who works very infrequently but has a couple of hits.) However, there was an exception to this last "lead role" bonus: If more than half of an actor's films in this eligibility period were from a single franchise (Twilight's Robert Pattinson, Harry Potter's Daniel Radcliffe, Fast & Furious's Vin Diesel), then they did not get a boost for starring in them, since their fortunes were too tied to a single brand.
2. Overseas Box Office. For studios, international box office has gone from a nice bonus to the driving reason for a green light; it can often bring in a multiple of a film's U.S. gross, especially now that China has become a more avid consumer. (And, many stars whose continued employment may seem perplexing in America are still big moneymakers abroad.) The Overseas Box Office is determined by the same rules as Domestic, above.
3. Studio Value. To get this telling statistic, we have again polled a secret panel of four top studio executives and producers, asking them to assign the actors a score from 1–10 based on how much their casting in a movie in their most proven wheelhouse (Will Smith in action comedy; Meryl Streep in drama) would boost the project's box-office prospects. A 10 means "you just tripled your gross," while a 1 means, "If this movie were ever going to succeed, you just ensured it won't." The scores were collected, and the median value became the Studio Value.
4. Likeability. The Internet has two grades for celebrities: the best person ever, and the WORST. How warmly the public feels about an actor can affect how eager they are to run out to see one of his or her films. The market research firm E-Score regularly polls knowledge of and attitude toward celebrities, and provided data on what percentage of people find each star appealing. However, an important note on this data: E-Score first asks people if they can identify a star by face or name, and only those who can are quizzed about likeability. When reading the stars' entries on the Most Valuable Stars chart, you'll see that high likeability but low awareness can lead to problems for a star.
5. Oscars. The value of an Oscar for a studio is that, when it comes to late-year awards bait, touting its leading man or woman as "Academy Award winner/nominee … " gives the film an extra patina of quality. Unlike the post-2008 numbers counted in the Box Office and Critics Score, here actors get credit for any wins or nominations over their whole career; that bragging right never expires. Wins are given two points, nominations one, and then the entire list's scores were normalized to a 1–10 scale.
6. Critics' Score. Using the same weighting system as Box Office, we calculated the median Metacritic rating of every movie each actor had released from 2008 on. This is meant to credit those actors who shy from summer blockbusters but who have become valuable, reliable icons of quality.
7. Twitter Mentions. Last year this category tallied the number of magazine covers a star appeared on in the previous five years; as a beautiful photo of a celebrity has long been considered editors' best magnet to attract newsstand browsers, the demand for a star was a good sign of their popularity. However, with newsstand sales dropping for many magazines, it increasingly felt like an outdated metric. This year the category has been swapped out for Twitter mentions, which gives a better sense of the public's desire to read and talk about each star, especially as it also includes all the articles and blog posts tweeted about said star. Twitter representatives counted the daily mentions of each star over the last 365 days, and then supplied Vulture with the median number.
8. Tabloid Score. Once again Vulture asked three editors of gossip and entertainment sites to assign each star a 1–10 value based on how interested their readers were in reading about them — whether because of lurid scandal, baby bumps, or just because they like to ooh and aah over pictures of them having lunch. Essentially, this is the actors' click-bait rating, an average of all three editors' scores. This year's panel: Whitney Jefferson, celebrity editor for Buzzfeed; Jo Piazza, executive news editor of In Touch and Life & Style; and Justin Ravitz, deputy editor for USmagazine.com.
Consider each of these categories a share of total "star value": We then distributed the shares by importance, so they all added up to 100. We largely followed last year's distribution model with some modifications: As box-office performance is the driving force behind Hollywood, Domestic and Overseas Box Office remain at 15 percent each and Studio Value stays at 30 percent. The remaining 40 percent measures stars' popularity and prestige, and we shifted the focus a little toward popularity this year. Likeability remains at 12 percent, but we borrowed a few percentage points from Oscars and Metacritic to boost Tabloid Value up six points to eight percent. While "tabloid" implies someone whose popularity is entirely scandal-driven (like Angelina Jolie in her pre-maternal prime), this metric also measures the BFF factor: Stars who are beloved online owing to fan belief that they would be an ideal best pal and brunch partner. This is the quality that has helped vault Jennifer Lawrence thirteen places to No. 3 on this year's Most Valuable Stars. It is why the blockbuster-averse Ryan Gosling is as high as No. 22 with only one movie that topped a $50 million domestic gross. Oscars and reviews still have value, but at a time when the Internet seems to monolithically anoint its favorites, stars' click value is very telling.
And now that you know how it all works, let's get to the list …
Star bio writers: Kyle Buchanan, Amanda Dobbins, Kate Erbland, Jesse David Fox, Amir Kenan, Margaret Lyons, Oliver Lyttleton, Matt Patches

Reporting: Soo Youn, Jason Schwartzman, Erica Schwiegershausen, Katie Zavadski