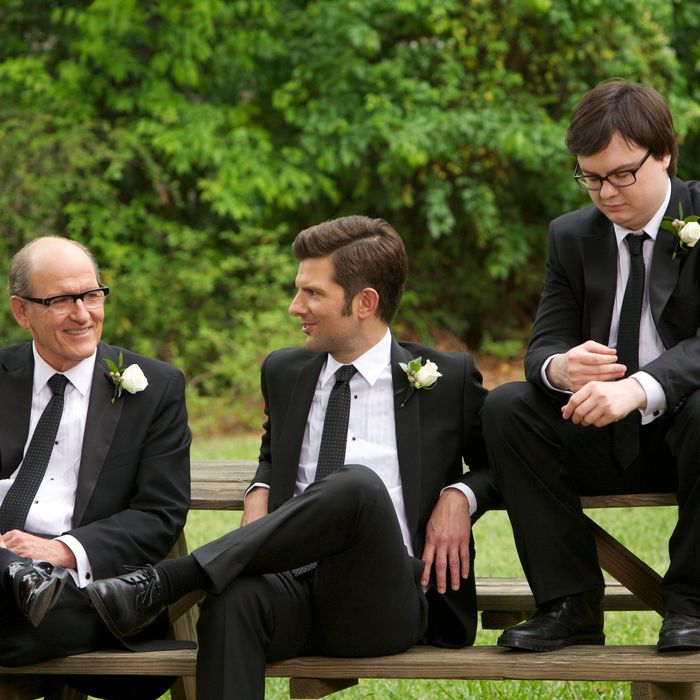 A.C.O.D. stands for Adult Children of Divorce and, with a title like that, you'd think the movie would be more about, you know, divorce. But it's actually about something even more common, believe it or not. It starts off with a home movie flashback to the protagonist at his 9th birthday party, preparing to blow out the candle on his cake, as the festivities are rudely interrupted by Mom and Dad bickering viciously in the background; that boy grows up to be Carter (Adam Scott), who continues to be haunted by his parents' terrible breakup and hates the idea of marriage. That's right — this is yet another comedy about a guy with commitment issues. When we see him with his yoga-instructor girlfriend (an energetic and delightful Mary-Elizabeth Winstead), they joke sarcastically about getting hitched. We can tell, though, that she would secretly love it if he proposed.
When they were growing up, Carter sheltered his younger brother Trey (Clark Duke) from the worst of their parents' shenanigans. But now the less cynical Trey wants to get married — and to a girl he's only known for four months, no less. Carter worries not just because he doesn't believe in matrimonial bliss, but also because a wedding means bringing their still-seething parents (played by Richard Jenkins and Catherine O'Hara) back together into the same room. And then something crazy and, unfortunately, sadly predictable happens: Mom and Dad fall for each other again. This causes problems on a practical level, since they've both remarried and Dad's bitch-on-heels wife (Amy Poehler) also happens to own the building where Carter's restaurant is located, and also on a more cosmic one, since Carter has lived his whole life under the shadow of his parents' hatred for one another. The idea of them getting back together actually messes with his chi.
It's a cute idea, but it's not a particularly original one — this was also the rough outline of the pretty lame Robert De Niro–Diane Keaton vehicle The Big Wedding earlier this year. A.C.O.D., though, focuses less on the parents and more on Carter himself and his neuroses. Still, comedies today — especially studio comedies — seem so much milder, passing off these stories of redemption and of people making their peace with traditional institutions. There's nothing wrong with that, obviously, but you start to yearn for some bite, something to get the blood pumping again — especially from the presumably less conservative indie realm. A.C.O.D. was clearly made for very little money, but it doesn't use that outsider edge to its advantage; it's a big, soft, cuddly studio comedy trial run.
The impressive cast, though, is pretty excellent. It's a good role for Scott: He has the face of someone who stands in constant judgment of you, which fits his perpetually dissatisfied and on-edge character well. Poehler, as the one character who gets to act like a jerk, is clearly having a lot of fun. As a "doctor" who once included Carter as research in a best-selling book, and whom he starts to see again, Jane Lynch plays it mostly straight — but  that, too, is a neat idea that doesn't really pan out in any interesting way onscreen.
Finally, Jenkins and O'Hara are their usual solid selves, but as noted above, you wish they had more to do. Imagine the fun this movie could have had letting these two incredible actors run wild, War of the Roses–style. And there's so much heartbreak and hurt in divorce, just waiting to be mined for some caustic, uncomfortable, cathartic laughs. But that's not the movie before us, so it makes no sense to complain about something that doesn't exist. A.C.O.D. is reasonably pleasant and therapeutic and antiseptic and you just wish somebody would bring a chandelier down on somebody else at some point.