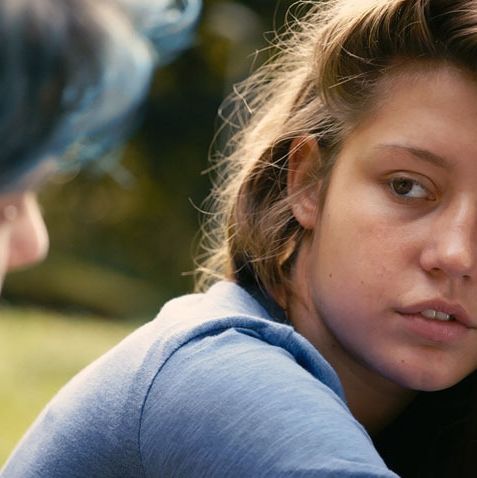 There's a story that Adèle Exarchopoulos, the star of the French sexual-coming-of-age movie Blue Is the Warmest Color, was sent to acting class at the age of 8 to overcome her shyness, but the bit of it that lingers — the ghost of an instinct to hold back — might be the key to her vividness onscreen. In Blue, you can feel how much it costs her to put herself out there. Exarchopoulos plays a virginal high-school girl who's also called Adèle (La Vie d'Adèle is the film's French title), and at first she appears to be on the "normal" hetero track. A handsome boy likes her and asks her out, they fool around, etc. Then she passes a female couple on the street, and her eye is seized by a butch young woman with a smear of blue in her hair. The woman looks back. Masturbating, Adèle can't get anything going until a vision of Blue Hair appears between her legs — at which point it's Magic Time. Adèle's body is leading her somewhere, and she follows it into a gay bar, where she finally meets a spiky artist named Emma (Léa Seydoux) — the hoped-for bluebird of her happiness.
The Tunisian-born (male) director, ­Abdellatif Kechiche, has often worked with nonactors, and in interviews ­Exarchopoulos and Seydoux have complained that he made them do take after grueling take to get what he wanted. My humanist prejudice runs toward directors who give their actors more room, but ­Kechiche has certainly gotten what he wanted. It takes considerable artistry to achieve such perfectly timed mistiming. Every one of the couple's interchanges is off the beat, raw, and, for Adèle, perched on the edge of an abyss — insofar as losing Emma would mean losing her sense of completeness and even reason for being. The film is loosely based on a graphic novel by Julie Maroh that takes place after Adèle (there called Clementine) has perished from — essentially — a broken heart. You certainly feel that possibility in the movie. (N.B.: I'm not saying it happens!) Exarchopoulos has the sort of deeply expressive vagueness that signals self-­protection, suggesting that when she does emerge from her shell she'll be as vulnerable as, well, an oyster.
Ah, yes, oysters. They're a motif in ­Kechiche's most heavy-handed but ­amusing scenes. Adèle is grossed out by them. So Emma induces her (at dinner with Emma's freewheeling gourmand parents) to eat one — quivering in its shell, alive as it slips down Adèle's throat. We get it. And we're well primed for the movie's already-legendary set pieces, those extended (borderline hard-core) sex scenes with long takes and wide shots of the lovers as they kiss and suck and duck in and out of crevices and occasionally slap each other on their butts. The sex ­appears to be free-form rather than ­rehearsed, the director sitting back and gazing straight ahead as these women do everything physically possible to connect. That this is the Male Gaze has prompted the occasional charge of "exploitation." It's hard for this man to call it. He thinks he's never seen a horizontal dance so charged with a sense of discovery.
The relationship's problem, of course, is that the lovers are unequal, that Emma has had a long line of girlfriends and is poised for success as a painter, while Adèle pursues a quiet career as a teacher of small children while cooking and keeping house. Seydoux — who transforms to the point where you can hardly believe she played the gamine with whom Owen Wilson ends up in Midnight in Paris — makes Emma a fascinating enigma. She is, ultimately, an artist, a woman whose "blue period" might not last. Her heart is on the line, but not, like Adèle, her identity.
Those of us averse to films that ­deconstruct themselves tend to wince at classroom scenes that tidily introduce ideas from some greatest literary hits on the subject of destiny versus chance. But Exarchopoulos's performance is too messy (in the most evocative way) to be deconstructed. The movie goes on for three hours without an emotional letup — it's finally overwhelming. People who've been through a terrible recent breakup—or can conjure up the sense memory of one — should approach Blue Is the Warmest Color with care. It might not just open old wounds. It might show you wounds you didn't know you had.
This review originally appeared in the October 28 issue of New York magazine.