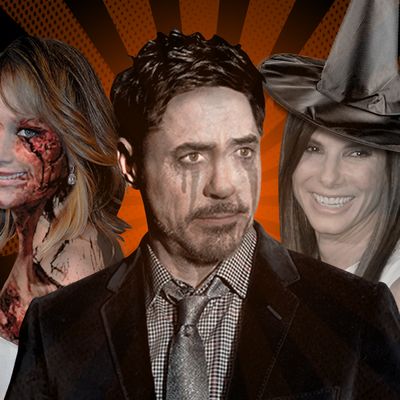 Halloween is nigh, and it's time to get spooky. So put those cobwebs on your bannisters, skeletons on your front porch, and carved pumpkins on your stoop — and finish it off by changing your Twitter name to something scary, just like The Simpsons have been doing for years in the "Treehouse of Horrors" episodes. Okay, that last thing's a new tradition, stemming from the explosion of social media, our love of wordplay, and the adaptability of the word boo, but it's super-easy: Just take your name and spook it up a little. To show you how it works, we've gone through our list of 2013's Most Valuable Stars and given them quite a fright. Who's the creeEEEeeEEEeepiest (and most valuable!) star of them all? Angry Mob-ert Downey Jr., of course. Here's the full list:
1. Robert Downey Jr.: Angry Mob-ert Downey Jr.
2. Leonardo DiCaprio: Leonardo DiCapitated
3. Jennifer Lawrence: Sinister Clawrence
4. Sandra Bullock: Sandra Boooooollock
5. Brad Pitt: Brad Pitt Filled With Snakes and Lions
6. Will Smith: Kill Smith
7. Christian Bale: Christian Impaled
8. Denzel Washington: Denz-Hell Gash-ington
9.  Tom Hanks: Tom Shanks
10. Johnny Depp: Johnny Depp of Despair
11. Hugh Jackman: Huge Whack-man
12. Angelina Jolie: Ang-Hell-ina Unholy
13. Meryl Streep: Meryl Reaper, Grim
14. Tom Cruise: Tom Bruises from Stigmata
15. Daniel Radcliff: Daniel Jumps Off a Rad-Cliff
16. Jennifer Aniston: Jennifer Anis-Tomb
17. Daniel Craig: Daniel Begs for His Life
18. George Clooney: Gore-ge Boo-ney
19. Matt Damon: Matt Demon
20. Mila Kunis: Kill-a Kunis
21. Daniel Day Lewis: Damn-iel Night Boo-is
22. Ryan Gosling: Dying Ghostling
23. Bradley Cooper: Bradley Spooker
24. Anne Hathaway: Anna Hath to get Away from the Murderer
25. Vin Diesel: Vin Dies-el
26. Mark Wahlberg: Dark HallwayBerg
27. Melissa McCarthy: Hellissa McScarthy
28. Ben Affleck: Ben Aff-yuck, there's blood and guts on the floor
29. Liam Neeson: Liam Killer Bees-on
30. Cate Blanchett: Hate Hatchet
31. Channing Tatum: Planning Murder Tatum
32. Emma Stone: Emma Bone
33. Dwayne Johnson: Dwayne "The Shock" Johnson
34. Clint Eastwood: Clint Beastwood
35. Natalie Portman: Fatality Portman
36. Kristen Stewart: Kristen Boo-Hurt
37. Michael Fassbender: Michael GasChamber
38.  Chris Hemsworth: Bris Gone Wrong Hemsworth
39. Chris Pine: Chris Pine-Box Casket
40. Andrew Garfield: Andrew Garfield on Monday
41. Henry Cavill: Henry Have-Illness That's Terminal
42. Jeremy Renner: Jeremy "From That Pearl Jam Song" Renner
43. Adam Sandler: Adam Quick Sandler
44. Tina Fey: Teen-a Frey'd
45. Reese Witherspoon: Deceased Witherspoon
46. Tom Hardy: Tom Beating, Bloody Heart-y
47. Steve Carell: Steve CaHell
48. Zoe Saldana – Zoe Fall-Down-a Well
49. Robert De Niro - Robert Death Near-OH!
50. Julia Roberts: Ghoul-ia Roberts
51. Emma Watson: Emma Shot-Someone
52. Robert Pattinson: Robert Flatten-son
53. Cameron Diaz: Cameron Dies
54. Kate Winslet: Kate WinsLet the Right One In
55. Jake Gyllenhaal: Jake Gyllen-Call's Coming From Inside the House
56. Javier Bardem: Javier Be-Damned
57. Matthew McConaughey: Matthew McConaughSlay
58. Chris Evans: Chris See You in Heaven-s
59. James Franco: Maimed Franco
60. Russell Crowe: Russell Murder of Crows
61. Zach Galifianakis: ACK! Galifianakis
62. Christoph Waltz: Wrist-Cut-Off Waltz
63. Will Ferrell: Will Feral Black Cat
64. Shia LaBeouf: Die-a From La Extra Rare Beouf
65. Seth Rogen: Death Rogen
66. Joseph-Gordon Levitt: Joseph Organ-Market
67. Amy Adams: Amy Adams Family
68. Charlize Theron: Scarlize Theremin
69. Carey Mulligan: Scary Mulligan
70. Ben Stiller: Ben Still Here (But Not for Long)
71. Ryan Reynolds: Dyin' Reynolds
72. Scarlett Johansson: Scarlett "Fever" Johansson
73. Jonah Hill: Stoned on a Hill
74. Bruce Willis: Bruce Willies
75. Jessica Chastain: Jessica Blood-stained
76. Jamie Foxx: Jamie Rabid Foxx
77. Kevin James: Kevin in Flames
78. Paul Rudd: Paul Buried in Mudd
79. Michelle Williams: Mich-Hell Kills'Em
80. Sylvester Stallone: Sylvester Secret Drone
81. Penelope Cruz: Penelope Human Stews
82. Jeff Bridges: Jeff Jumps Off Bridges
83. Julianne Moore: Julianne No Remorse
84. Jason Segal: Brazen Seagulls
85. Naomi Watts: Naomi Rotts
86. Jennifer Garner: Jennifer Coroner
87. Colin Firth: Colon Filth
88. Rachel McAdams: Rachel McAdams Family Values
89. Benedict Cumberbatch: Benedict Cumberbatch
90. Keira Knightley: Scare-ra Frightley
91. Jason Statham: Jason Mortality Stats-ham
92. Justin Timberlake: Just in Time in Drown in a Lake
93. Zac Efron: Ack! Efron
94. Sean Penn: Sean Abandoned Penn-itentiary
95. Kristen Wiig: Kristen Norman Bates's Mom Wiig
96. Jesse Eisenberg: Jesse Bowl of Eyes-enberg
97. Owen Wilson: Omen Wilson
98. Jason Bateman: Jason Biteman
99. Tyler Perry: Tyler Scary
100. Liam Hemsworth: Liam Hemlock