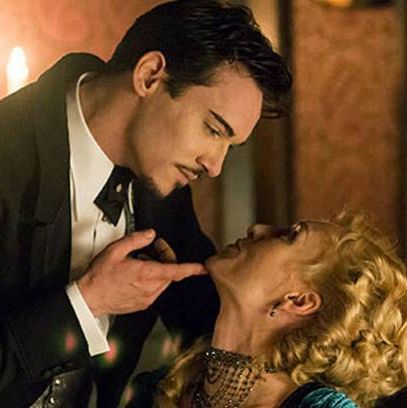 Did you catch Dracula last night? Well if you didn't, you missed a "bloody" good time …
Premiering after Grimm on NBC in the 10/9c time slot yesterday, Golden Globe winner Jonathan Rhys Meyers stars as the iconic vampire who started it all — this time with a completely new story and a secret identity. This reboot doesn't just have some unexpected twists and turns; it swerves, shifts gears, and speeds off in a different direction.
Disguised as the handsome American entrepreneur Alexander Grayson, Dracula shows up in London feigning interest in a new technology on the market called electricity, but his real mission isn't buying light bulbs. It's exacting revenge, or rather brutal revenge, on those who murdered his wife and cursed him to immortality.
But even that plot takes an unexpected turn when he meets a beautiful young doctor named Mina, who he's convinced is the reincarnation of his lost love (or is she?). NBC's thrilling reboot of the classic is driven by an ultra-modern storyline of lust, love, and vengeance you won't want to miss. It's guilty pleasure watching — without any of the guilt.
Catch up online or on demand and follow the latest Dracula news, video, and photos on Facebook, Twitter, and Google+. Dracula is your new Friday night date. Stay tuned at nbc.com/dracula/