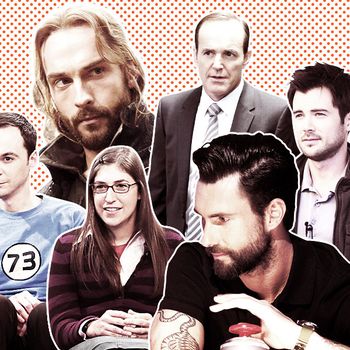 Yes, Virginia, there still are traditional television seasons, and the new one is now well into its second week. The vast majority of new series have already rolled out and many of the networks' most established series have also returned. Overall: The disaster many on Network Row had anticipated hasn't materialized. Viewers still showed up for a few old favorites, and a couple of shows look as if they might have legs. Many series are also getting bigger-than-usual bumps from delayed DVR viewing, continuing TV's trend toward an on-demand model. That's important, because the disturbing trend so far this fall is that same-day viewing of most network shows continues to slide. What's more, an exiting cable drama — Breaking Bad — dominated the pop-culture landscape during premiere week and earned bigger ratings among viewers under 50 than any of the new shows. In other words, for every bit of good news the Big Four got last week, there was an equally depressing morsel of bad news to chew on. Vulture dug deep into the premiere week ratings to find the best and worse news so far for each broadcaster:
NBC
The good news: It's alive!
It is not startling that NBC won the first week of the season in the key demo of viewers under 50: It did so last fall, and its fourth quarter combo of Sunday football and The Voice ensures seven hours of its lineup will be very successful. What is mighty impressive is that the Peacock so thoroughly dominated its Big Four rivals, finishing ahead of second-place ABC by a whopping 35 percent. That's the biggest premiere-week margin of victory for any network since the late nineties, when NBC was still in full-on Must-See TV mode. What's more, NBC was up 19 percent in total viewers versus last fall and was the only network not to lose viewers year-to-year. And compared to two years ago, NBC ticked up 30 percent, while the other three nets were down anywhere from 18 to 28 percent. Indeed, ABC, CBS, and Fox last week settled for adults 18-49 averages lower than NBC's premiere week 2011 score. Meanwhile, one of NBC chief Bob Greenblatt's stated goals for this season was to broaden out NBC's viewership base beyond niche fare such as Parks and Recreation or Smash. So far, so good: The Blacklist has done well both weeks it aired, and while The Michael J. Fox Show didn't do gangbusters, it attracted nearly twice as many viewers as the net's programming in the 9 to 10 p.m. time slot last year. Of course, NBC started strongly last fall, only to stumble badly in the winter and spring. It will probably falter again when The Voice takes a break. But for now, NBC has proven it still has a pulse.
The bad news: The Thursday comedy block is still pretty much dead.
Everyone loves Parks and Recreation … except for the folks who have Nielsen meters. Last week's hour-long premiere did horribly (even with DVR replays!), dashing whatever hopes NBC still harbored about the show having a late-in-life, Breaking Bad–style revival. Meanwhile, Fox's show was much broader than NBC's recent Thursday comedies and even improved in the younger demos. It did not do awfully, but it did not do particularly well, either. And what NBC was counting on was a game-changer, a new magnet to woo audiences back to it on the night. Of course, the Peacock's Thursday remodeling isn't complete: Welcome to the Family and Sean Saves the World don't debut until tomorrow. It's possible either or both could surprise. But based on the just-okay debut for Fox? Not likely.
CBS
Good news: The Big Bang Theory is as big as ever.
Chuck Lorre's comedy is a Walter White–size Nielsen monster. Including early DVR replays, last night's episodes notched around 25 million viewers. That's more than twice what Breaking Bad did, and bigger than what Seinfeld was drawing in its first four seasons on NBC (before it moved to Thursday) all the way back in early nineties. Instead of fading with age, as most big hits do (see Modern Family), Big Bang just keeps growing. And in addition to giving CBS a big, fat hit, it also gives the network the best comedy launching pad on TV. That was obvious last week when the Robin Williams–led The Crazy Ones debuted to huge numbers owing to its adjacency to a special 8:30 p.m. airing of BBT. The Eye is betting its nerds will turn The Millers into a smash when it debuts tomorrow.
Bad news: Its Monday night is in big trouble.
The Eye suddenly finds itself plugging multiple leaks on what until recently had been one of its stronger nights. The biggest is new drama Hostages, which debuted disappointingly last week and fell further behind this week, ranking as Monday's least-watched show on any of the Big Four. It's now doing half the numbers of NBC's Blacklist and is even finishing far behind ABC's Castle. Since the show is highly serialized, it may be impossible to turn it into a hit. Worse, it's the only new drama CBS launched this fall, and one the network thought could help it break out of its procedural shell. Earlier in the night, while How I Met Your Mother is doing fine, We Are Men showed zero spark in its debut this week and 2 Broke Girls tied its lowest demo ratings ever this week. Newbie Mom is actually doing okay, given the fading lead-in from 2 Broke Girls. But overall, CBS has to already be thinking about making changes to Mondays.
ABC
Good news: Agents of S.H.I.E.L.D. is giving ABC a pulse on Tuesdays.
After spending tons of money on an expensive pilot and heavy marketing, ABC got huge numbers of people to check out its Marvel TV spinoff last week —around 20 million when you combine ratings for the first broadcast, a repeat showing, and DVR replays. This week, the show crashed back to earth: It lost 35 percent of its same-day audience, and fell behind both The Voice and NCIS among viewers under 50. And in a sign that some viewers might consider the show Agents of S.N.O.O.Z.E., about 500,000 people bailed on this week's episode at the half-hour mark, choosing to watch something else. So why is all this good news for ABC? Well, even at diminished levels this week, S.H.I.E.L.D. still gave ABC its best ratings in the Tuesday 8 p.m. hour in two years. And if it starts to stabilize next week, the network will be very happy to have an 8 p.m. anchor with a demo rating on a par with 8 p.m. shows such as Once Upon a Time and How I Met Your Mother. Admittedly, this is a very charitable reading of how S.H.I.E.L.D. is performing. One could easily argue that given the money and resources invested by ABC and Marvel, the week two numbers are a disaster. But given how much viewing is happening after the fact these days, and keeping in mind that producer Marvel could still juice up interest in the series by turning cameos such as the one last night by (spoiler!) Samuel L. Jackson into longer story arcs, it would be a mistake to write off S.H.I.E.L.D. just yet.
Bad news: Generic dramas Lucky 7 and Betrayal are dead on arrival.
While S.H.I.E.L.D. boosted most of ABC's premiere Tuesday, its halo didn't extend to 10 p.m., where lottery drama Lucky 7 opened to under 5 million viewers and tiny viewership among adults under 50. And in an era when networks like to tout DVR data, Lucky struck out there, too: It went up just 15 percent when three days of time-shifting were tallied. Meanwhile, Sunday's Betrayal, designed to attract the Revenge audience, did even worse than last fall's short-lived 666 Park Avenue. In fairness to both shows, ABC gave them virtually no promotion, choosing instead to focus on bigger fish. But if the results were predictable, they were no less painful: It seems unlikely either will find an audience.
Fox
Good news: Sleepy Hollow is a flat-out hit.
The first new show to premiere this season is also arguably the biggest hit. Not based on actual viewership, of course: Blacklist, The Crazy Ones, and S.H.I.E.L.D. all bowed bigger. But those freshmen either had help from huge lead-ins, or, in the case of the latter show, the power of a presold brand. Sleepy Hollow no doubt was aided by viewers' awareness of the literary mythology, but after three weeks on the air, it's now doing better than ABC's Once Upon a Time in same-day viewing. It's also among the season's biggest DVR gainers, and it's got a vocal fan base on Twitter. There's no question Fox will order more of the show. The only mystery: Does the network hold fast to its plan to limit season one to thirteen episodes, or does it wait until fall for more?
Bad news: Dads and Brooklyn Nine-Nine haven't solved Fox's Tuesday comedy problem.
The explosive premiere of New Girl two years ago gave Fox execs vision of building a Tuesday night comedy beachhead. But it ain't happening: Not only has New Girl lost a huge chunk of its early audience (even when factoring in its big DVR audience), but the shows Fox has scheduled around it haven't caught on. Raising Hope, which predates New Girl, was doing fine but didn't get any boost from New Girl. The awesome Ben & Kate was canceled after one season. And while critics have been kind to Mindy Kaling's second-year comedy, viewers haven't flocked to it. It's not that the show's ratings are jaw-droppingly awful: It holds on to about 75 percent of its New Girl lead-in, grows nicely in the DVR numbers, and still does better than Parks and Recreation. But Fox desperately wanted Mindy to show signs of growth this season, particularly since buzz on the show has gotten better and because the network has been so patient with it. There's no sign that is happening yet. But the bad news for Fox this fall is that new 8 to 9 p.m comedies Dads and Brooklyn 9-9 aren't doing any better than what was in the slot before (and the latter dropped another 22 percent from last week's so-so performance). Fox could choose to just tough it out for another season and hope viewers find the newer shows. But maybe it's time to give up the Tuesday comedy dream, and just move Glee back to 8 p.m. Tuesdays. It has a loyal core audience that would follow it anywhere, and it would probably be more compatible as a lead-in to New Girl (both shows remain strong with women under 35).