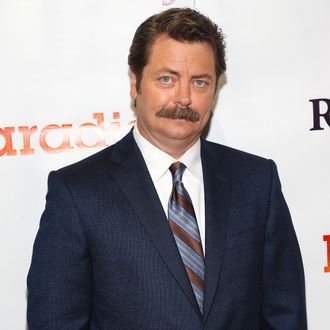 Nick Offerman, temporary Springfield resident.
Photo: Imeh Akpanudosen/2013 Getty Images
Ron Swanson is a borderline Simpsons character as is, so it's perfect that Nick Offerman will finally guest-star on the iconic show. He spilled the news to the A.V. Club: "I recorded an episode of The Simpsons, and that was such an incredible life dream for me that I had kind of lost sight of." Adding, "For a couple of decades, I've been ape-shit about that show, and I thought, 'It would be so amazing to be on that show, but that could never possibly happen.' And today it happened, and I was incredibly on cloud nine. And I called Mike Schur, and I said, 'Once again, I have to thank you. Without your generosity and tenacity in casting me in this job, this would not have happened.'" There's no word on what he'll be doing on the show, but if we had to guess, it'll probably involve meat.