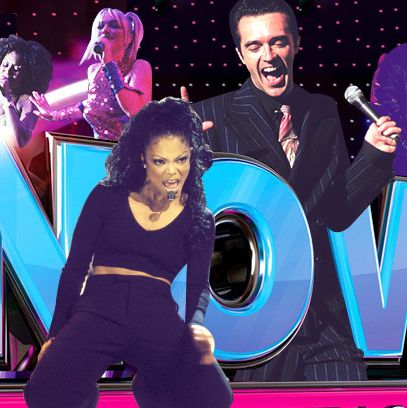 The 50th edition in the Now That's What I Call Music! series was released this week. This post originally ran on October 25, 2013.
Fifteen years ago this Sunday — October 27, 1998 — Virgin Records released the first U.S. version of Now That's What I Call Music! The idea of just-the-hits compilations was not new — Generation X–ers remember getting the hard sell for K-Tel collections during commercial breaks — but Now!'s ascent marked the pre-Napster transition to a singles-only mind-set that would soon kneecap the music industry. The first album reached No. 10 on the Billboard album charts and was certified platinum in just three months. After that, each Now! Album — churned out every few months, stuffed with the most chart-topping recent hits — debuted in the top ten on the Billboard "200," with sixteen of them entering at No. 1, a track record second only to the Beatles. Even today, with iTunes singles, iPod playlists and infinite other ways to stream music, Now! 46 debuted this May at No. 3 on the Billboard "200," selling 91,000 copies in the first week. (Granted, that's a fraction of Now! 7's 621,000 and Now! 6's 525,000 first-week sales in 2001, but so it goes in the record-selling biz.)
Listening to the first Now! compilation is like entering a time machine and exiting in an alternate universe when Radiohead, the Spice Girls, and Cherry Poppin' Daddies could conceivably share the top of the charts. To mark Now!'s fifteenth anniversary, let's see where the bands of the very first Now! are today, in track order.
1. Janet Jackson, "Together Again"
Then: This was the third single off Jackson's sixth album, Velvet Rope, which debuted at No. 1 on the Billboard "200." "Together Again" marked her eighth song on the Billboard "100" singles charts, putting her on par with Diana Ross, Elton John, and the Rolling Stones. 
Now: Jackson's last album, Discipline, came out in 2008 and hit No. 1 on the Billboard "200" and certified gold, and she appeared on the 2010 American Idol finale to sing "Nasty" in a catsuit. More recently, she's popped up mostly in the tabloids, relating either to: family troubles after brother Michael's death; her third marriage, to a Qatari businessman; and recent burbling gossip reports that she's looking to adopt.
2. Backstreet Boys, "As Long As You Love Me"
Then: The second single from their U.S. debut peaked at No. 4 on the Billboard "Hot 100" and solidified the band as the love interests of preteen girls around the world.
Now: Big year for the BSB! They popped up in a cameo in This Is the End and released their ninth original album, In a World Like This, which debuted at No. 5. And the boys received a star on the Hollywood Walk of Fame on April 22, which was declared Backstreet Boys Day.
3. Fastball, "The Way"
Then: "The Way" — based on the true story of an older couple who disappeared and were later found dead after leaving home to attend a Pioneer Day festival in Temple, Texas — was nominated for a Grammy.
Now: Recently ended a summer tour opening up for Smash Mouth, Sugar Ray, and Gin Blossoms, and in April released the single "Love Comes in Waves." They now have 1,759 Facebook "Likes."
4. Harvey Danger, "Flagpole Sitta"
Then: Off the album Where Have All the Merrymakers Gone?, which sold more than 500,000 copies, "Flagpole Sitta" became the theme to British sitcom Peep Show and was later on the soundtrack for American Pie.
Now: Harvey Danger officially broke up in 2009, saying, "After 15 years, three album, hundreds of shows, and far more twists and turns than we ever imagined possible, we've decided to put Harvey Danger to rest."
5. Spice Girls, "Say You'll Be There"
Then: Spice Girls' debut album sold around 23 million copies worldwide, making it the best-selling record by a female group in music history. Among many of the Spice Girls other accolades, Nelson Mandela said, "These are my heroes."
Now: Came together for a show-stopping performance at the 2012 Olympics and have hinted at a possible reunion tour.
6. K-Ci & JoJo, "All My Life"
Then: Had the No. 1 song on the Billboard "Hot 100" for three weeks, were guest artists on Tupac's No. 1 hit "How Do U Want It," and were nominated for two Grammys.
Now: At the end of September, they released the album My Brothers Keeper, their first studio album in eleven years, through Kenneth "Babyface" Edmonds's eOne label. "Considering what they've been through, it's better than what was expected," wrote Andy Kellman at AllMusic.
7. All Saints, "Never Ever" (single edit)
Then: Released a year after the band formed, their eponymous debut album generated four top ten hits. "Never Ever" reached No. 1, certified platinum, and won the group two Brit Awards.
Now: Since All Saints disbanded in 2001, the girls have worked on various solo and duo projects. In May 2013, original member Simone Rainford died from kidney cancer.
8. Tonic, "If You Could Only See"
Then: The song reached No. 1 on the Billboard "Mainstream Rock" chart. Tonic then contributed to various soundtracks, including American Pie, Scream 2, The X-Files, and Clay Pigeons, before returning with their 1999 album Sugar.
Now: Their last album, the self-titled Tonic, came out in 2010, and in 2012 they traveled to Haiti as artist ambassadors. They still occasionally tour: Catch them November 16 at Miami's Magic City Casino. "If You Could Only See" is featured on Karaoke Revolution Party and Band Hero, both still available at Amazon and GameStop at very discounted prices.
9. Hanson, "MMMBop"
Then: Hanson's debut album sold over 12 million copies, back when band members and brothers Isaac, Taylor, and Zac Hanson were 16, 14, and 11. The song was Grammy nominated for Record of the Year, and May 6 was declared Hanson Day in Tulsa, Oklahoma, Hanson's hometown.
Now: Hanson launched their own beer, Mmmhops, in May. Their latest album, the live Anthem, was released in June on their own label 3CG and charted at No. 22 on the Billboard "200," making it their eighth album to chart on the top 40 of the Billboard "200."
10. Cherry Poppin' Daddies, "Zoot Suit Riot"
Then: The band dabbled in many styles — funk, ska, and swing — but got swept up in the Swingers-bred swing craze, which shot "Zoot Suit Riot" to No. 17 on the Billboard "200" and became big enough for Weird Al Yankovic to make a "Grapefruit Diet" parody.
Now: Cherry Poppin' Daddies' self released White Teeth, Black Thoughts in July and just wrapped up a tour of clubs, casinos, and small theaters.
11. Imajin, "Shorty (You Keep Playin' With My Mind)"
Then: The debut single from the hottest R&B boy band of the time reached No. 25 on the Billboard "Hot 100."
Now: Imajin split after their debut album. Jamal Hampton, Olimade Faison (whose brother is Dr. Turk), and Talib Kareem are all working on music individually. The last member, John Fitch, is very hard to find online.
12. Brian McKnight, "Anytime"
Then: "Anytime," reached No. 7 on the "Top 40 Mainstream" chart, sold over 2 million copies, and was nominated for a Grammy.
Now: Since NOW! 1 Brian McKnight has released thirteen albums, been nominated for fifteen Grammys, and is on tour playing sold-out shows around the world through next April.
13. Aqua, "Barbie Girl"
Then: Selling an estimated 33 million albums and singles, Aqua is one of the best-selling Scandinavian bands to date. "Barbie Girl" sold about 1.1 million copies.
Now: Aqua split in 2001, the year before a judge finally dismissed Mattel's lawsuit against the band's label, MCA, declaring that the song's use of Barbie was protected as free speech. The group did reunite in 2007 and have had hit singles in Denmark, but none in the U.S.
14. Radiohead, "Karma Police"
Then: The song came off their third album, OK Computer, which has sold more than 4.5 million copies to date and is considered a landmark record of the nineties.
Now: Thom Yorke remains a god to thinking music lovers, and 2011's self-released The King of Limbs debuted at No. 6 on Billboard "200" charts and was the best-selling vinyl record of 2011. Most recently, while on tour in the U.S., Radiohead spent a day in the recording studio with Jack White of the White Stripes and recorded two new songs. In April, Yorke said the songs were "unfinished homework," but he's also hinted at soon taking a "proper break."
15. Everclear, "I Will Buy You a New Life"
Then: Everclear's album So Much for the Afterglow sold 2 million copies and this single reached No. 31 on the Top 40.
Now: Art Alexakis, the lead singer and only founding band member still involved, has been working on solo projects, but still tours as Everclear and headlined this years Summerland tour with Live and Filter.
16. Lenny Kravitz, "Fly Away"
Then: "Fly Away" peaked at No. 12 on the Billboard "Hot 100," and was also featured in the film Coyote Ugly. So there.
Now: His last album, Black and White America, came out in 2011. Since then he's been more visible as an actor, in The Butler and the Hunger Games films.
17.  Marcy Playground, "Sex and Candy"
Then: As the lead single for Marcy Playground's eponymous debut, "Sex and Candy" spent a then-record fifteen weeks at No. 1 on Billboard's "Modern Rock Tracks" chart, and reached No. 8 on the Billboard "Hot 100."
Now: "Sex and Candy" was Marcy Playground's only major pop hit, but it has had a long afterlife, having popped up on True Blood, Zack and Miri Make a Porno, and Workaholics in the last five years.