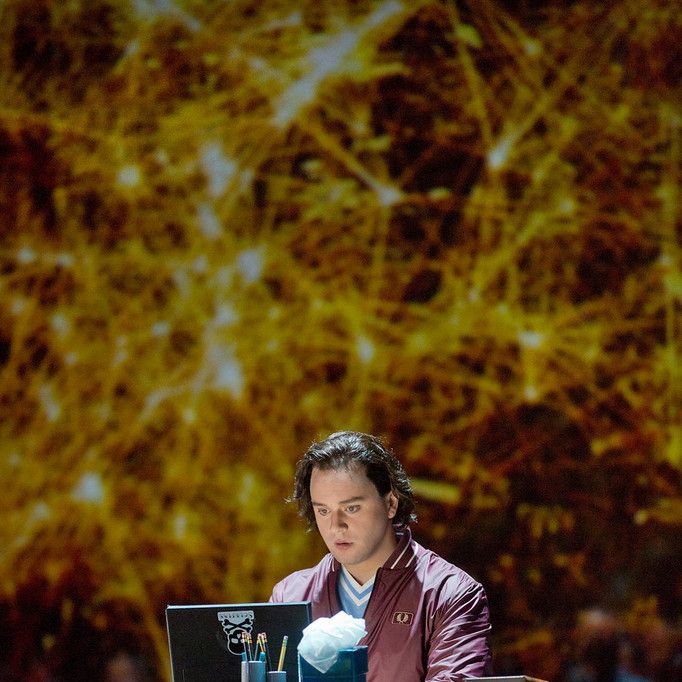 There's a sweetly old-fashioned moment in Two Boys, the new opera by composer Nico Muhly and librettist Craig Lucas, when a pair of teenagers lock eyes during a church service, their ardor and confusion rubbing against the grown-up piety of their surroundings. The boys, who spend their lives on laptops, know each other only by their chat room handles, but their real-life encounter hardly registers in the score. What powers the scene is the analogue Anglicanism — its pomp and hymnody, and the lush, consoling gentleness that permeates Muhly's music at its best. If you could build a whole opera out of such ravishing set pieces, Two Boys would be a masterwork.
Instead, it's an assemblage of ill-fitting components, many of them very fine, others promising but neutralized by context. Muhly, a phenomenally talented 32-year-old composer, and Lucas, a veteran playwright, backed by the full faith and credit of the Metropolitan Opera, have produced a police procedural with an Internet angle and a lurid dénouement. That all sounded great ahead of the Met's premiere (the world premiere took place two years ago at the English National Opera). But in practice, the premise never quite jells into a plot, and whenever Muhly ventures into opera's more extreme emotional territory — anguish, menace, pain, terror, violence — he turns back before he's gone very far. In the score, the characters come out as small and distant as avatars in a primitive video game.
In the run-up to the Met premiere, the composer explained that the anonymity of chat rooms in the early days of broadband resembles the liberating disguises of an eighteenth-century masked ball. Sure enough, in Two Boys, a reedy 13-year-old named Jake goes online and populates his world with stock figures out of bad TV: a secret agent, a thuggish groundskeeper, a privileged coquette. Dramatically, it's a clever gambit. The impressive boy soprano Andrew Pulver lends Jake his frail, fresh voice, then lets other, adult cast members take over and utter what he types. Yet the opera never enjoys the sense of liberation that a costume can grant: It feels hobbled by reticence. For a drama about deception and desire, it centers on a couple of naïve young people who don't know what they want. They never reveal themselves through words, and the music doesn't step in and do it for them.
The boys are lonely, empty, and impressionable. Brian believes in Jake's flimsy creations, even though we can't. The two of them communicate in generic pellets of language that flicker on a wall-size screen:

   —What's going on?
   —not much, u?
   —ntm.
All this clipped indirection boxes the composer in. Little cryptic fragments of melody overlap while the orchestra carries the expressive weight. The score hints that the awkward online shuffling will lead to a direct and passionate connection, but instead the kids circle each other, flirting nervously until, for reasons that never come clear, Brian mindlessly obeys the strange and vicious orders emanating from his laptop.
At 30, the tenor Paul Appleby is nearly double Brian's age, but he slouches and flops and wears his baggy jeans and polyester windbreaker so convincingly, and sings the role with such guileless urgency that makes a vague character come alive. Appleby is a marvel: an intelligent young singer equipped with the elegance and expressivity of an old pro, impersonating a lost soul of a kid. Still, he has little to work with. Muhly gives him outbursts and answers, reserving the more expansive soliloquies for Detective Sergeant Strawson, who is investigating Jake's stabbing, and who leads the audience, Virgil-like, into the mystifying hell of cyberspace. She is a frumpy, frazzled, and reluctant investigator who, if the Met were the BBC, would be played by Helen Mirren or Brenda Blethyn but instead is sung by the terrific Alice Coote.
Muhly has invoked Benjamin Britten as an influence, and there are multiple echoes of A Turn of the Screw in the vinegary harmonies, in the shocked outsider peering into the creepy fantasy life of children, even in the appearance of a menacing servant named Peter. With its chugging orchestration and unhurried vocal lines, the musical language of Two Boys also recalls the techniques of Philip Glass and John Adams. But Muhly is a restless minimalist. Dispensing with his forebears' endless, blissed-out burblings, he will use a patterned chord to sketch in a jittery mood, then quickly move on. The score works best as a succession of atmospheres, like cues in a movie soundtrack that lend vividness to an empty room or romance to a bland exchange. Muhly is a spectacular composer of choral music and he distills the infinite voices of the Internet into an iridescent tapestry of chatter. These passages suggest that there is a completely different work lurking in Two Boys, one that doesn't depend on drama, or narrative, or character, only the mystery of bubbling sound.
An opera about two kids who sit at home typing on laptops doesn't necessarily make for very good theater, but director Bartlett Sher solves that problem with ingenuity, using dance and projecting twirling graphics onto Michael Yeargan's sleek sliding boxes to suggest galactic depths online. Two Boys is not really about computers, anyway; it's about adolescents who prefer their imaginary worlds to the ones their bodies happen to inhabit. Which makes me wonder why Sher kept the palette so muted. In Sher's conception, even the boys' minds can't seem to conceive much color or beauty, only an environment as grim and gray as a postindustrial city in England.
Muhly is a devoted blogger and Twitter user, but Strawson is the audience's proxy and a Luddite, so we wind up seeing the Internet from the perspective of the stodgiest character, as a foreign country of soulless children and linguistic horrors. The result is an opera that feels as if it were running on an early version of MS-DOS: clunky, black and white, fitful. I kept wishing that Muhly would rush in from the wings, press Ctrl+Alt+Del, and restart the opera, only this time make it bolder, gaudier, and less constrained.