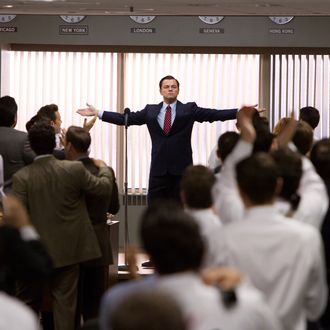 'The Wolf of Wall Street.'
Photo: Mary Cybulski/Paramount Pictures.
Every week between now and January 16, when the nominations are announced, Vulture will consult its crystal ball to determine the changing fortunes in this year's Oscar race. Check back every Friday for our Oscar Futures column, when we'll let you in on insider gossip, confer with other awards season pundits, and track industry buzz to figure out who's up, who's down, and who's currently leading the race for a coveted Oscar nomination.
Let's check out this week's chart:
Best Picture

The Wolf of Wall Street
A few weeks back, Showbiz 411's Roger Friedman claimed that Martin Scorsese's latest would definitely be pushed to 2014; now, though, Friedman has reversed course, and he hears that Scorsese is working overtime to get the movie in shape for a Christmas release. That would definitely shake up the season, though a Jeff Wells source claims that Scorsese's current cut can't be whittled down to anything less than three and a half hours, a massive running time that would fit nearly two and a half Gravitys.

Saving Mr. Banks
Oscar pundits have long theorized that this merry Mary Poppins origin story could prove the crowd-pleasing heartwarmer that voters will flock to instead of the punishing 12 Years a Slave. A few days ago, though, we just so happened to run into a very highly placed someone who's actually seen Mr. Banks … and this is what that very savvy someone divulged: "I'm not supposed to say anything, but no, it won't win the Oscar," said this person, grinning at the notion. "It's not nearly on the same level as the other films."
Current Predix
12 Years a Slave; American Hustle; Blue Jasmine; Lee Daniels' The Butler; Captain Phillips; Gravity; Inside Llewyn Davis; Nebraska; Saving Mr. Banks
Best Director

David O. Russell (American Hustle).
Expectations are high for David O. Russell's latest Oscar contender — in part because it's guaranteed to be one of the last films of the year that pundits will see — and the new American Hustle trailer only served to stoke them.

George Clooney (The Monuments Men).
Meanwhile, we also got a brand-new trailer for George Clooney's latest directorial effort Monuments Men, and the same question remains: Is this actually an Oscar front-runner, or were the early rumors true that it's simply a solid piece of entertainment?
Current Predix
Alfonso Cuaron (Gravity); Paul Greengrass (Captain Phillips); Steve McQueen (12 Years a Slave); David O. Russell (American Hustle); Alexander Payne (Nebraska)
Best Actor

Michael B. Jordan (Fruitvale Station).
Harvey Weinstein has been promising a second wind for his early awards contender Fruitvale Station, and he came out swinging this week: Star Michael B. Jordan earned an appreciative Variety profile, was tipped to receive an honor at the Hollywood Film Awards, and made plenty of headlines for confirming his potential involvement in Star Wars, Fantastic Four, and Independence Day 2. He's got career momentum, but will that sweep him into a very tough category?

Ben Stiller (The Secret Life of Walter Mitty).
The Secret Life of Walter Mitty proved divisive at its New York Film Festival bow: Audiences gave it a warm ovation, but key journalists and pundits scorned the picture, which Ben Stiller stars in and directed.
Current Predix
Bruce Dern (Nebraska); Chiwetel Ejiofor (12 Years a Slave); Tom Hanks (Captain Phillips); Matthew McConaughey (Dallas Buyers Club); Robert Redford (All is Lost)
Best Actress

Sandra Bullock (Gravity).
Gravity just earned the actress her biggest opening weekend ever and is on track for a mammoth total gross. It's entirely possible that if this category shakes out as planned, Gravity could end up with a higher domestic take than any of the movies starring Bullock's competitors combined.

Amy Adams (American Hustle).
Are you feeling Amy Adams in that new American Hustle trailer? If you are alive, the answer is yes. Flinty, sexy, and with a British accent sometimes! We're into it.
Current Predix
Cate Blanchett (Blue Jasmine); Sandra Bullock (Gravity); Judi Dench (Philomena); Meryl Streep (August: Osage County); Emma Thompson (Saving Mr. Banks)
Best Supporting Actor

Michael Fassbender (12 Years a Slave).
As one Twitter user put it, "Favorite thing about Michael Fassbender's PR run for The Counselor is no one gives a shit about that movie and only [asks] about 12 Years a Slave."

Geoffrey Rush (The Book Thief).
Rush is normally an Academy favorite, but his new film, The Book Thief, had a stealth bow at the Mill Valley Film Festival and remains firmly under the radar. Even Deadline pundit Pete Hammond acknowledged in a sympathetic piece that Fox has "bigger fish to fry" this year (like Searchlight's front-runner 12 Years a Slave).
Current Predix
Daniel Bruhl (Rush); Michael Fassbender (12 Years a Slave); James Gandolfini (Enough Said); Tom Hanks (Saving Mr. Banks); Jared Leto (Dallas Buyers Club)
Best Supporting Actress

Jennifer Lawrence (American Hustle).
Wait, did we say we were feeling Amy Adams in that American Hustle trailer? Because we're really feeling J. Law as Christian Bale's glamorously dissolute wife. Even Lawrence's hilarious updo is just really excited to be there, you guys.

Lea Seydoux (Blue Is the Warmest Color).
Since its Palme d'Or win, Blue Is the Warmest Color has had the screwiest, most contentious press tour in many a moon, and it continued into this week with actress Lea Seydoux's accusation that the movie's explicit lesbian sex scenes were "humiliating" and made her feel "like a prostitute." In response, director Abdellatif Kechiche sniffed, "If Seydoux lived such a bad experience, why did she come to Cannes, try on robes and jewellery all day? Is she an actress or an artist of the red carpet?" In short: Everyone's getting along so great, thanks for asking!
Current Predix
Margo Martindale (August: Osage County); Lupita Nyong'o (12 Years a Slave); Julia Roberts (August: Osage County); June Squibb (Nebraska); Oprah Winfrey (Lee Daniels' The Butler)