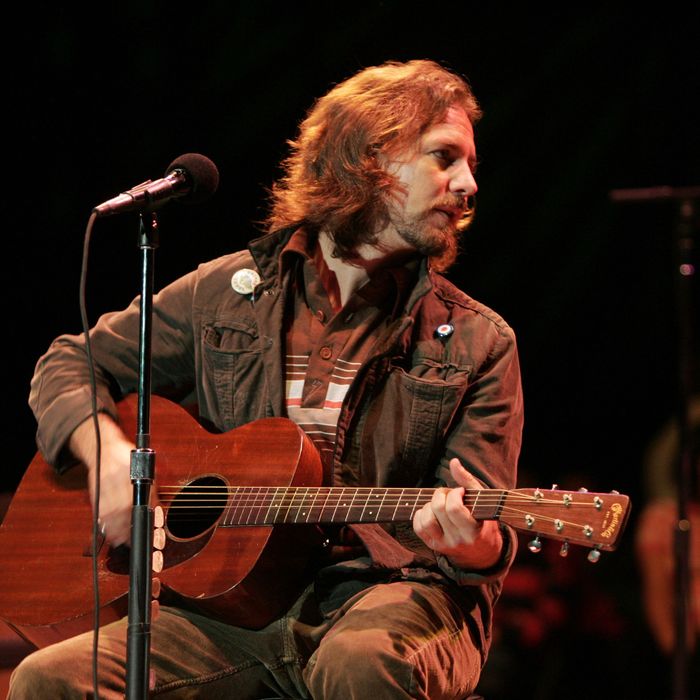 LOS ANGELES, CA - JANUARY 12: Musician Eddie Vedder performs at the 2nd Annual Sean Penn and Friends Help Haiti Home Gala benefiting J/P HRO presented by Giorgio Armani at Montage Hotel on January 12, 2013 in Los Angeles, California. (Photo by Alberto E. Rodriguez/Getty Images for J/P HRO)
Photo: Steve Jennings/WireImage
Last week, at our weekly ideas meeting held at the usual location (a.k.a. "The Vulture's Nest," a secret boardroom underneath a desert island's volcano), I started in with my pitch for this Pearl Jam piece, only to be met with chuckles from my smiling colleagues. Cackles, actually. It was like I was pitching a story about Bush or Candlebox.
But I get it. Pearl Jam is a band squarely in its classic-rock phase. Like any Rolling Stones or Paul McCartney record released in the past 25 years, a new Pearl Jam album is, to many people, a reminder of previous glory and not something currently relevant. The group's latest effort, Lightning Bolt, which came out today, is not going to change that stigma, but it does offer a glimpse at a possible direction that might. Namely, Pearl Jam should release an album of ballads.
Ten, Pearl Jam's 1991 debut and the album most people will cite when asked to name a Pearl Jam record, didn't really have any ballads. A few songs have balladic moments — "Black," "Oceans," "Release" — but they all escalate, like grunge songs are wont to do, to a point that would surely shatter a coffee shop's teacups. That changed fairly quickly, as 1993's Vs. featured three of the band's best light songs: "Daughter," "Indifference," and "Elderly Women Behind the Counter in a Small Town." And every record since had at least a few. Lightning Bolt, however, has an unprecedented six, on an album with only twelve songs, no less. Whether they're the album's best songs is hard to tell yet, but they are definitely the ones that feel the most current. 
The louder, more rocking Pearl Jam songs on the record carry the weight of sounding too much like "Pearl Jam songs" — a sound that was sullied over the years by the absolute worst sorts of bands (you don't want your band in the same sentence as Creed, even if that sentence is "Creed is like Pearl Jam if Pearl Jam were a bunch of shitty, talentless hacks"). It's not their fault, and it obviously wasn't their intention, but with their first three records they defined a sound, and that sound is now old enough to drink. As a result, a song like the lead single on Lightning Bolt, "Mind Your Manners" — with catchy, raucous, driving Eddie Vedder vocals — kind of sounds like Vitalogy standout "Spin the Black Circle" as performed by a bunch of old dudes. Because it is. "Sirens" the album's second single, is a big ballad that sounds like the type of song crafty veterans with over two decades of music would release. Because it is.
I understand that there are reasons why a band like Pearl Jam doesn't release an album of slow songs. The first is to counter that exact old-dudeness that I'm asking them to embrace; their previous two albums, 2006's Pearl Jam and 2009's Backspacer, seemingly existed to prove that these fortysomethings still had it. Also, over the last fifteen years, Pearl Jam became known as a live band first and foremost, with albums feeling like promotions for tours and not the other way around. Frankly, ballads tend to be the appetizers for concertgoers and don't translate very well to massive venues of the sort Pearl Jam tends to play. Sure, a few down-tempo numbers will make it into any lengthy Pearl Jam set list, but they'll usually come at the beginning of the show as a way to build momentum — or, in special circumstances, they find a home before the show even starts, as happens whenever Eddie plays an acoustic song for fans in the know who show up very early, when a modicum of intimacy is possible.
Talking to the Huffington Post, Vedder said that problems can arise when you take the live show too much into account "because then you might end up writing songs that really are meant to be played live — like, they become that piece of furniture that only fits in a giant room." But he qualified that with a statement that furthers my point: "At the same time, you can always boil it down to this: "If it sounds good around a campfire, it's probably going to sound good anywhere." You know what makes a good soundtrack to the roasting of marshmallows? Ballads!
Writing quieter songs seems to be something Vedder has embraced on his own, releasing a number of touching ballads for films and two full albums of lighter fare since 2007. The soundtrack to Into the Wild and Ukulele Songs are less layered and interesting than Lightning Bolt's six ballads, but its songs display an ability and desire for Pearl Jam's front man to make understated music. As Vedder told Rolling Stone, because he has two young kids, a lot of this record's songs "were written in the middle of the night," a time for acoustic guitars and hushed vocals. Dad-rock shouldn't be an insult if your band is in fact a bunch of dads. An album of ballads will feel like a more honest representation of where they currently are at this time in their lives. 
And doing that wouldn't be unprecedented. In 1992, when Pearl Jam was still finding its legs, Eric Clapton and Neil Young released quiet records that wound up being each artist's biggest in more than a decade. As I fan, I know that the goal for Pearl Jam isn't to be popular or cool again. Yet I do want the music they write now to sound relevant and not like a pale imitation of their very established sound. Also, I want to not be laughed at when I bring them up in a meeting.