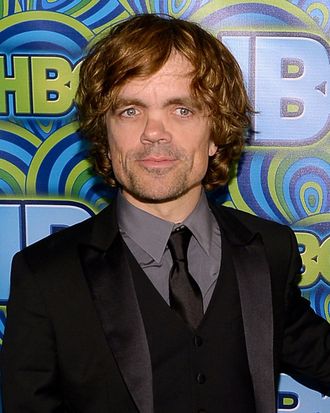 Actor Peter Dinklage (L) and Erica Schmidt attend HBO's Annual Primetime Emmy Awards Post Award Reception at The Plaza at the Pacific Design Center on September 22, 2013 in Los Angeles, California.
Photo: Michael Buckner/Getty Images
Peter Dinklage will star in an R-rated comedy about a man who tells people he is a true leprechaun. Screenwriter Andrew Dodge, who wrote the upcoming Jason Bateman spelling bee comedy, wrote the script, which is apparently in the vein of Bad Santa, though "wrapped around an emotional heart," according to The Hollywood Reporter. Dinklage hasn't done a ton of straight-up comedy — an ep of 30 Rock, an indie here and there — but his character Tyrion on Game of Thrones does get all the funny lines on the otherwise not-funny show.