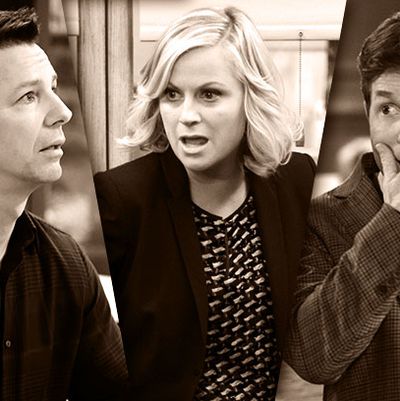 ABC's Once Upon a Time in Wonderland got off to a weak start and the Glee tribute to Cory/Finn gave the show a huge Nielsen boost, but the biggest ratings news Thursday was the complete collapse of NBC's already weak comedy lineup. First, Parks and Recreation kicked off the night poorly (3.2 million viewers and a 1.2 rating among viewers under 50) by tying its series low demo rating. Then NBC's new Mike O'Malley half-hour Welcome to the Family (2.5 million viewers, 0.8 demo) fell 27 percent in its second week to numbers below those of comedy reruns on cable nets such as TBS and Adult Swim. At 9 p.m., the Sean Hayes–led Sean Saves the World (3.8 million viewers, 1.0 demo) did better than its flat-line lead-in, but still dove 29 percent from its premiere last week. And after doing okay numbers its first few weeks, The Michael J. Fox Show (3.8 million viewers, 1.2 demo) fell back 29 percent to its worst ratings yet. Overall, NBC notched a mere 1.0 demo rating from 8 to 10 p.m. last night, its worst in-season Thursday ratings with first-run, regularly scheduled programming since at least 2004*, when Friends went off the air, and likely ever. Oy.

It's certainly true that there was unusually tough competition last night, between the baseball playoffs and the Glee special. But any preseason hopes NBC execs had of a comedy turnaround pretty much died last night. Welcome to the Family will almost certainly be gone by the start of the November sweeps, if not by next week (perhaps replaced by Community), and while NBC will likely be patient with Sean and Fox, the network has to be thinking about whether comedy still makes sense on the Night Formerly Known As Must-See.
As for Thursday's other big events, ABC execs might be forgiven for crawling into a rabbit hole today: Once Upon a Time in Wonderland (5.7 million viewers, 1.7 demo) opened surprisingly weak, below even last fall's disappointing Last Resort (which premiered with a 2.2 demo). In fact, Once was barely above the ratings for ABC's dead-on-arrival 2010 Thursday drama My Generation. Given the huge marketing push behind the show, the numbers are incredibly disappointing for ABC execs, who have to wonder whether they should've stuck to an early plan to make Wonderland a bridge show between arcs of classic Once. It will be interesting to see how Wonderland does in DVR data; it's possible many families could simply be saving the show for later viewing. Still, it's a very rough start for one of ABC's biggest fall hopes.
The Glee tribute to the late Cory Monteith did very, very well, as it seems everyone who's ever watched the show came home to say good-bye last night: 7.4 million viewers watched the emotional hour, and the show averaged a 2.8 in the demo (tying ABC's Grey's Anatomy for the lead in the 9 p.m. hour). Ratings were up 75 percent versus last week's near record-low numbers for the show. Meanwhile, the best news of the night might have belonged to CBS, as new comedy The Millers is holding up very well: It held on to 94 percent of its premiere ratings last night, better than any new show so far this season. And while The Crazy Ones is still losing viewers (down 17 percent versus last week), it still doubled the demo number of NBC's top comedy and would've almost certainly beat Glee had it not been a special. Don't be surprised if CBS orders more of both new Thursday comedies very soon.
* An earlier version of this story misstated the year Friends went off the air.