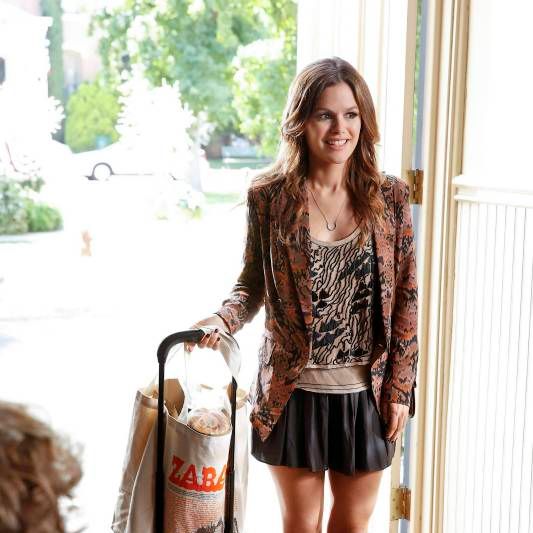 Hart of Dixie – "Who Says You Can't Go Home?" – Image Number: HA301b_0454b.jpg — Pictured: Rachel Bilson as Dr. Zoe Hart – Photo: Greg Gayne/The CW – © 2013 The CW Network, LLC. All rights reserved.
Photo: Greg Gayne/CW
Hart of Dixie kicked off its third season last night with its usual small but loyal audience. And if more people would see it they would become loyal, too! Dixie's Dr. Zoe Hart (played by Rachel Bilson) is a New York doctor transferred to Alabama to solve Doc Hollywood mini medical mysteries while simultaneously charming her neighbors with her strange Yankee ways. Plus, there's a love triangle that never seems to end between her, lawyer George Tucker, and his BFF bartender Wade. There are so many delightful reasons to watch Dixie, but maybe it will be clearer if I explain what other great past shows' DNA is all over it.
The O.C. Rachel Bilson as Dr. Zoe Hart is as Summer Roberts as Summer Roberts ever was. Remember on The O.C. when Summer got an unexpectedly high SAT score? Imagine if she had decided to become a doctor and moved to New York … and then Alabama. She'd be Dr. Zoe Hart, pretty much exactly. If you're having pangs for The O.C., this could do the trick.
Gilmore Girls Move the fast-talking, savvy young women of the gossipy Stars Hollow down South and replace the mother-daughter relationship with a single girl and you've got Hart of Dixie. If you crave a small town full of quirky characters (an ex-football player turned mayor! A waitress who accidentally spreads syphilis!), Dixie is a good option.

Northern Exposure Like the adventures of New York physician Joel Fleischman in Alaska, Hart of Dixie is also about a doctor unexpectedly forced to relocate. And just like Dr. Fleischman, Dr. Hart treats eccentric townspeople and their equally strange maladies. (However, unlike in Northern Exposure, Hart of Dixie will likely not be influenced by Native American medicine, at least not anytime soon.)

Everwood Too young to remember Northern Exposure? Perhaps this more recent big-city-doctor-moves-to-a-small-town drama might resonate a bit more. (Helllllllllo, millennials!) 
Felicity Although Felicity comes to New York City and Dr. Zoe Hart leaves it, their love triangles are both rewarding, no matter the geography. Felicity's Noel and Ben fight over Felicity for an impressive four seasons. Hart of Dixie's love triangle, a battle between best friends George and Wade over Zoe, is the show's longest ongoing drama and somehow manages to stay fresh as she weaves her way in and out of both men's lives. Felicity chose Ben. Zoe will most likely end up with George. Give it a few (more) seasons. Please give us a few more seasons.