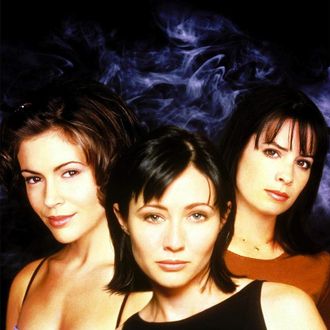 Photo: Warner Brothers and Alliance Atlantis
TV's  No. 1 network may be ready to conjure up the Power of Three: Vulture has learned that a remake of the hit Aaron Spelling–produced WB drama Charmed is in the works at CBS. Details are scant right now, but Party of Five co-creator Chris Keyser and partner Sydney Sidner are co-writing the project, which insiders describe as a "re-imagining" of the original series about a sisterhood of witches who use their powers for good. CBS TV Studios, which has the rights to all of the Spelling library, is producing the project alongside the Tannenbaum Company. It's still very early in the development process: CBS has only ordered a script for a pilot, and it hasn't committed to filming anything. As Wonder Woman fans will attest, a pilot script does not a revival make. But it's not hard to see why this reboot is being put together.
For one thing, horror and fantasy are hot right now on TV: The Walking Dead is TV's biggest show among viewers under 50; American Horror Story: Coven has been massive this fall; Lifetime is doing okay ratings with the Charmed- inspired Witches of East End; Once Upon a Time is ABC's biggest Sunday hit; and NBC's Grimm has been one of the network's few success stories in recent years. Charmed was also one of the now-defunct WB Network's longest and most successful series: Starring Alyssa Milano, Rose McGowan, Holly Marie Combs, and, for a while, Shannen Doherty, it ran for eight seasons and 178 episodes. And even though it left the air more than seven years ago, repeats still air on both TNT and WE. Also: A report last year said Charmed was the second most binged show on Netflix. So, yeah: This seems at least as logical as a Murder, She Wrote revival.