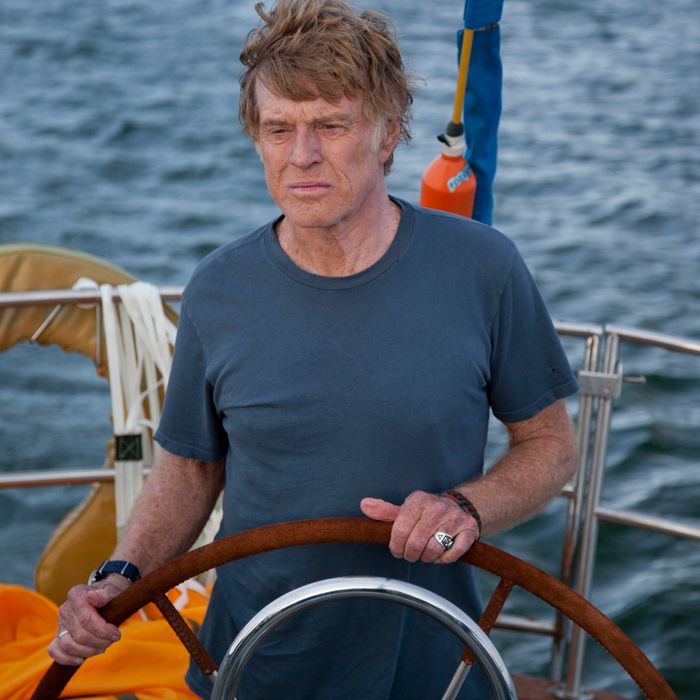 "Are you ready for some depth now?" cracks Robert Redford as he walks into a dining room at L'Ermitage, a tony Beverly Hills hotel. I'm already twenty minutes into a conversation with director J.C. Chandor, for whom Redford starred in All Is Lost, their new movie about a man's desperate struggle for survival while stranded at sea. As Redford joins the talk, though, he launches into an anecdote for our benefit, recalling a TV interview he just finished with a reporter for local news station KTLA.
"I said to the guy, 'Would you like a real KTLA story?' I think he wondered what was coming!" Redford laughs. "I said, 'It's the forties, I'm a 9-year-old kid, and my parents live in a lower-working-class neighborhood in Van Nuys — and we we kept hearing about this thing called television. We didn't have one, we didn't even know what it was."
"So what finally bubbled up was that if you want to see this thing called television," he continues, "the only way you can do it — unless you're a very, very wealthy top-dog person and you get one yourself — is that you go to a local appliance store where they have a television and can show you what it is. So we walked to the nearest neighborhood appliance store, which is about a mile away, to see this thing called TV. And we get outside the window and inside is the TV and it's on KTLA, a guy named Bill Welch." He smiles, the memory clear as can be. "And so I associate my first image of television with the letters K-T-L-A."
At 77, Redford has hit the age where just about everything reminds him of a pivotal story from earlier in his life, and it's a nostalgic quality that serves him well in All Is Lost, where nearly all of his character's backstory is stripped away, forcing you to search Redford's weathered face for clues. All we learn about the character he plays — literally named "Our Man" in the credits, since there's no dialogue in the film to identify him — is what we glean from his determined efforts to save himself after his boat springs a leak in the middle of the Indian Ocean, and for the first time in a long time, the famous, familiar Redford is an onscreen mystery.
"Ambiguity is something that I really respond to," says Redford. "I like the complexity of it. If you want to slice into America, it's pretty red, white, and blue in terms of how it goes about things, but there's a gray area there, and I've always been interested in where things are complicated."
Little about All Is Lost was simple, aside from the script, which ran an unusually slim 31 pages (most exceed 100) thanks to its near-total lack of dialogue. Chandor had written a wordy, Oscar-nominated screenplay for his first feature, the financial meltdown drama Margin Call — which debuted at Redford's Sundance Film Festival in 2011 — so this wordless survival adventure was about as far afield as he could get from Margin Call's long, delectable monologues.
"It really did become what felt like a perfectly normal next choice for a film, even though it was a little weird," allows Chandor, who adds, "I wasn't quite sure we were ever gonna get to make this." Securing Redford's participation was key, but there was just one catch. Redford nods at Chandor, chuckling, and recalls, "I didn't know if he was a nutcase or not."
The actor's concerns were alleviated by a PowerPoint-aided meeting with his director, and ten minutes into the presentation, Redford — who'd previously assured his business partners that he would never take on an arduous, months-spanning role like this one — surprised Chandor with his firm commitment to the project. "You just patted your knees and said, 'Well, I just wanted to make sure you weren't totally crazy,'" remembers Chandor. "Do you respond with your gut like that a lot?"
"It's a purely instinctive thing," Redford says with a firm nod, launching, by way of reference, into another story — this one about the first car he ever bought: "I was already starting a family in New York and I didn't have much – I was in the theatre. But I had enough money to buy my first car, and I was walking down the street and I saw this Ford Falcon station wagon in a showroom. It had the right price. I went in and I said to the guy, 'Is that the price for the car?' And he said, 'Yeah! Can I show you—' I said, 'I'll take it.'"
He laughs. "And the guy said, 'Well, first, let me show you — ' and I said, 'Don't show me anything, I'll take it.' And then he tried to work out something on an installment plan, and I said, 'I want to buy it now.' It got so bad that the guy just couldn't accept my offer that I said, 'Hey, if I'm not gonna buy this now, I'm gonna go somewhere else.' Because he just couldn't handle the idea that I knew what I want."
Chandor says he relied on Redford's firm powers of persuasion when it came to editing All Is Lost, which opens with some brief voice-over as Redford reads an apologetic letter his character has written, but is otherwise virtually silent. At first, Chandor cut even that preamble — "And I realized that's just ego, that I basically was doing that so I could be like, 'I did a wordless movie!'" he laughs — but even after restoring it, producers leaned on Chandor to fill the rest of the movie with Redford's thoughts in voice-over.
"To their credit, they had ten million dollars on the line, so they're certainly allowed to ask that of me," says Chandor. "So it was not unreasonable in any way, but both of us had just knew pretty much in our heart that it should be silent — it's what drew him to the thing in the first place. But I did lay some voice-over over the body in an edit that we never showed to anyone, and we were just like, 'No.'"
"You know what's really great about it, though, is that you at least gave it a chance on your own," says Redford encouragingly. "It's good to say, 'Look, I can't always be right, but my gut tells me this' — and then you confirm with your gut."
Right now, the gut call of many Oscar watchers is that Redford is a likely front-runner in the Best Actor category for All Is Lost, which could bring him his very first Academy Award for acting (he already has two other Oscars, an honorary award given to him for his work with the Sundance Film Festival, and a Best Director trophy for 1981's Ordinary People). For what it's worth, Redford seems acutely uncomfortable with all the attention; though his expertly color-tinted hair sits like a shaggy crown on his head, a reminder of his famous blond beauty, Redford says he can't bear the sight of his own image. "I've never been comfortable seeing myself, ever," he says. "I don't really know why." But though that made the notion of taking on this one-man show a challenging one — there were no costars to give Redford any respite from his own image — it wasn't that, nor all the athletic stuntwork Redford did himself, which ultimately wore the actor down while making All Is Lost.
"The stress came from being wet so much!" he says. "There's one point where I'm in a hammock, and I'm reading a book, and the water is sloshing, and I said to J.C., 'What kind of crazy fucking movie is this?'"
"They spray you down. It's just brutal," says Chandor. "You know the pumps they use to spray weeds on the street? [The crew] would come up and spray him with those, and toward the end of the movie, I literally couldn't even look."
Redford laughs. "Nice for him, he could turn away!"