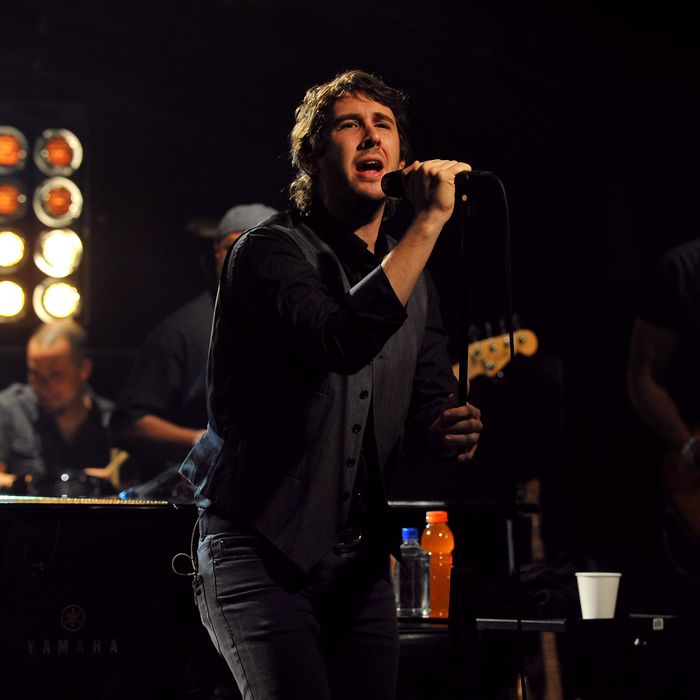 Photo: Theo Wargo/Getty Images
On the cover of Josh Groban's sixth studio album, All That Echoes, which was released in February, the 32-year-old stares back at you with a pleasant half-smile. He is wearing a tweed blazer and a gray T-shirt; he's seated against a wood-paneled wall — of a log cabin, maybe, or a nice farm-to-table restaurant. In any case, the image is all wrong. Groban's records are pop at its most extravagant, full of grand crescendos and exalted sentiments. A Josh Groban album cover should capture the singer on craggy cliff top, waves crashing below, ospreys soaring against a purple sunset, an ocean breeze rippling our hero's tunic as he gazes, dewy-eyed, into the middle distance, toward Middle-earth. The All That Echoes cover photo says: J.Crew Fall Men's Collection. The music screams otherwise.
It's Groban's way to come on modestly in everything but his songs. He is, according to all evidence, a nice guy — affable, charming, self-deprecating. He's funny, a "comedy fanboy," with comedy chops of his own. He appeared in a recurring role on The Office; in an instantly viral Jimmy Kimmel Live! bit, he sent up both Kanye West's tweets and his own schmaltzy musical style. Groban's Twitter feed is one of the best going, packed with wry (and knowingly dopey) quips and one-liners.
When it comes to the music, though, all traces of irony evaporate. All That Echoes begins with "Brave," a showcase for Groban's open heart, and open diaphragm. It starts with plinking pizzicato strings; orchestral brass rears up on the horizon, as Groban croons in his robust middle register: "Wake up, wake up, the sun cannot wait for long / Reach out, reach out before it fades away." Less than a minute in, the song rounds the corner into the chorus, and the symphonic gives way to pop: churning electric guitars, a big echoing drumbeat, a melody worthy of a Kelly Clarkson ballad, and lyrical bromides: "When you stand up and hold out your hand / In the face of what I don't understand / My reason to be brave." This is the Groban blueprint. The arrangements are windswept; the pop structures are decorated with classical filigree; the messages are inspirational, and vague enough to work for all comers. The real message, of course, is a voice: Groban's round, regal baritone, the corniest sound you will ever hear at the top of the Billboard charts, where he's spent a lot of time over the past decade.
Groban is in our neck of the woods tonight, performing at the Prudential Center in Newark. If you're mystified by the man's popularity — Groban has sold upwards of 25 millions albums — a concert will help clear things up. For one thing, he really can sing; his voice fills up a big room. The aesthetic, of course, is different that everything we've grown used to in popular music over the last century. Groban's vocal style is not very American. Swing, insouciance, bent and blurred notes, Africanisms and Appalachianisms and Southernisms — all the characteristics of vernacular American pop singing are absent from Groban's sound. The vocal tone is pure and clean, the diction is clear, the vibe is Europhile. Groban is, in other words, an old-fashioned pop tenor. It's a tradition that stretches from John McCormack and Mario Lanza to Andrea Bocelli and Paul Potts, and will likely always be with us, no matter what sci-fi beats the kids are freaking out to in their space discos.
When you see Groban live, though, you realize he's got more in common with 21st-century pop stars than you first suspect. Pop-classical vocalists like Potts and Susan Boyle are weirdly asexual — you might even say pre-sexual. Not Groban: The guy sells nookie. It's courtly sex; it's genteel sex; it's costume drama, Downton Abbey, Romance novel sex. But sex it is. Groban's songs come on chastely, but the throb in the music is unmistakable, and sex peeks through the lyrics. Listen again to "Brave": "You can't hide forever from the thunder / Look into the storm and feel the rain." That's not Al Roker's meteorological rain — that's Prince's metaphorical, erotic, euphemistic rain. If you're skeptical, head to Newark tonight and listen to the ladies scream.