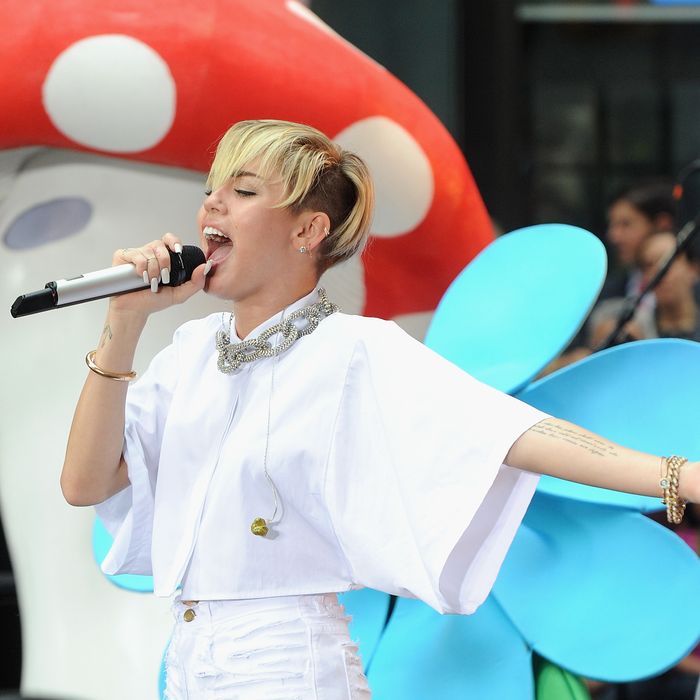 Miley Cyrus
Photo: Jamie McCarthy/2013 Getty Images
Decent record. If you press play on Miley Cyrus's Bangerz, pop on some noise-canceling headphones, block out the surrounding sturm und drang, that's what you'll hear. It's a solid pop album, definitively of its moment, occasionally excellent, sometimes strained and dull, but overall a model of professionalism — an album that crisply goes about its business, leaving little to chance.
As advertised, Bangerz embraces hip-hop, tricking out Cyrus's rave-ups and self-actualization anthems with trap beats and guest appearances by the likes of Big Sean, French Montana, Nelly, and Future. There's also a lot of Big Pop, gusty ballads bolstered by guitars and synths, a style for which Cyrus showed a knack back in 2009, on her first top-five hit, "The Climb." There are some awkward experiments, like "FU," an attempt to update an old-fashioned Etta James–style torch song with hip-hop production. There are a couple of outright duds. And there's one song for the ages, which you already know: "We Can't Stop," the magnificent doomy, boomy party anthem that launched Miley's makeover campaign, four months and a million news cycles ago.
At the center of it all, Cyrus can't help but sound a tad reduced: neither the Great Satan nor a great talent, just another pop diva with modest presence and a bunch of tracks from high-priced songwriter-producers. She does have good instincts; she's been in show business for a while. She isn't a great singer, but she has a distinctive vocal tone, a huskiness in her mid-range, that gives her songs, especially the ballads, a bit of chewiness and zest. She also raps, and rap-sings, and does so ably — though not nearly as well as her hero, Nicki Minaj, nor even with the madcap panache of Ke$ha. In fact, Ke$ha's looms large over Bangerz, the obvious model for Miley's makeover. The comparison doesn't flatter Cyrus. To listen to Ke$ha's Warrior next to Bangerz is to hear one performer who naturally inhabits the role of party-hearty screwball and one who is audibly huffing and puffing in the attempt.
We've now reached something like the fifth stage of Miley mania: the backlash to the backlash to the backlash to the backlash to the backlash. Whatever you made over the "strategic hot mess" of Cyrus's performance on MTV's Video Music Awards — whether you're charmed or enraged or indifferent to her racial and sexual button-pushing — Bangerz makes it clear that the "Miley Cyrus controversy" is not a sideshow. It is the show itself. The graduation of a child star from guileless teenybopper to sexed-up adulthood has become one of our most familiar pop-culture spectacles, but Cyrus is undeterred. That's what her record is about.
The results are predictable: a former Disney princess peddling the shock that she, you know, has sex and stuff. As dopey as the Miley Cyrus moral panic has been, the posturing on Bangerz is just as banal. In song after song, Cyrus casts herself, unconvincingly, as a devil-may-care hoyden. We learn that Miley uses a vibrator, smokes marijuana, attends nightclubs where cocaine is snorted. "Do My Thang," a nattering trap-pop song produced by will.i.am, presses the point. "I'm a southern belle / Crazier than hell," Cyrus raps, sounding not at all crazy. Does she give a fuck? Nope. ("Don't give a fuck!") Does she do her thang? Yep — and she does it often: "Every single night and every single day / Imma do my thang."
This isn't a new theme for Cyrus: She's been announcing her liberation for three albums now. "Tired of being told what to do / So unfair / So uncool," she sang in the title track to Breakout (2008), a song that also promised, "We're gonna dance till the dance floor falls apart." In the video for "Can't Be Tamed" (2010), she appeared, literally, as caged bird; in "Liberty Walk," another song from the Can't Be Tamed album, she sang: "Free yourself / Slam the door! / Not a prisoner anymore!"
Three years later, Cyrus may no longer be an inmate of the Walt Disney prison-industrial complex, but she's still bragging about the jailbreak. The most enjoyable moments on Bangerz are those where she chills out. Listen, for instance, to two songs produced by Pharrell Williams, whose amiable party jams have a way of bringing out the most relaxed sides of singers. The bustling "4x4" has a lyric full of silly automotive double entendres, which Cyrus delivers with spunky nonchalance. Even better is "#GETITRIGHT," a delectably eighties-ish disco-pop number. Here Cyrus finds a better model than Ke$ha: mid-eighties Madonna. "I feel a surge coming over me / I feel it all around my thighs," she coos. For once, she sounds like she's singing about sex because it's something she enjoys, not because she wants to scandalize somebody's parents. She doesn't sound strategic, or messy. She just sounds hot.