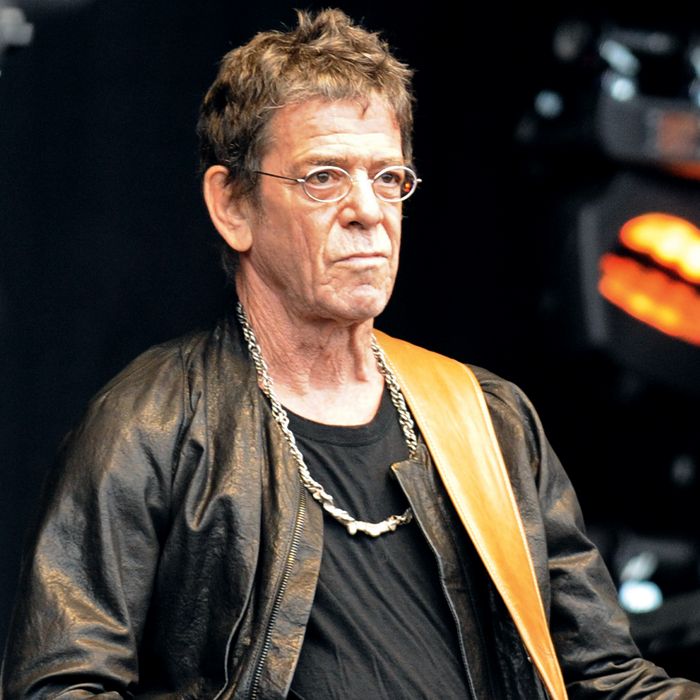 Reed performing in France in 2011
Photo: FRED TANNEAU/2011 AFP
When the world first heard Lou Reed, on the Velvet Underground's great 1967 debut album, he was a 25-year-old man who had already done a lot of living. He sounded it. Reed's singing and songwriting voice was hard, blunt, acerbic — an implacable voice of experience and skepticism. He didn't sound at all like a fresh-faced young man, although he had begun his career crafting bubblegum pop songs in that mode, as an in-house songwriter for the "sound-alike" label Pickwick Records. His vocal phrasing was modeled on Bob Dylan's, but unlike Dylan and other songwriters steeped in folk, Reed never came on like Methuselah — never tried to sound like the old-as-the-hills Voice of the American Musical Unconscious. Instead, Reed did something novel: He wrote and sang rock songs like a grown-up. In an interview in the mid-eighties, Reed said: "My interest — all the way back with the Velvets — has been in one really simple guiding-light idea: take rock and roll, the pop format, and make it for adults. With subject matter written for adults so adults, like myself, could listen to it."
Reed died today at 71, leaving behind a vast, deep body of work — dozens of albums and hundreds of songs — that stuck to that music-for-grown-ups mission. It's true of all of his output, from the incalculably influential Velvets records, the template for so much punk and post-punk, to solo landmarks like the glam-rock Transformer (1972) and the morbid rock-opera Berlin (1973), straight through to Lulu (2011), his final album, a typically ambitious and capricious Lou Reed project: a song-suite inspired by the German proto-expressionist playwright Frank Wedekind, recorded with Metallica. Reed believed that a rock lyric could accommodate ideas as grand and meaty as literature, even — especially — when the musical accompaniment was ragged and primitivist. "One chord is fine. Two chords is pushing it," Reed quipped, and he meant it.
Tonight, eulogists are remembering Reed as a poet of the New York demimonde. Of course, Reed was audibly, archetypally a New Yorker. You can hear a New Yorker's blend of romanticism and cynicism in "Perfect Day," a hymn to an idyllic afternoon hanging out downtown, undercut by a refrain that drips with dread: "You're gonna reap just what you sow." Or listen to New York (1989), Reed's dispatch from the crumbling necropolis of the late Koch era, the city of AIDS and Howard Beach and Tawana Brawley. This is Reed as a cranky New York moralist, fulminating over his morning Times.
As for the demimonde part: yes, but. Of course Reed sang about drugs, transgressive sex, and the druggy, pansexual transgressions of the Warholian party set. But he sang about lots of other stuff, too: egg creams, high school football, Edgar Allen Poe. He sang, surprisingly touchingly, about marriage, especially on the great 1982 album The Blue Mask. One of my favorite songs on that album is "The Day John Kennedy Died," an apparently straight autobiographical account of Reed's experience of President Kennedy's assassination. It concludes with verse that's as grim as any I've ever heard in a pop song. Nobody does existential disgust like Lou Reed did it, with a trademark vocal quaver that heightened his words' brutal bluntness.
I dreamed I was the president of these United States
I dreamed I was young and smart and it was not a waste
I dreamed that there was a point to life and to the human race
I dreamed that I could somehow comprehend that someone
Shot him in the face
Death was one of Reed's obsessions, right from the start. "I have made very big decision/I'm going to try to nullify my life," he drawled in the Velvet Underground classic "Heroin," and though he lived another four decades before succumbing to complications resulting from a liver transplant, Reed's hard living must have taken a toll. My favorite Lou Reed record is Magic and Loss, the elegiac 1992 album inspired by the death of Reed's friend, songwriter Doc Pomus. Since I heard the news about Reed this afternoon, I've listened several times to "Cremation," in which Reed laments his friend's demise and envisions his own cremation. "The coal black sea waits for me me me/The coal black sea waits forever," Reed sings. It's one of Reed's loveliest songs — listen to Rob Wasserman's moaning double-bass — and one of his saddest. But Reed allowed himself a dark chuckle in the face of death, a joke that held a hint of solace: "Since they burnt you up/Collect you in a cup/For you the coal black sea has no terror."