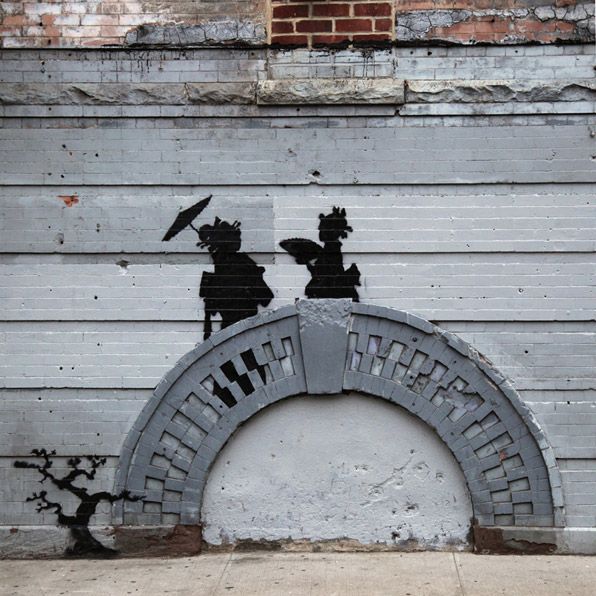 Photo: Courtesy of Bansky
Our monthlong snorefest is over. British self-promo man and Batman-graffiti-artist Banksy has concluded his one-work-a-day "New York Residency." Say good-bye to flash mobs of tourists running from painting to painting taking selfies; to easy "art world" fodder for tabloids and local TV crews; to sledgehammer-obvious cheekiness, drop-dead pictorial banality, and glib political commentaries painted on New York City walls. Never mind the fact that Banksy fanboys and fangirls passed at least a dozen better pieces of street art every time they rushed to see one of his paintings — no other graffiti artist has a PR machine remotely like Banksy's. You can almost hear him laughing all the way to the, well, bank. As for his works, some have already been removed and the owners are likely cashing in for sums in the five- and six-figures. Good for them. Those works that remain, without the spotlight of hyped-up publicity, now look as trite, generic, and as boring as they really are.
But I've been asked to rank all the Banksy pieces that appeared in New York this month. Hmmm. I mean, what does one say about a shadow painting of a dog peeing on a wall? I have no problem with graffiti. And Banksy, like many British artists, is especially good at creating scenes and generating buzz. He's just amazingly unoriginal in terms of his actual work. Still, I'm an art critic and all artists have their own curve to be graded on. Believe it or not, I actually like a few of his efforts. Which, come to think of it, isn't so terrible for any artist — especially one as frothy and predictable as Banksy.
So here they are, ranked from worst (appalling) to best (passable):
29. New York Times op-ed submission (October 27): This is not a painting, but it does feel like an intergral part of Banksy's New York project. The Times rightfully rejected this asinine, holier-than-thou editorial rant from the British artist about the new World Trade Center building. Tellingly, all of the things he opines about the structure apply perfectly to him: compromised, vanilla, lacking any self, mediocre, and so on. Banksy, birdbrain, no one loves this building! The old towers weren't much to write home about, either. But it's a miracle that this one got built at all after what New York went through. This is New York, Banksy. We do big buildings. We want a tall building. Right there. Right now. When you write that this building "clearly proclaims the terrorists won," and that "the glory days of New York are gone," we're all terribly sorry that New York doesn't meet your high standards. Take your millions and fuck off, turd.
28. An eponymous Banksy piece (October 31): The perfect metaphor: a brand-building billboard advertising, what else? Banksy. Same as it ever was.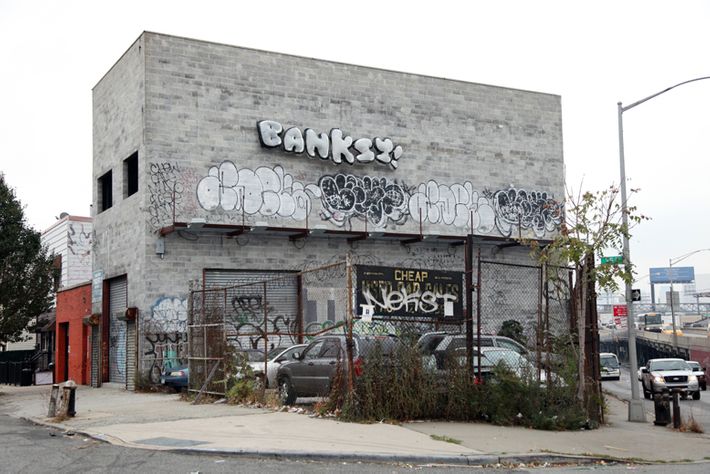 27. Ronald McDonald getting his shoes shined (October 16): A Ronald McDonald sculpture having his clown shoe polished by an actor dressed as a Dickensian waif? The proof of Banksy's oblivious obviousness is in the pudding.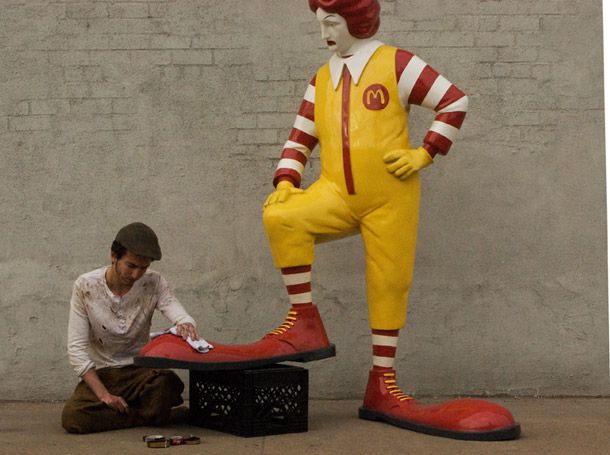 26. Concrete confessional (October 12): I'd give you everything I've got, if you promise not to come back to New York.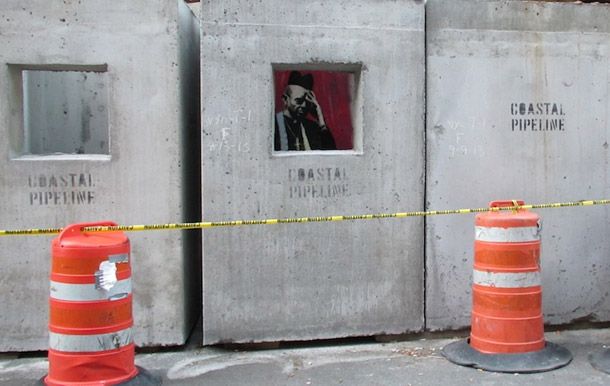 25. Young graffiti artist with a butler (October 21): Ridiculous. Cheesy. Clueless.  Every graffiti artist I spoke with hated almost every Banksy. They hated this one the most.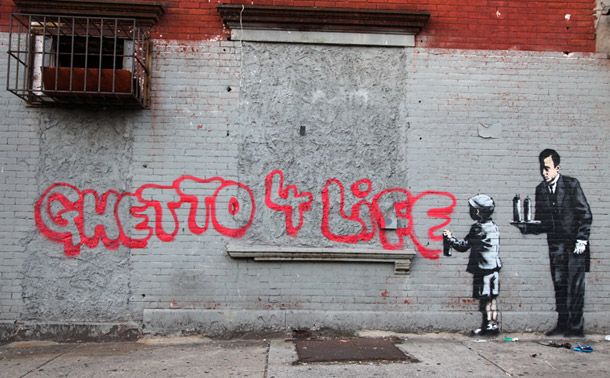 24. New York accent (October 2): Another self-aware wink! This one tries to play to the eternal American love of English accents. But Banksy, bonehead, I'm afraid you don't have two different artistic accents. Your work is always within the exact same narrow intellectual/pictorial range.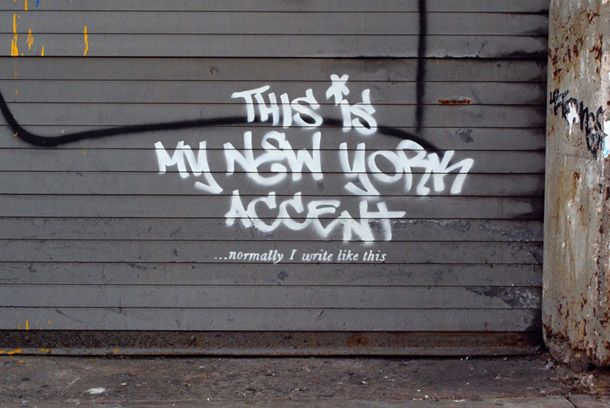 23. Grim Reaper in a bumper car (October 25): Annoying, pathetic bumper cars, à la English seashore amusement rides. On the Bowery. With ghosts. Grow a pair, Banksy!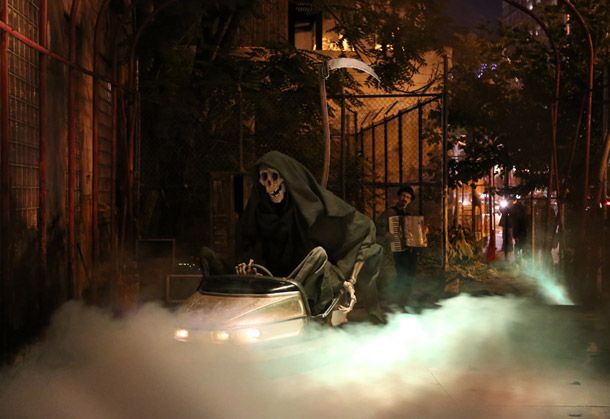 22. A leopard (October 30): It's sitting on a wall opposite Yankee Stadium. Painted on the very day the fucking Boston Red Sox win the World Series? WTF! Pretty featherbrained and lame.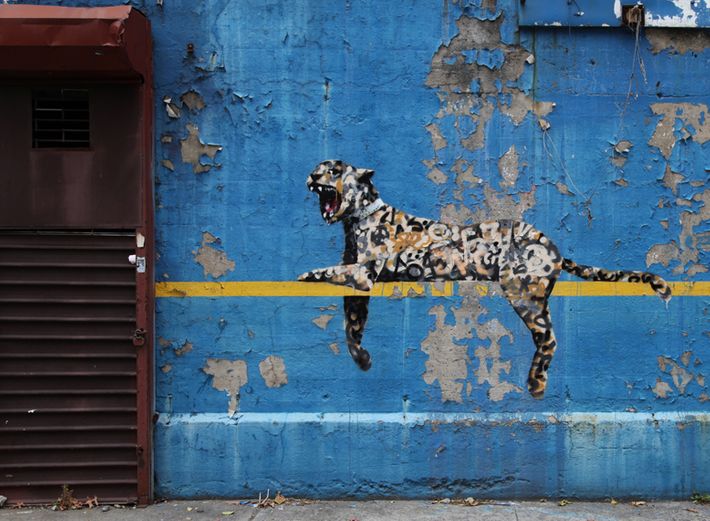 21. A robot graffiti artist (October 28): Sixties TV nostalgia. This guy is out of ideas. He can't even keep it up for one full month! This is the people's graffiti hero? Really? People, you have much, much better taste than this.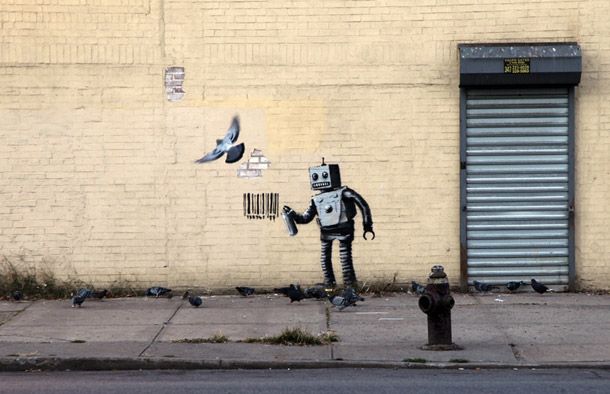 20. A saying about being grumpy (October 26): Wake me when this truck turns off the road.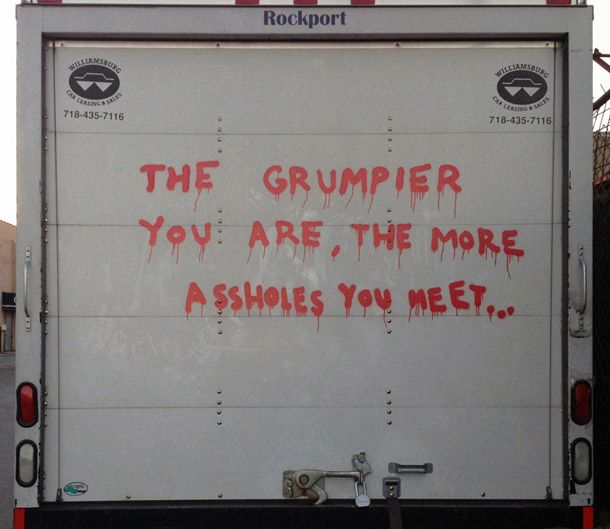 19. Strip club heartbreak (October 24): A forlorn man waiting to present flowers to someone outside the Hustler Club? So, so deep. So, so obvious.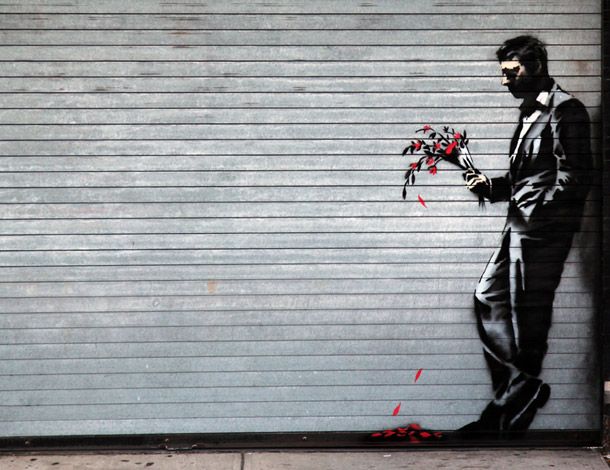 18. A balloon (October 7):  A red balloon floating free? "So clever, so classless, and free. You're still a fucking peasant as far as I can see."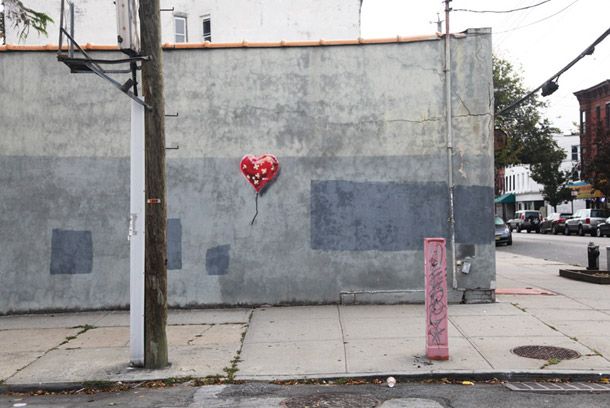 17. "The Musical" (October 4): Stenciling "The Musical" under pre-existing street painting shows Banksy's preexisting condition of being terminally facile. This was only the fourth Banksy, and it's like he's already burned out.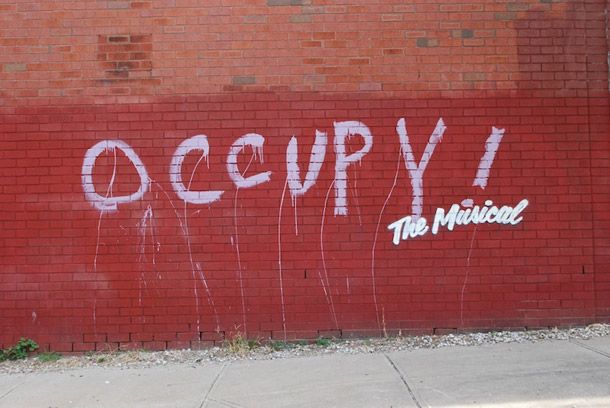 16. Hydrant and dog (October 3): A dog peeing on a fire hydrant is the best you've got? You crossed an ocean for this?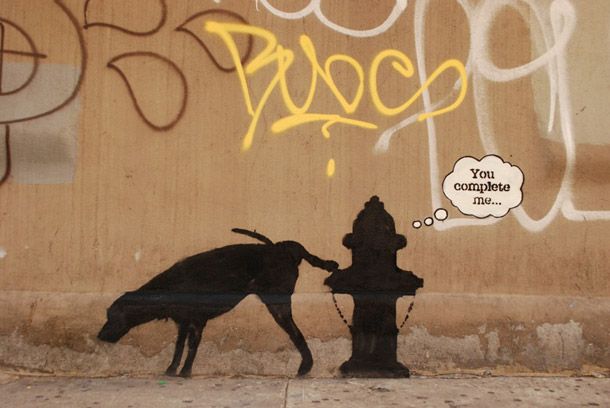 15. Gladiator quote (October 14): I love that line from the movie Gladiator. Just not the coy erasure of the word "Eternity." We. Get. It.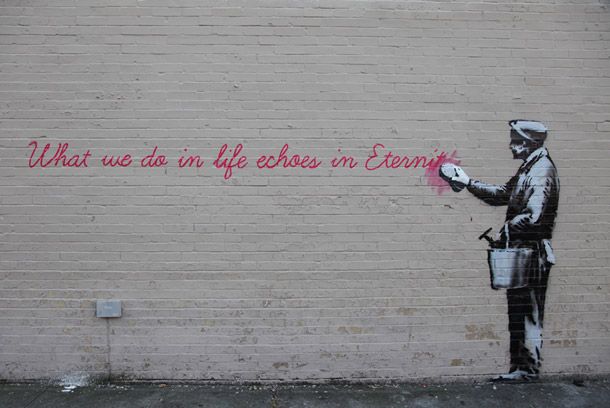 14. Two kids and an anti-graffiti sign (October 1): English nostalgia for street urchins and early twentieth-century New York Bowery kids? What century does this dud live in? The "Graffiti is a Crime" sign is a such a stupid wink-wink, larf-larf. But nice use of the wall and actual-scale. So not a total flop.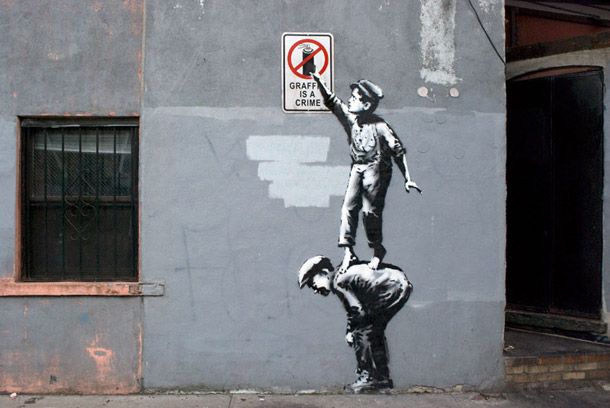 13. Banksys for sale (October 13): People liked that they were punked, and that this was some sort of edgy comment about authenticity and greed. Like leaving winning lottery tickets on the street.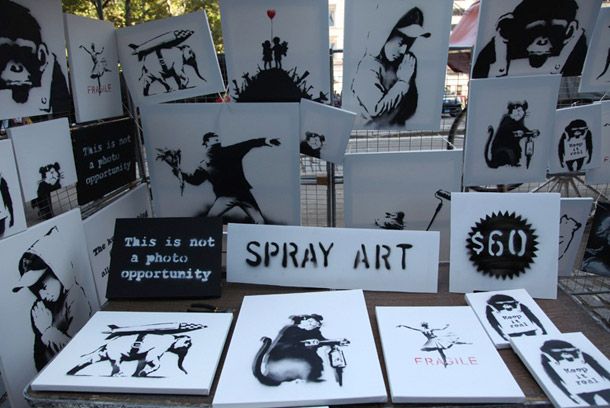 12 A beaver (October 10): Cute.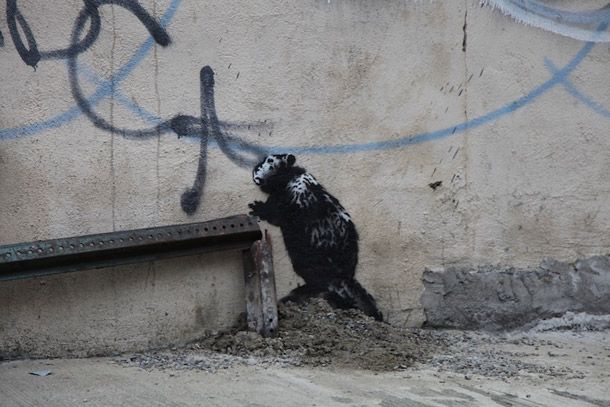 11. Horses on a wall and car (October 9): Looks like an eighties East Village junkyard graffiti piece. Nothing more.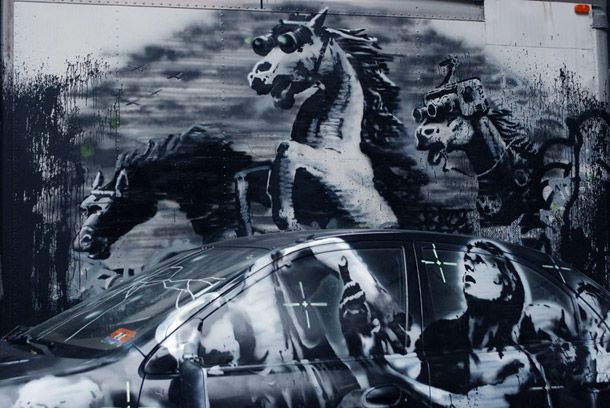 10. A saying on a door (October 8): I like that the workers at this Greenpoint factory covered the Banksy so that they could get on with their work without the tourists. Perfect that some yuppie offered them a thousand bucks for the door, on the spot — then turned to a camera and said, "I could sell this for $400,000."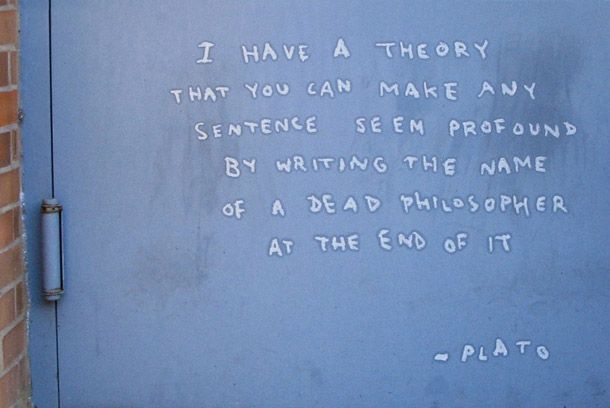 9. A mobile garden in a truck (October 5): A truck with a Thomas Kinkaid–like landscape is okay, I guess.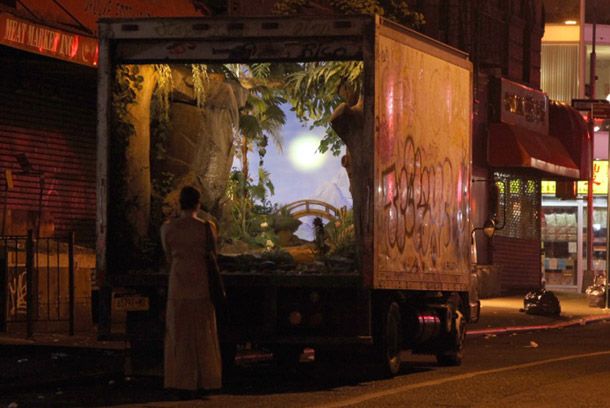 8. A kid with a hammer (October 20): Nice use of a found-object standpipe.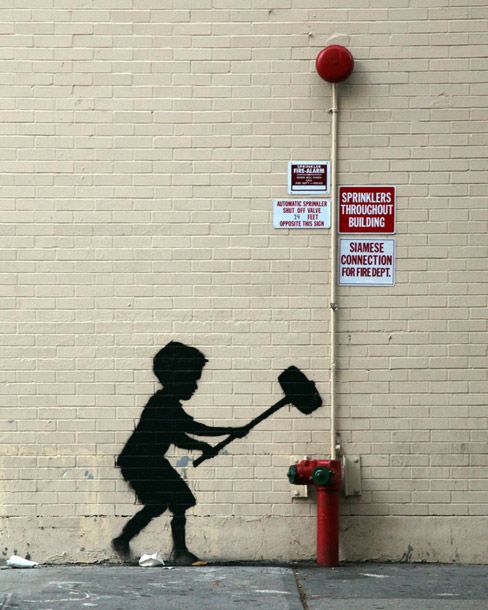 7. A contemplative Nazi (October 29): They say it's always a sign that you've lost an argument if you bring up Nazis. So I give you this flailing one-liner. In one of the oldest tricks in the modernist book, Mr. Meh adds to a thrift store painting. I've seen a thousand pieces exactly like this. With Nazis, politicians, poets, Stalin, Mao, bad guys, outlaws, pinup girls — you name it. But since it's being auctioned off and the money given to Housing Works, I'll shift it up in the rankings a bit. Happy, Banksy lovers?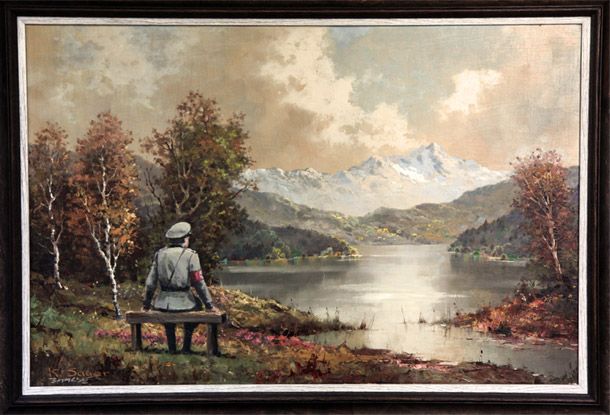 6. "Blocked messages" (October 27): Mildly interesting twist on Lawrence Weiner.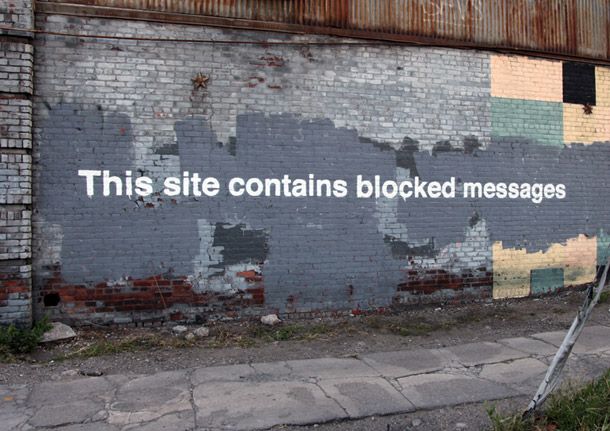 5. Twin Towers with flower (October 15): This one looks exactly like a nineties sculpture by artist Gabriel Orozco. But it is poignant — and the one Banksy that belongs in the Museum of the City of New York.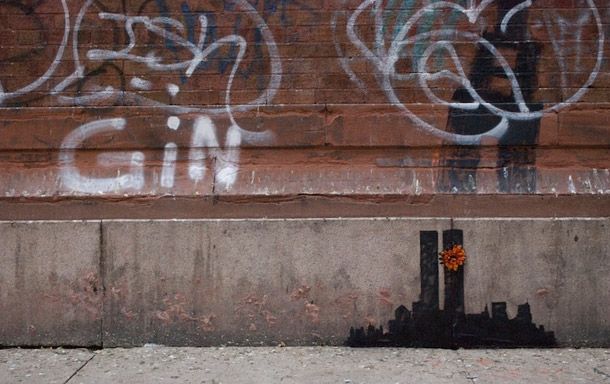 4. Geishas (October 17): As with the October 15 Orozco riff, it parrots a far, far greater artist than Banksy: Kara Walker.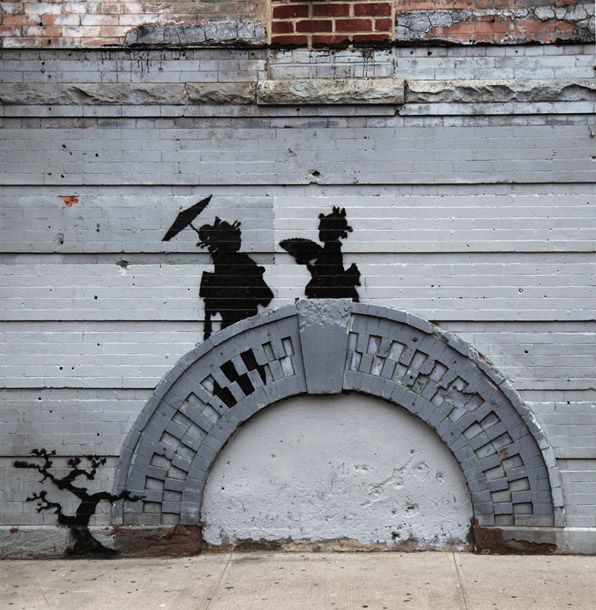 3. Faces in a crowd (October 18): Maybe this one is good because there's not that much Banksy in it — it is a collaboration with the superior Brazilian twins Os Gêmeos.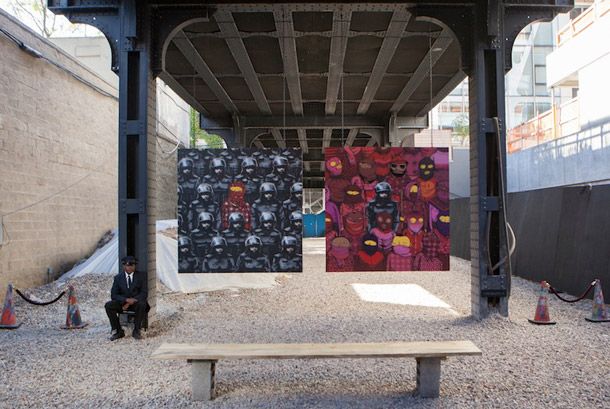 2. Sphinx (October 22):  My second-favorite Banksy looks exactly like the work of better artist Huma Bhabha. Noteworthy that it's not a painting.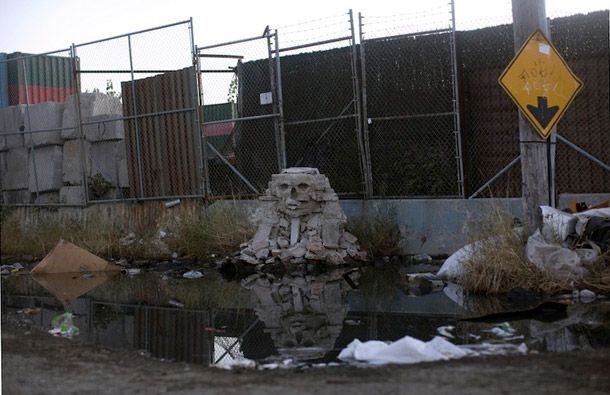 1. Animals in a truck (October 11): Surprise, pathos, and humor. Some mysterious insight into something. Interestingly, this Banksy is also not a painted one. Stick with sculpture, dude.