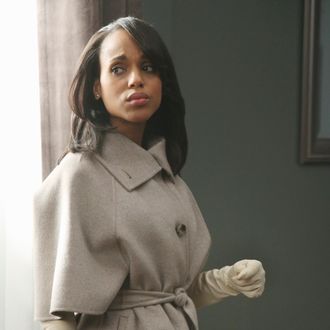 SCANDAL - "Whiskey Tango Foxtrot" - After discovering the truth behind defiance, Fitz is still struggling to figure out whom he can actually trust. Meanwhile Olivia is trying to move on with her life, and she meets a handsome stranger, Jake Weston (Scott Foley), who sparks her interest. But when Fitz and Olivia are forced to be in the same room again, real sparks fly and things get heated. Back at Pope & Associates, the team handles a new case, and for the first time they're working with David Rosen instead of against him, on ABC's "Scandal," THURSDAY, FEBRUARY 14 (10:02-11:00 p.m., ET) on the ABC Television Network. (ABC/DANNY FELD) KERRY WASHINGTON
Photo: Danny Feld/? 2013 American Broadcasting Companies, Inc. All rights reserved.
The Scandal surge continues: Last night's season-three debut of Shonda Rhimes's red-hot ABC drama delivered the show's biggest same-day audience yet, according to Nielsen. Ten and a half million Gladiators assembled for the return of Olivia Pope; among adults under 50, the show notched a 3.6 rating. That's up 13 percent from last May's finale, and, more stunning, a 71 percent increase over the show's season two return last fall. Scandal has also now pulled well ahead of Rhimes's Grey's Anatomy and is now easily ABC's No. 1 show in the under 50 demo on Thursday (and second only to Modern Family overall). Elsewhere on the night, NBC's Welcome to the Family was dead on arrival, scoring NBC's lowest demo ratings ever for a fall comedy debut; Sean Saves the World did a bit better, but still drew a smaller young adult audience than the fading final season premiere of The Office. Over at CBS, meanwhile, new family comedy The Millers did fine after The Big Bang Theory, pulling in around the same time-slot numbers as Two and a Half Men last fall.