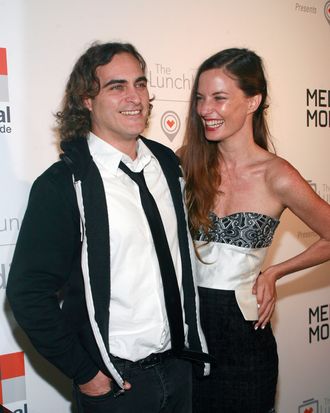 Joaquin Phoenix and Topaz Page-Green.
Photo: Sylvain Gaboury/?Patrick McMullan
Joaquin Phoenix is shy and mysterious. This, along with his great face and acting skills, is why we love him. But every once in a while, we wish he'd quit being so socially awkward, turn up at events, walk a red carpet, and smile. (The Oscars don't count; we want him here in New York, at smaller, more intimate affairs.) Well, last night, that happened, and oh, happy day. Here he is having a great time in front of the cameras with Topaz Page-Green, his ex-girlfriend and, more important, the founder of the Lunchbox Fund, a nonprofit that provides meals to kids in need. Joaquin and his sister Rain are on the board of directors; they were both there at Buddakan (along with their sister Summer) to launch the organization's new app, Feedie.
Joaquin did not talk to reporters, of course (maybe he will at the Her premiere this weekend?). But Rain obliged, answering some of our silly questions about lunches (the Phoenixs grew up vegetarian, so they ate lots of "tofu and prepared salads"; today, she had a tempeh reuben from Angelica Kitchen). And then we pulled out our latest cover to see if she'd seen her brother on it yet. "Aw. This looks amazing," she said. "I haven't seen this." So everyone breathe easy: Joaquin smiled on a red carpet last night, but it's not like he's doing show-and-tell with his press.