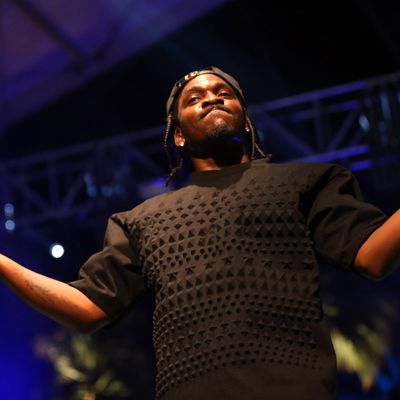 Photo: Karl Walter/2013 Getty Images
Pusha T, "King Push"
The big rap releases of 2013 have been self-styled event albums, records that strive in various ways to transcend genre: sonically (Kanye West's Yeezus), formally (Drake's Nothing Was the Same), commercially (Jay Z's Magna Carta Holy Grail). Pusha T (Terrence Thornton) has no such ambitions on his tremendous solo debut, My Name Is My Name: It's a genre album, full stop. As one half of the Clipse, the duo he co-founded with his brother Gene "No Malice" Thornton, Pusha helped pioneer coke rap, and he remains committed to that now rather passé style, packing his songs with drug trade metaphors and reveling in gruff beats-and-rhymes basics. My Name Is My Name has a lean power; Pusha doesn't waste words, but he has a way with them, a wit that gleams in the music's noirish half-light. The production is stark but often thrilling, and little wonder: Kanye West has a hand in seven of the album's dozen tracks. One of the best is "King Push," which opens the album amid battering martial drums and the eerie baying of a "Chipmunk soul" vocal sample. The chorus nips at more pop-minded rappers (possibly Drake): "I'm King Push / This king push / I rap, nigga / 'Bout trap niggas / I don't sing hooks." The verses are impressively concise, collapsing whole stories into a couple of lines: "Carry on, like a carry-on / And my side bitch, I let tag along / Call me "Daddy" from a complex / 'Cause her mother's fucker wouldn't marry mom."
Zammuto, "Corduroys"
The Books, the duo that songwriter and multi-instrumentalist Nick Zammuto co-led from 1999 to 2012, was a group like no other. Zammuto called the band's work "collage music." That's as good a term as any for the Books' creations: clever, precise, often beautiful songs, pasted together using traditional and homemade instruments, loops and samples and found sounds. Somehow the Books made it all sound like pop and, for that matter, like folk: Albums like The Lemon of Pink might have been field recordings from some sci-fi future — or, maybe, a distant sci-fi past. The Books broke up last year; Zammuto relocated from New York to Vermont, where he continues to compose and experiment. (In this delightful video, Zammuto demonstrates one of his new inventions, a method for creating percussive music by scratching rhythms into the locked groove of vinyl records.) He has also been releasing a steady stream new material under his own name. "Corduroys" is like the songs on the album Zamutto put out in 2012: more traditional and song-based than the Books, but still left-of-center, still surprisingly funky, and still obsessed with the possibilities of digital technology and unlikely analog sounds. On his SoundCloud page, Zammuto describes the "Corduroys" as "a song about a corduroy sound fetish." "I'm in love with the sound of her thighs," he sings. "I can hear them rubbing and I can hear everywhere she goes … I abide by the sound."
Prince, "Breakfast Can Wait" 
The brand-new video for this saucy-in-all-senses ballad has some fun with a drag king Prince impersonator, dressed in the great man's circa-1984 togs. But the video is superfluous. "Breakfast Can Wait" works perfectly already as funk (check that bass line and the cameo by Camille, Prince's pitch-shifted alter ego); as smutty culinary comedy ("Grits and gravy / Cheese, eggs, and jam / Can nobody cook it like you, girl / No ma'am!"); and as utilitarian baby-making music —preferably cued up before the morning rush hour.
Crystal Antlers, "Rattlesnake"
Rattlesnake, the new single by the loud, shaggy Southern California band Crystal Antlers, is a twofer. It begins as a sludgy psychedelic ballad; at around a minute and fifteen seconds in, the tempo picks up, and singer Johnny Bell starts howling, "Rattlesnake! Rattlesnake!" Then comes a second verse: wash, rinse, repeat. Not sure what the song is about, but it doesn't really matter: The band's heaving, lashing assault — and that "Rattlesnake!" refrain — is its own reward.