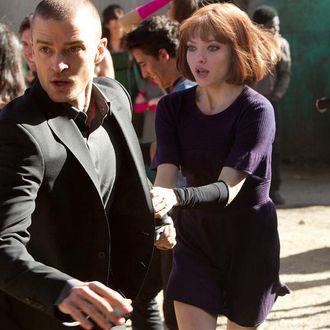 Photo: Photo: Stephen Vaughan/Copyright ? 2011 Twentieth Century Fox Film Corporation. All rights reserved. IN TIME Motion Picture Copyright ? 2011 Regency Entertainment (USA), Inc. and Monarchy Enterprises S.a.r.l. All rights reserved. Not for sale or duplication.
Though most of us don't remember the somewhat silly sci-fi thriller In Time, it did make $173 million worldwide back in 2011, enough that Greek screenwriter Odysseus Lappas is in the process of suing Twentieth Century Fox Film Corporation, New Regency Productions, and Regency Enterprises for plagiarism. According to Variety, Lappas claims his idea for Time Card is eerily similar to that of the Timberlake-fronted thriller, right down to the "future when people die after reaching their 25th birthday" premise.
TheWrap writes that Lappas filed papers with the Los Angeles Superior Court on Monday stating that he wrote the synopsis for "an action-adventure love story about a man and a woman who live in a future world wherein the human lifespan had changed and people would die after reaching their 25th birthday." What's more, Lappas claims he was even offered $50,000 for the film during a 1996 meeting with a Fox script reader; a deal he turned down in hopes of directing. As of Monday, neither New Regency nor Fox commented on the situation. Perhaps they're just waiting for Lappas to remember what a stinker the film was and drop his lawsuit.