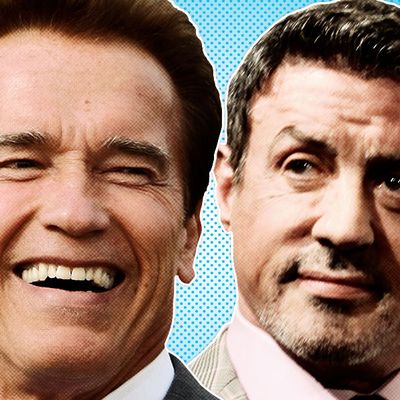 Photo: Maya Robinson and Photos by Getty
It's finally happening. Twenty years after people stopped asking for it, the first movie headlined by both Arnold Schwarzenegger and Sylvester Stallone arrives in theaters today. A decade ago, seeing both of their names on the same theater marquee seemed like an impossible dream. Ah-nuld was about to become the governor of California. Stallone was about to win a Razzie for Spy Kids 3-D: Game Over. One was moving away from acting, while the other was fading into obscurity. But like Rocky Balboa and the Cyberdyne Systems Model 101 Series 800, both actors refused to go away for good. Sure, in Escape Plan, Arnie and Sly look like melting wax figures of their formerly sculpted selves, but make no mistake: This is a momentous day in Hollywood history. To see what it took to get here, Vulture put together a timeline tracking the cantankerous, spiteful, jokey, and now cuddly relationship between Hollywood's most iconic meatheads. Here's how these beefy sixtysomethings went from bratty rivals to reluctant frenemies to just a couple of dudes having lunch together on Saturdays.
January 1977: Stallone (pictured here with Sophia Loren) and Schwarzenegger (looking dorky!) meet when they're assigned the same table at the 34th Golden Globes gala. Both take home awards — for Rocky and Pumping Iron, respectively. At this year's Comic-Con, Stallone recounted the fateful first encounter.
October 1985: Schwarzenegger's Commando hits theaters. In a promotional interview with The News of the World, he disses Stallone, who was a much bigger star at the time: "I'd be angry at hearing my name mentioned in the same breath as Stallone's. Stallone uses body doubles for some of the close-ups in his movies. I don't."
November 1985: Rocky IV opens with a $20 million weekend and features a robotic, juiced-up villain who speaks with a funny accent — leading to the suggestion that the "mechanical foreigner" is a jab at Schwarzenegger.
December 1985: Stallone marries Cobra co-star Brigitte Nielsen, who reportedly had a fling with Schwarzenegger during the filming of Red Sonja. Two stories about how the newlyweds met emerge. In the first, and most widely circulated, Nielsen sent a nude photo to Stallone, who then got in touch to set up a first date. In the second, told by Schwarzenegger, he set them up to get rid of Nielsen, who was too wild for a guy already eight years into a relationship with Maria Shriver.
January 1988: Playboy publishes an interview with Schwarzenegger in which he says he's tried to be friends with Stallone, but the Italian Stallion "just gives off the wrong vibrations." He also said Sly was out of touch with the women's movement and made fun of "that fucking fur coat when he directs."
February 1988: The News of the World runs a story by journalist Wendy Leigh with the headline: "Hollywood Star's Nazi Secret." It says Schwarzenegger is a closet Hitler-lover with "fervent Nazi and anti-Semitic views." His father, the article also says, was personally responsible for rounding up Jews to put them in concentration camps. Leigh's source? Stallone.
August 1988: The AP reports that mutual friend Harry Jay Katz organizes a meeting between Stallone and Schwarzenegger in which they hash out their differences. "All the laundry's clean now," Stallone reportedly told Katz. "We might even do a project together."
September 1988: The New York Post reports that Stallone and his crew entered a nightclub, saw a picture of Schwarzenegger on the wall, and demanded its removal, lest Sly leave and never come back. The owner took down the picture.
December 1988: With this scene in Twins, Schwarzenegger fires the first shot in a back-and-forth reference fest that would last the next six years.
December 1989: Stallone jabs back in Tango & Cash.
March 1990: Using more salacious information from Stallone, Wendy Leigh publishes an unauthorized biography about Schwarzenegger's difficult childhood, Nazi family, and use of steroids in his teens, among other things. According to Leigh, Stallone was so pleased with the book that after reading the first draft he said, "Honey, reading this is better than getting four blow jobs."
May 1990: Stallone and Schwarzenegger are spotted dancing together at Cannes.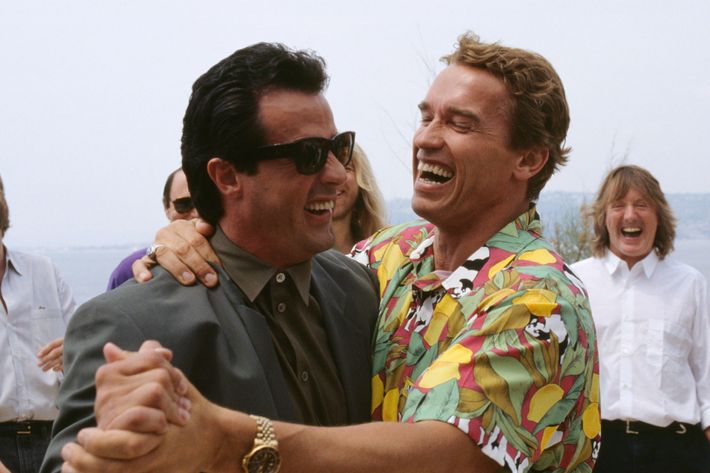 May 1991: EW reports that Schwarzenegger is thinking about starring with Stallone in a comedy in which they'd play cross-dressing cops. He thinks it's a funny idea but is withholding a decision until it's more than "just a concept."
October 1991: With fellow investor Bruce Willis, Schwarzenegger and Stallone open the first Planet Hollywood restaurant. Their partnership leads to speculation that their heated rivalry has all been a big publicity stunt.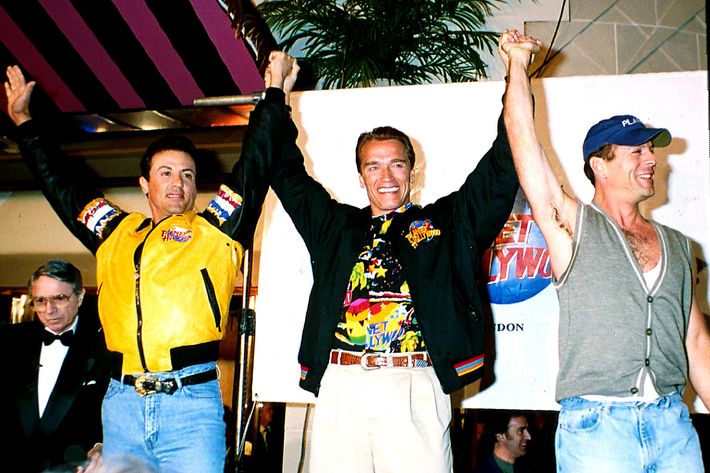 February 1992: Stop! Or My Mom Will Shoot includes Estelle Getty pointing a gun at a bad guy and saying, "I'll be back." Stallone responds, "Terminators say that, not cops."
June 1993: Schwarzenegger's action movie spoof Last Action Hero bombs. This Stallone-referencing scene is kind of funny, though:
October 1993: Stallone's Demolition Man arrives in theaters with this prescient scene:
July 1994: After watching Schwarzenegger kill a horde of terrorists in True Lies, Jamie Lee Curtis mutters, "I married Rambo."
January 2000: The Hollywood Reporter says Schwarzenegger and Stallone are trying to scare up a project that would finally unite them onscreen. They're even willing to forgo their standard salaries — $20 million for Sly, $25 million for Arnie — for the right project.
August 2003: Schwarzenegger enters the race to become California's governor and invites Stallone to campaign events. "I said no, then my wife says, 'Come on, he's extending the olive branch,' and next thing I know is I'm on the campaign trail, then we just hit it off," Stallone recalls.
August 2003: Jackie Stallone's psychic dogs predict that Schwarzenegger will be California's next governor.
September 2003: While promoting Spy Kids 3-D: Game Over at the Venice Film Festival, Stallone says, "I personally think actors should remain actors, but I know he's always had blind ambition for that, so maybe it'll work out for him."
March 2005: A new rumor about a movie that would finally pair Stallone and Schwarzenegger emerges: Quentin Tarantino wants them, along with Bruce Willis, for his WWII epic Inglorious Bastards (this was before Tarantino decided to misspell both words).
March 2005: Stallone donates $15,000 to Schwarzenegger's reelection committee.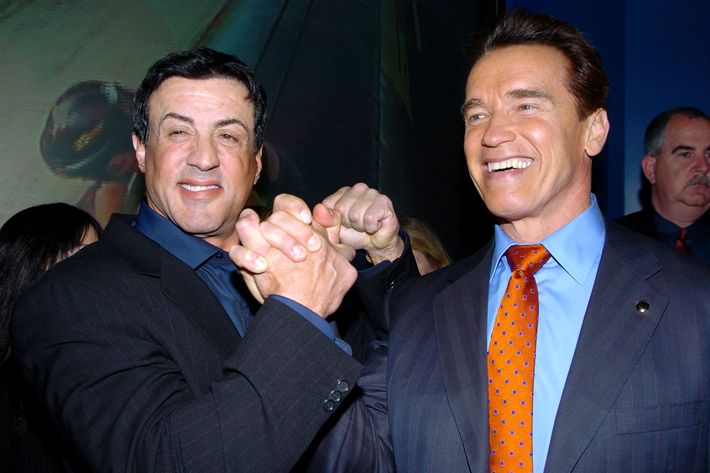 December 2005: Schwarzenegger visits Stallone on the set of Rocky Balboa and gives him a "certificate of recognition" for filming in Los Angeles at a time when many productions were leaving the city.
August 2010: Schwarzenegger and Stallone appear onscreen together for the first time in The Expendables. Schwarzenegger declines payment for his cameo.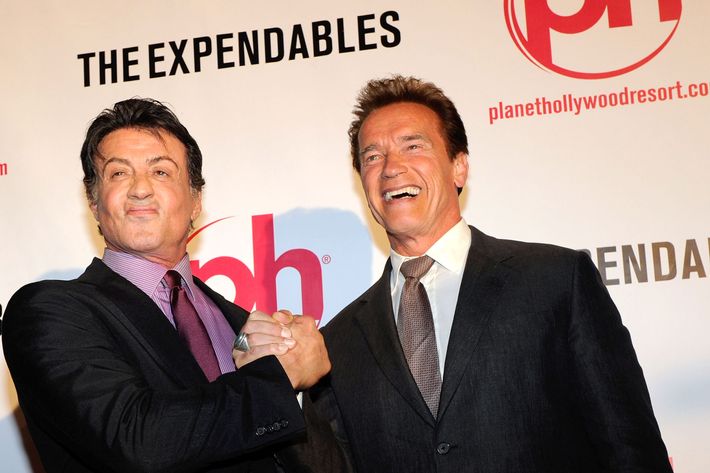 September 2010: Stallone tells the L.A. Times, "When people ask me who is the most extraordinary guy I've ever met, I answer that it's him."
February 2012: Schwarzenegger and Stallone find themselves in the same hospital for the same shoulder surgery on the same day, resulting in this somewhat depressing photo.
October 2013: At long last, more than 35 years after they first met, Schwarzenegger and Stallone co-headline a movie. And it's actually supposed to be good.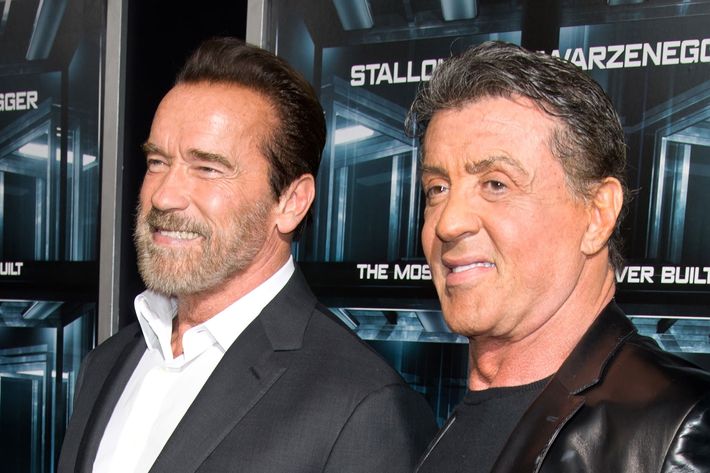 (Book sources used in compiling this timeline: The Governator: From Muscle Beach to His Quest for the White House, the Improbable Rise of Arnold Schwarzenegger, by Ian Halperin; Fantastic: The Life of Arnold Schwarzenegger, by Laurence Leamer; True Myths of Arnold Schwarzenegger: The Life and Times of Arnold Schwarzenegger, from Pumping Iron to Governor of California, by Nigel Andrews.)