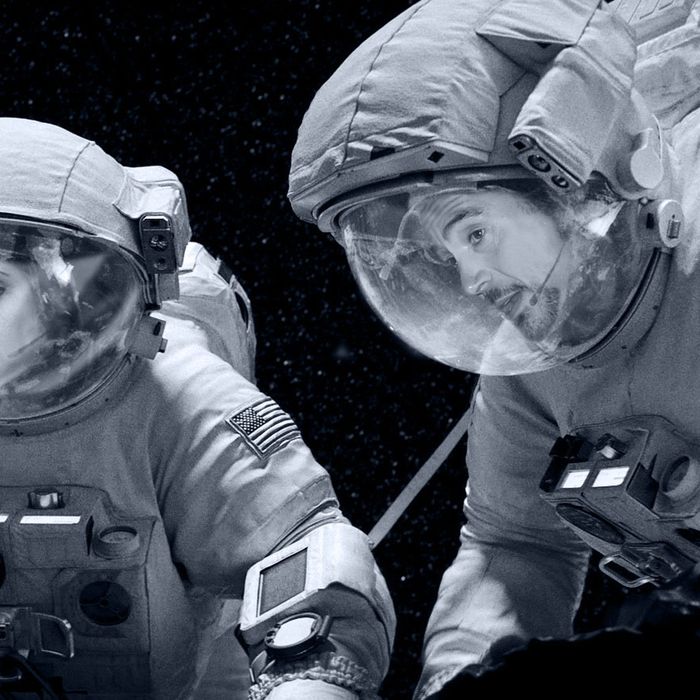 GRAVITY
Photo: Maya Robinson and Photos by Getty and Courtesy of Warner Bros. PictureCourtesy of Warner Bros. Picture/?? 2013 Warner Bros. Entertainment Inc.
There's something so right about the pairing of Sandra Bullock and George Clooney in Gravity — for the first time, these appealing A-listers are finally starring in a movie together — but if director Alfonso Cuarón had made the film the way he'd originally intended, Gravity would have had an entirely different cast. When Cuarón first got the space epic on its feet a few years ago at Warner Bros, he was courting Angelina Jolie and Robert Downey Jr. to star, and when Jolie fell out of talks, Cuarón saw nearly every actress in Hollywood for the lead role, including Natalie Portman, Marion Cotillard, Scarlett Johansson, and Blake Lively. You'd be hard-pressed to quibble with who Cuarón ended up with, but the idea of Gravity toplined by Jolie and Downey Jr. still offers a tantalizing what-if, and it got us thinking about the other big names who came thisclose to starring in the year's most notable movies.
ACTION
Gravity isn't the only big 2013 movie that Downey Jr. bailed on: The actor was originally in talks to star in Oz, the Great and Powerful. Once Sam Raimi came onboard to direct the film, Downey Jr. fell out over creative differences, but a start date was fast approaching and Raimi had to act fast to lock down a lead. After the filmmaker fruitlessly tried to land Johnny Depp (who was committed to making The Lone Ranger), Raimi finally brought on James Franco to play the wizard, and the actor was able to command a $7 million paycheck for his last-minute fill-in.
Another blockbuster, Man of Steel, could have had a very different actor in the title role: According to director Zack Snyder, the battle to fill Superman's tights came down to True Blood hunk Joe Manganiello and eventual winner Henry Cavill. That's not the only superhero flick that almost looked a little different: Jessica Chastain was offered the role of scientist Maya Hansen in Iron Man 3, but when she dropped out of talks in order to honor her commitment to the indie drama The Disappearance of Eleanor Rigby, Rebecca Hall filled the role. And though Hugh Jackman was the only big name in his summer sequel The Wolverine, that's only because Jessica Biel couldn't reach a deal to play Viper, the movie's villainess; she was replaced by Russian actress Svetlana Khodchenkova, a virtual unknown.
Finally, though J.J. Abrams worked hard to keep the identity of his Star Trek Into Darkness villain a secret, fanboys suspected the character was Khan early on, when Abrams was clearly attempting to find a Latino actor to fill the role. Benicio Del Toro was the filmmaker's first pick, but he proved too expensive, and Edgar Ramirez and Jordi Molla were among the names vying to replace him. Eventually, though, Abrams went in a different direction, hiring pasty Brit actor Benedict Cumberbatch to play the series role originated by Ricardo Montalban.
DRAMA
Cumberbatch also proved an impressive fill-in for The Fifth Estate, Bill Condon's forthcoming WikiLeaks movie: The director originally pursued Jeremy Renner to play Julian Assange with James McAvoy to co-star, but eventually ended up with Cumberbatch and Daniel Bruhl. Another cast reshuffle struck Prisoners, which first came together starring Mark Wahlberg and Christian Bale for director Bryan Singer, but the package soon fell apart — in fact, the script didn't even sell to a studio for months — leaving director Denis Villeneuve to pick up the pieces by casting Hugh Jackman and Jake Gyllenhaal.
Of the many roles in The Butler, John F. Kennedy proved hardest for director Lee Daniels to fill: When the project was first announced, Daniels had Hugh Jackman lined up to play JFK, with Mila Kunis as his Jackie. After both actors fell out, Daniels went after Matthew McConaughey and Minka Kelly to replace them, but McConaughey then departed to film Dallas Buyers Club, and Daniels scrambled to fill the presidential role with James Marsden, whom he happened to run into on the street a week and a half before the JFK scenes needed to be shot. That's not the only part Daniels had to recast: He originally wanted Liam Neeson to play Lyndon Johnson (a role that went to Liev Schreiber), was trying to lure Nicole Kidman to the movie for a never-specified role, and actually did cast Melissa Leo as Mamie Eisenhower, though her part was excised from the finished film.
It hasn't been a great 2013 for Gossip Girl alum Blake Lively, who was passed over for both Gravity and The Great Gatsby, though the director of the latter, Baz Luhrmann, was still smitten enough to write an ode to Lively for Time magazine. Lively did manage to land the lead in Steven Soderbergh's last feature film, Side Effects, but financier Megan Ellison wasn't willing to make the movie with her, and Soderbergh eventually went with Rooney Mara instead. She's not the only actress who had a rough time of it this year: Samantha Morton filmed Spike Jonze's Her as the Siri-like voice that Joaquin Phoenix falls in love with (the operating system is even named "Samantha"), but after the film wrapped, Jonze subbed in Scarlett Johansson's smoky voice instead. Other actressy coulda-beens: For a time, Keira Knightley was flirting with the lead role in the romantic drama Safe Haven (a part that eventually went to, uh, Julianne Hough), while Dallas Buyers Club director Jean-Marc Vallee recruited Jennifer Garner to play a female lead that he'd originally attached Hilary Swank to. (Garner's scene partner is a dramatically shrunken Matthew McConaughey in a role that Brad Pitt and Ryan Gosling had both flirted with.)
COMEDY
Emma Watson wasn't the first Harry Potter actor approached to join the all-star cast of Seth Rogen's apocalypse comedy This Is the End. "Two years before we brought [the script] to anybody else, we brought it to Daniel Radcliffe and he rejected it because it was shitty, it wasn't good enough," co-director Evan Goldberg explained to Buzzfeed. Goldberg and Rogen took Radcliffe's criticism to heart and revised the script, luring Emma Watson but jettisoning Bill Hader, Elizabeth Banks, and Edward Norton, all of whom were meant to cameo in the film's party sequence but had to drop out owing to scheduling difficulties.
Other last-minute exits: Emma Roberts signed on to play one of the girls gone wild in Harmony Korine's deliriously slutty Spring Breakers, but fell out owing to creative differences (she was replaced by Ashley Benson). Zooey Deschanel originally planned to spend her first New Girl hiatus filming the forthcoming About Time for rom-com master Richard Curtis (Love Actually), but when she decided to focus on her music instead, Curtis recruited Rachel McAdams to replace her. But the most last-minute recasting has got to be Benjamin Bratt in Despicable Me 2: He took on the major role of El Macho only six weeks before the movie's premiere, after original voice actor Al Pacino departed the film because of "creative differences." Maybe there's a reason Pacino has never done an animated film before (and likely won't again, after that contentious experience).
And then there's The Secret Life of Walter Mitty, coming out this Christmas. Based on a 1947 Danny Kaye film (which was itself based on a 1939 James Thurber short story), this tale of a hapless daydreamer has intrigued almost every comic name in Hollywood: Over the last decade, Jim Carrey, Will Ferrell, Mike Myers, and Owen Wilson were among the actors exploring Walter Mitty as a star vehicle, and no less than Steven Spielberg and Ron Howard flirted with directing. But after Sacha Baron Cohen exited the project in 2010, Ben Stiller came onboard to direct and star, and the elusive project finally came together (it'll premiere October 5 at the New York Film Festival). Directors often cite a Hollywood maxim that a movie gets made with the cast it deserves; maybe that's true, and all Walter Mitty needed was a director who could cast himself.