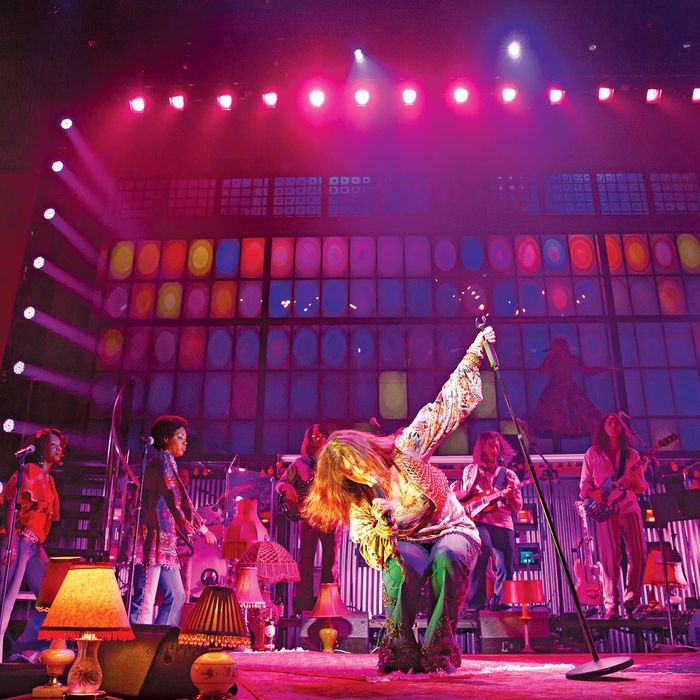 Has the theater district struck a deal with Madame Tussaud's? Lady Day, the Bronx Bombers, and now Janis Joplin are all treading the boards in midtown, as live waxworks have taken over live theater, en masse. The performances in these sorts of shows usually range from very good to altogether remarkable (I'd put Mary Bridget Davies's Janis in the latter category), but golly, how soon before Times Square's own Angry Elmo and Unironic Iron Man rent out the Cort?
A Night With Janis Joplin is not a play or a musical but a Concert Experience conceived, written, and directed by Randy Johnson, who also wrangled Mike Tyson's one-man show last season. (Johnson's online bio contains this breathtaking credit: "Randy staged and directed Pope Benedict's most recent appearance in New York.") Where does one go after Tyson and the papacy? To Port Arthur, Texas, where a little girl who grew up singing show tunes and revering the doyennes of blues-singing (Odetta, Bessie Smith, Nina Simone) began to transform herself into rock's founding goddess of inspired self-destruction. Don't expect much in the way of personal revelation or public misbehavior. Apart from sucking on a bottle of Southern Comfort, this Janis is quite composed and sedate between songs. She tells charming stories about housecleaning, her family, her favorite 45s. Johnson's script has been carefully policed by the Joplin estate, which consists of Janis's siblings—thus, it's long on stories about her siblings and short on just about everything else. If an alien landed in the theater, seeking knowledge of Janis Joplin, its report to the mother ship would describe a mild, genial hippie redneck whose onstage routine included the occasional nip of hooch—basically Ron White in combat boots and batik, with a song in his heart.
But you're not showing up for a Britannica bio, am I right? You're here for a Concert Experience, and this A Night With Janis Joplin surely furnishes, with almost scientific precision. (I like my live-concert experiences to involve actual living people, not impersonators, but I realize the distinction's becoming a fine one, so feel free to ignore my fogeyism. While we're on the subject: Surely we can get someone better than Robin Thicke to play Robin Thicke, yes?) Davies's Janis, it must be said, is nothing short of extraordinary in the pipes department: She shreds her larynx like a woman possessed and still has more to give. It's a close but not Xeroxed impression, and in the narrow interstices between impersonation and performance, she injects real feeling and nuance. This is especially astonishing given the deadwood she must deliver. But just when you can't take another anemic anecdote or whitewashed Wiki stub, she lets loose her "Cry Baby," her "Me and Bobby McGee," and all is forgiven. Her "Joplinaires"—the amazing, soul-afire quartet of Taprena Michelle Augustine, de'Adre Aziza, Allison Blackwell, and Nikki Kimbrough—are far more than backup singers: Each takes on a blues goddess or two, and each meets Janis where she lives, in talent and intensity. It's actually an ensemble show, a feat for which Johnson (who really knows how to stage a Concert Experience; he's no mere papal-visit one-trick pony) should be commended. In sum: I fell dead asleep in A Night With Janis Joplin, and maybe this means I'm missing a piece of my heart. I suspect the faithful will feel more blessed.
A Night With Janis Joplin
Written and directed by Randy Johnson.
Lyceum Theatre.
*This article appears in the October 21, 2013 issue of New York Magazine.