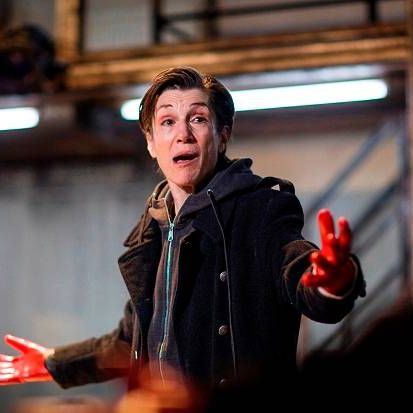 Harriet Walter in Julius Caesar
Stars or selves? Which is to blame for the extreme political dysfunction that roils Julius Caesar? In this demonically fun, punk-pugnacious, occasionally unhinged all-female import from London's Donmar Warehouse, director Phyllida Lloyd wades into the play's ancient debate of power, legitimacy, and spin with a perspective informed by the U.K's post-7/7 "ring of steel" years. (The audience enters through an unsettling cattle chute, with metal rolling doors pushing us through a CCTV-surveilled corridor.) Lloyd's aspirants, combatants, and loyal retainers are all inmates of a women's prison, where the question of who's really in charge — popular rabble-rouser and would-be god-king Caesar (a fierce Frances Barber, strutting like a bantam cock), tormented small-d democrat Brutus (Harriet Walter, grave and barbed-wire tense), or flashy flesh-presser Mark Antony (a smoldering Cush Jumbo) — only points to the bigger mystery: Who's allowed to be in charge? Neither our stars nor ourselves — not our fates, not our wills — count for much when we're under a concrete slab, Lloyd implies, and her ferocious cast quietly underlines this point with joyously unquiet performances. Gary Yershon's live-performed rock score and Ann Yee's movement create a vibrating architecture of very controlled chaos.
Nervous shivers of race and gender domination run just beneath the show's skin (while plenty of over-the-top atmospherics, like a dog-act submissive on a leash and a doll-eyed soothsayer riding a Saw-esque trike, are tattooed on its surface), but this isn't a show about how women dominate other women, or Who Gets to Be the Man, or anything half so simple. The gender-flip isn't polemical; it's clarifying. And though she's deploying a none-too-subtle "inmates run the asylum (or do they?!)" conceit deployed by many directors, Lloyd uses it to thrilling effect here, teasing out the play's deeper misanthropy, its anti-revolutionary despair and wounded cynicism. If you've been unwise enough to follow the news lately, and you need a good scream at the broken machine, you may have found your rage cage. For here's a Caesar that doesn't even need balls; it's got gall.