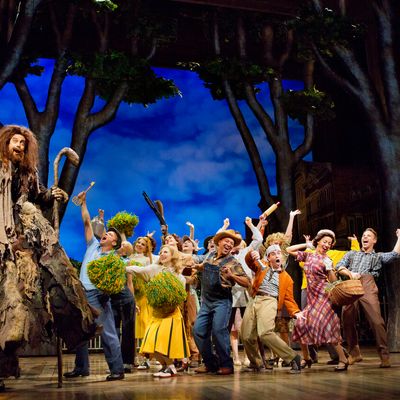 Big Fish, at the Neil Simon Theatre.
Photo: Paul Kolnik/? 2013 Paul Kolnik
Big Fish, the new musical from composer Andrew Lippa (The Addams Family) and director Susan Stroman (The Producers), is a heartbreaker, though perhaps not the kind its creators were hoping for. Like the new kid who's overshopped and overprepared for the first day of school, it wants desperately to be liked, and presents a desperate, sweaty simulacrum of likeability. And it gets a few important things very, very right. One thing in particular: Its main character, the aging southern fabulist Edward Bloom, is played with full-to-bursting heart by the vastly talented Norbert Leo Butz, one of the few Broadway triple-threats who can credibly slide from boyishness to old age in a split-second without triggering our gag reflex. I've never seen Butz deliver a dishonest or less-than-electric moment on stage, and Big Fish is no exception. But the show built around him is a pulseless bore, and you can see his shoulders sagging from carrying all that weight. Apart from a choice hook or two, the score is stillborn, the lyrics so inert they're tautological. The whole show waits on the music to move it; the music stubbornly, Boehnerically refuses. It's two and a half hours of near deadlock, and Butz helps us pass the time pleasantly enough. But even the biggest bass can't pull the boat home for you.
Big Fish, based on the book by Daniel Wallace, is a real life recounted in tall tales — a bull-dungsroman, if you will. When we meet him in old age, Edward Bloom is still charming everyone in his smile-radius with his wild stories — part Greek myths, part Jack tales, part deep-fried redneck balderdash. (His life is an answer to the question, what if Forrest Gump hadn't been developmentally disabled at all, just a liar?) He's been all over, that peripatetic Ed! (If we define "all over" as "Alabama and its immediate neighbors.") Oh, he's befriended giants! Worked for a wolfman once. Met a witch who showed him how he'd die. (And gave him the source of his seemingly limitless confidence: He knows how he's gonna go, and, as he often repeats, "this isn't it.") A great many of these exploits are touted in breathlessly compressed abstracts during the opening number, "Be the Hero" (the show's snappiest production number, but also a harbinger of the lyrical literalism to come).
But Ed's uberrational, ultra-urbane son Will (Bobby Steggert) only sees the absentee traveling salesman who skipped out on most of his childhood and left him with a stack of technicolor lies. (Yes, it's the cold-fish ungrateful-child role, a suicide mission: Steggert slogs through, but there's not too much he can do.) Will knows all the stories, but he still doesn't know his father — and now that he's married (to an endlessly patient expositioness played with sportsmanship and aplomb by Krystal Joy Brown) and expecting a child, he'd like to correct that. Then some bad health news arrives for Edward, and Will's irk becomes an obsession: He's convinced his father's hiding something behind his tattered Bulfinch of bull. Did the wonderful, legendary Edward Bloom cheat on his beloved wife Sandra (Kate Baldwin, statuesque and mostly confined to pedestal duty)?
Book writer John August guides us along with witty dialogue and committed characterizations, but ultimately he's at the mercy of Lippa's score, which stops the show every time — in the worst possible way. Lippa's been a gifted crafter of melodies in the past (the tunes in The Wild Party are wonderfully infectious), but his lyrics are liquid lead, with fruity notes of Hallmark. "I'd live forever in this moment," sings Edward, when he first lays eyes on Sandra, "if I could stop time." Well, yes, of course you would. Not a single line of singing does much more than reheat a cliché or restate a characterization or situation you've been familiar with for the last three scenes. For a life as uniquely monogrammed as Edward Bloom's, a generic libretto feels like an insult.
Butz beams through all this styrofoam, and has help from Ryan Andes's Karl the Giant, a deft bit of stiltwork and basso profundo. He outshines even the strikingly tacky set, with its leprous LEDs and garish cartoon backdrops. The whole show feels held together with spit and blarney (you can see deep incisions where last-minute cuts and additions have been made), which might be charming if it all didn't look so damned expensive. But even Butz's expansive performance comes with a catch: As the fish gets bigger and bigger, the pond grows vanishingly small. Some lives don't live up to their stories, some stories don't live up to the lives they're confabulating. Big Fish just kinda slowly settles to the bottom.
Big Fish is at the Neil Simon Theatre.