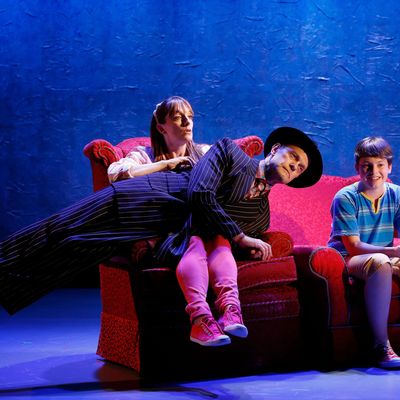 John Kander and Fred Ebb were so enmeshed as collaborators that Kander, the composer half of the duo, used to refer to the partnership by a portmanteau: Kandernebb. Over the course of 42 years as an exclusive team, Kandernebb wrote more than 2,000 songs and fifteen musicals, eleven of which — including Cabaret, Chicago, and Kiss of the Spider Woman — made it to Broadway. With the other four left in various states of completion when Ebb died in 2004, Kander swore that before he contemplated teaming up with another lyricist he would do everything in his power to get the stragglers definitively produced. Curtains made it to Broadway in 2007, and won a Tony award for its leading man, David Hyde Pierce. The Scottsboro Boys, which turned a scandal into a sinister minstrel show, was a hit at the Vineyard Theater in 2010 (though it proved too disturbing to sustain an audience when it transferred uptown). The Visit, based on the Dürrenmatt revenge drama, is always supposedly on deck with Chita Rivera. Only the team's version of The Skin of Our Teeth, after a few workshops and regional stagings, looks to be permanently stalled.
In any case it seems fair to say that Kander, now 86, has more than fulfilled his promise. And since he is (along with Stephen Sondheim) the last of the giants still working, it has been a matter of both curiosity and concern to see what he'd write next. Would he favor the brash, bruised "screamers" (as he called them) that Ebb loved so much: anthems like "Cabaret," "New York, New York," "The World Goes 'Round," and "All That Jazz"? Would he instead gravitate toward the exquisite ballads ("A Quiet Thing," "Isn't This Better") that Ebb generally loathed? Or would he perhaps find some completely new voice, not responsive either positively or negatively to Kandernebb, but finally fully his own?
The Landing, Kander's first complete post-Ebb show, offers no conclusive answer; rather, it deepens the mystery of how theater music arises and takes shape from its surrounding conditions. In this case, those conditions obviously included an enjoyable working environment: Kander, who was not socially close to Ebb, surrounded himself with trusted friends. The Vineyard is again producing; the star is again Hyde Pierce; and the director is Walter Bobbie, who helped turn the revival of Chicago into a monster hit. And Kander's coauthor, Greg Pierce — whose delicately troubling drama Slowgirl showed him to be a playwright of great promise — is Hyde Pierce's 35-year-old nephew. He is not from the screamer school.
The Landing consists of three one-act musicals, each about 30 minutes long and employing the same cast of four. Otherwise, the stories are tied together only by a lightly suggested theme: how adults implicate children in their fantasies and failures. Each segment addresses this theme in a completely different style, musical and otherwise. The first, called Andra, is kitchen-sink drama — literally; a lonely, bullied boy (Frankie Seratch) is taught to find solace in stargazing by a carpenter (Paul Anthony Stewart) who is renovating his parents' kitchen. The lieder-like tunes Kander produces for these characters pretty much tell you that the solace will soon prove insufficient.
The second and least successful segment, called The Brick, is absurdist sketch comedy, and falls right into the trap of that genre: a premise too flimsy to sustain the weight of its laborious working-out. In this case, the premise is also too peculiar. A boy (Seratch again) must save his loony aunt (Julia Murney) when she comes under the malign influence of a brick taken from the wall against which the victims of the St. Valentine's Day Massacre were shot. Yes, you read that right. Though it is delightful to find Hyde Pierce (as the personified brick) polishing his gangster patois — "I'm gonna bust your bean and readjust your spleen" — and to watch him and Murney sing and dance their way through an old-fashioned Kandernebb-style charmer ("White Water"), the segment ultimately feels like a stab at comic relief that veered left at whimsy and missed its target.
It's harder to know what the target is in the engrossing third segment, also called "The Landing." A tale of Serling-like surrealism without a Serling-like message, it begins on the day a gay couple (Hyde Pierce and Stewart) bring home the son they've adopted (Seratch) from what is apparently a metaphysical adoption agency. The boy is not quite real — and not just because, at 12, he's unfailingly cheerful and loving and neat. He also (what luck) plays piano and sings, so he can deliver a haunting Brittenesque air that sets the foreboding tone:
There's a big boat with a long rope
And the tide has turned
Pull the long rope to stop the big boat
And all that happens is your hands get burned.
The boat is fate; clearly, this boy of uncertain provenance has entered the men's lives to teach them a lesson about submission. But the lesson, when learned, is bittersweet: that they were a family even before their long-dreamed-of child arrived.
At least, I think that's the lesson. The title tale, and the omnibus evening as a whole, is so modestly told (and directed with such a low pulse) that even the punch lines are murmurs. And though Kander easily gins up whatever kind of number is called for, including one in four-part counterpoint, the stories are under-musicalized, and Ebb's acrid, diamantine edge is missed. To the extent that Kander has always prioritized the dramatic needs of his material and his collaborators, it's possible that he's just too good.
The Landing is at the Vineyard Theater through November 24.