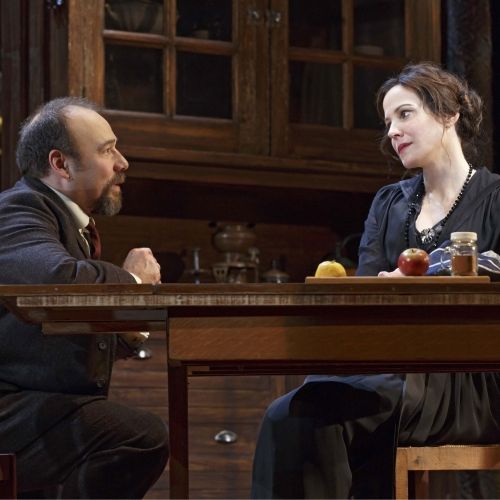 Danny Burstein and Mary-Louise Parker in The Snow Geese.
There's a wasting disease going around the theater district these days; here's how to spot its symptoms. First, look for a woodsy family homestead that will have to be sold to pay off debts. (In our current patient, it's a lakefront lodge on 200 acres outside Syracuse, New York.) Within it, identify a spendthrift bohemian mother: check. A loaded pistol should be prominently displayed before intermission, and fired after. Portentous birds are a giveaway; if you notice any, seek help at once. But not from the resident philosophizing doctor. He can only diagnose his own uselessness, not the affliction from which the play is suffering, which we might as well call Chekhovitis. And, boy, does The Snow Geese (portentous birds!) have a bad case of it.
I'm pretty sure that the playwright, Sharr White, has thrown all four of the canonical Chekhov dramas into the blender here. Elizabeth Gaesling, a sybaritic widow, cannot (like Lyubov in The Cherry Orchard) face the financial reality her fecklessness has led to. She also has issues with her sons, Duncan and Arnold, who divvy up between them the self-dramatizing and self-abnegating traits of Arkadina's son in The Seagull. Clarissa, Elizabeth's sister, is the killjoy who makes the household function, like Sonya in Uncle Vanya; her husband, Max, the doctor, descends from that play's Astrov. And everyone, as in Three Sisters, wants to get to Moscow. Well, Syracuse.
You could do worse than model your play on Chekhov, but when doing so it's easy to miss the big ideas for the birds. White wants to get at the naïveté of Americans who by 1917 have grown so accustomed to effortless wealth that they have no idea how to function without it, or who is suffering as a result. To dramatize this, White gives us a family divided between fantasists and realists, all facing, as World War I gets personal, the end of their own Gilded Age. Fair enough. But in developing the argument, he too neatly matches his teams: Elizabeth calling for Champagne at breakfast; Clarissa, a teetotaler, tsking. While Arnold pores over the dusty ledgers that reveal the family's bankruptcy, Duncan has been off in New York City, partying and preparing for war with his Silk Stocking regiment by, as Arnold puts it, "guarding the Waldorf." Even the surprisingly opinionated maid — a penniless Ukrainian refugee from, wouldn't you know it, a once-rich family — is stacked against herself.
The structure is stacked too: the revelations and subsequent rhubarb required for act two erupt there only because they were artificially suppressed in act one. That's awkward but not fatal; many good plays achieve their devastating effects with the scars of their construction proudly bared. But The Snow Geese lacks two qualities whose absence can't be finessed. One is freshness. Whereas Christopher Durang's Vanya and Sonia and Masha and Spike, another Chekhov gloss, successfully put the master's archetypes in amusingly new situations, White gives us a play we feel like we've already seen. And perhaps we have — or will soon. A coproduction of Manhattan Theater Club and MCC Theater, The Snow Geese is part of the former institution's ongoing Women Ruined by Their Husbands festival. Last year we had Richard Greenberg's altogether lovelier Assembled Parties; next come The Commons of Pensacola (about a Ruth Madoff type) and Tales from Red Vienna (a World War One widow). Can The Age of Innocence be far behind?
That Edith Wharton novel suggests the play's other deficiency. Whereas the tale of Ellen Olenska reveals a penetrating sense of psychology, Sharr's characters, so busy being chessmen in an argument about America, make little sense as people. Duncan, the golden son, is referred to as "charming and funny and handsome and rakish" and even "magnificent," but his actual lines, until a sudden and wholly unmotivated transformation, reveal him to be just a snob and a boob. As for Elizabeth, there's nothing about her, even allowing for deep mourning, that suggests the gaiety and emotional resourcefulness she is constantly described as possessing. Sharr does give her good lines: "The reason society exists … is to make us feel better about the failures of being alive." But they sound like they should be someone else's.
The actors do what they can, but here, too, there is a mismatch. On one team you have Mary-Louise Parker as Elizabeth, looking lovely in her widow's weeds. Parker can be extraordinarily compelling when playing contemporary characters; her thinking process, with all its starts and stops and pauses and reversals, is unusually legible and honest. (She'd be excellent in White's terrific play The Other Place, recently on Broadway.) Characters who are less modern pose a problem for her though, because they are usually written to think with the lines, not between them. Parker just doesn't gravitate that way, and because her pull is so powerful the audience gets dragged into her style instead of the play's, and so do some of the young actors playing her sons. As a result, they actually do seem like a family — just not a family in 1917. It doesn't help that Sharr's sense of period idiom is a bit cock-eared.
On the other team are Victoria Clark and Danny Burstein, as Clarissa and Max; they are firmly in period, without stutters or lacunae, and bring the material a dignity and confidence it sorely needs. It's not irrelevant that they are both known as great singing actors; singers have to do their acting directly on the words or they miss their chance. Indeed, it's one of the funnier conceits of the production that Clark, of all people, plays a woman who can't carry a tune.
It's less amusing that the play cannot, but there are the usual compensations. The action, under Daniel Sullivan's efficient direction, moves smoothly on a gorgeous (yes, Chekhovian) set by John Lee Beatty. The other technical aspects are all lovely, and the incidental music, by Dan Moses Schreier, exceptionally so. Give credit, too, to Rocco DiSanti's haunting projections of those constantly startled snow geese; maybe what they're doing is flying off with the two theaters' money.
The Snow Geese is at the Samuel J. Friedman Theater through December 15.