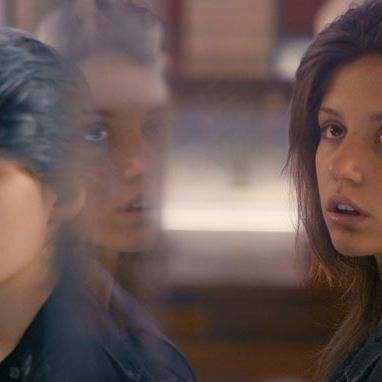 Blue Is the Warmest Color has been mired in controversy from the beginning. Even before winning the Palme d'Or, the three-hour French lesbian love story was Cannes' most buzzed-about film, largely owing to its graphic, seven-minute-long sex scene. Still, critics were quick to praise the film as a masterpiece, which, despite its NC-17 rating, looked well poised to become the indie darling of this year's awards season. But soon a much less sexy controversy began to emerge. Beginning with claims of poor working conditions by the crew and allegations of anti-feminism against director Abdellatif Kechiche, the merde really hit the fan after stars Léa Seydoux and Adèle Exarchopoulos criticized the director's exploitative shooting practices in an interview with the Daily Beast. Kechiche shot back angrily, precipitating an ugly back-and-forth media brawl between Kechiche and Seydoux that shows no signs of simmering. Here's a timeline of how it's all gone down so far:
May 23
Blue Is the Warmest Color premieres at Cannes, receiving largely rave reviews (and a few audience walkouts). Yet early on there was criticism of the film's anti-feminist tone. In a review that day, Manohla Dargis of the New York Times argued that the film's sex scenes weren't so much art as voyeuristic exertions of the male gaze, writing that Kechiche "registers as oblivious to real women" and that "the movie feels far more about Mr. Kechiche's desires than anything else."
That same day, French film union Spiac-CGT released a statement to the French press leveling complaints against the director and his team regarding the conditions on set. They alleged that Kechiche and his team had violated the Labor Code with "workdays of 16 hours reported as 8," an "anarchic" schedule, and a "bullying" atmosphere.
May 26
The film wins the Palme d'Or. In an unusual move, the festival jury — blown away by the two main performances — decides to split the award between the director and the lead actresses. The three are all hugs and smiles, and for a brief moment it seems that all is well.
May 27
While Dargis's critiques were mostly unshared by fellow critics who saw the film at Cannes, Julie Maroh, author of the comic-book novel that the movie was based on, took to her blog to level complaints at its sex scenes, arguing that it was "a brutal and surgical display, exuberant and cold, of so-called lesbian sex, which turned into porn." She also took issue with the fact that none of the actresses in the film were lesbians in real life. As she wrote on an English translation on her blog: "This was what was missing on the set: lesbians."
August 20
In an unsurprising move, Sundance Selects announces that the movie will be released in the U.S. with an NC-17 rating. Meanwhile, in France, where they are a little more lackadaisical when it comes to onscreen scissoring, the film is rated "12."
September 1
War begins. In an interview with the Daily Beast during Telluride, the two lead actresses speak out about the demanding and "horrible" shooting conditions that Kechiche subjected them to, particularly when it came to the sex scene, which Seydoux said took ten days to film. "Once we were on the shoot, I realized that he really wanted us to give him everything," said Exarchopoulos. "Most people don't even dare to ask the things that he did, and they're more respectful — you get reassured during sex scenes, and they're choreographed, which desexualizes the act." Both actresses agreed they never wanted to work with the director again. "Thank god we won the Palme d'Or, because it was so horrible," added Seydoux.
September 5
At an L.A. press event for the film, Kechiche railed back at his stars, reportedly leaving Seydoux in tears. "How indecent to talk about pain when doing one of the best jobs in the world!" Kechiche told reporters, in an angry diatribe translated from French by the Hollywood Reporter. "The orderlies suffer, the unemployed suffer, construction workers could talk about suffering. How, when you are adored, when you go up on red carpet, when we receive awards, how we can speak of suffering?" A weepy Seydoux allegedly responded, "I have given a year of my life to this film. I had no life during this shoot. I gave everything. I have not criticised the director. I'm just complaining about the technique. It was my dream to work with him because, in France, he is one of the best directors."
September 24
Despite the overwhelmingly positive reviews, Kechiche then decided he hated the film so much it should never even have been released. "It has been soiled too much," he told French magazine Telerama. "The Palme d'Or had been a brief moment of happiness; then I've felt humiliated, dishonored, I felt rejected, I live it like I'm cursed." In the same interview, he revealed that during shooting he had considered replacing Seydoux with another actress.
October 4
With each subsequent interview, the allegations from Seydoux intensified. Speaking with British newspaper the Independent, Seydoux claimed that the sex scenes were humiliating and left her "feeling like a prostitute." In response, Kechiche spat back, "If Seydoux lived such a bad experience, why did she come to Cannes, try on robes and jewelery all day? Is she an actress or an artist of the red carpet?"
October 11
In an interview with Indiewire, Kechiche — in an uncharacteristic display of clear-headedness — revoked his claims that the film shouldn't have been released. "It was a remark that was blurted out at that moment, but it's not what I really think," he said. "I was just afraid that was what was going on around the film would prevent people from seeing it for what it really was." In the same interview, he said that he thought that Seydoux had been influenced or manipulated into making her remarks.
October 20
The war of words continued in a piece about the two stars by our own Jada Yuan. According to Exarchopoulos, filming lasted much longer than planned because "Abdell loves to take his time. He doesn't like fabrication. He doesn't want to see you act — he wants to take your soul."
October 23
Yesterday, taking a page from the Sinead O'Connor media playbook, Kechiche published a scathing, long-winded open letter in French publication Rue89. After criticizing Le Monde and journalist Aureliano Tonet for her negative takes on the film, he went on to rip Seydoux a new one, calling her an "arrogant, spoiled child" and an opportunist who made "slanderous" remarks about him. THR translates the director's screed, which alleges that, "Miss Seydoux, who after having repeatedly thanked me publicly and privately and having wept in my arms at Cannes for allowing her to take on this noble role… has, against all odds and all personal coherence, radically changed her attitude toward me." Kechiche then seemingly went on to threaten legal action against Seydoux, writing, "I will come back. It is for her to explain in court."