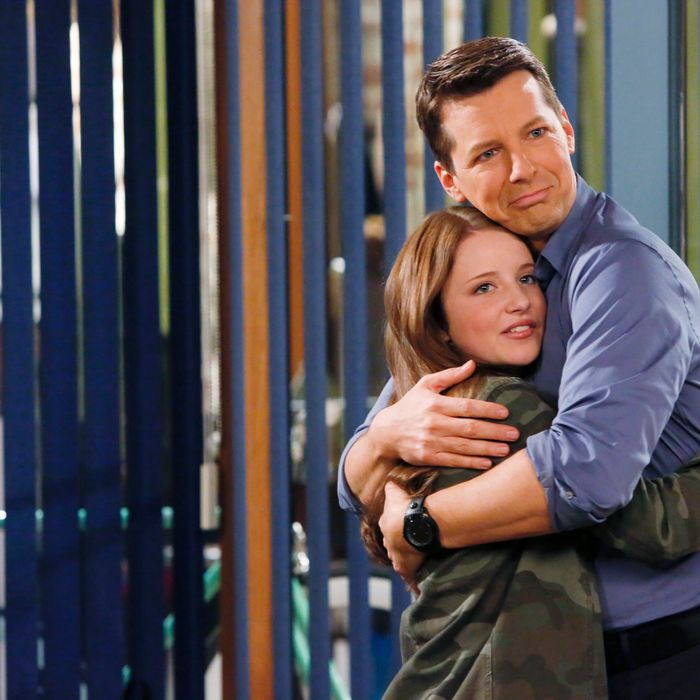 Photo: NBC/2013 NBCUniversal Media, LLC
If anybody asks me what Sean Saves the World is about, I'll tell them it's about Sean Hayes, Linda Lavin, Thomas Lennon, and other terrific performers being crisply funny in the way that only true professionals are. This sitcom's cast always knows exactly where each laugh is, but never makes too big a deal of going after them. This is not the same thing as saying that Sean is a well-written sitcom, much less that it has the sort of distinctive vibe that makes for a great sitcom. Much of it is merely serviceable. But hopefully that'll change in time. What matters right now is that you find the characters mildly interesting, and that you like the actors so much that you'd watch them do almost anything. On both scores, Sean wins. I laughed a lot during the first three episodes, even though the situations were obvious and a lot of the lines were pretty terrible, just because the actors were so much fun.
Sean Hayes plays, shocker, Sean, a gay single dad who has the same story as a lot of of gay single dads: When he was younger, he knew on some level that he was gay but denied it just long enough to get married and conceive a child, Ellie (Samantha Isler), now 14. When Ellie's mother leaves town to take a big job, Sean takes over parenting duties. If you're expecting a lot of Sturm und Drang from this setup, you can forget it, because while Sean is not the world's greatest father, he loves his daughter, and seems to have good instincts when it comes to the big stuff. His nagging yet intriguingly serene mom, Lorna (Lavin), helps out, and his co-workers, including Hunter (Echo Kellum) and Liz (Smash's Megan Hilty), support him in his polite cold war against his domineering boss, Max (Lennon).
Shows like this are all about verbal timing and physical control, and the principal cast has plenty of both. Hayes, who co-created the series with Victor Fresco, doesn't just mug his way through every script. He's given some thought to how his particular character would move and talk. I like how the character's "neutral," passing-for-straight body language and intonation give way to sing-song speech patterns and what look like barely aborted neck rolls and eye-pops when Sean is cutting loose with people he's comfortable with. Like a lot of the characters, the show's hero feels more lived-in than the sitcom usual. Lavin could've just played Lorna as a standard-issue nagging mother (probably Jewish; although there's no specific cultural references, the shorthand indicators are everywhere); instead, she gives her a relaxed wryness and even a sensuality. When this grandmother tells her son she's about to go on a second date with an older gentleman and plans to kick things up a notch, the laugh doesn't come from, "Eww, old people having sex," as it would in most sitcoms, but from Lavin's Cheshire cat smile. Lennon's boss character could end up being as delightfully bizarre as Jimmy James on NewsRadio. There's a moment in the second episode where Max tries to eavesdrop on his employees in the break room by pretending he's there to get an apple from a fruit bowl; the character's "sneaky" walk is by itself funnier than most of the other sitcom pilots I've seen this year.
So, concept, story, dialogue: just okay. Cast: outstanding. Sean Saves the World is on my "wait and see" list for sure.