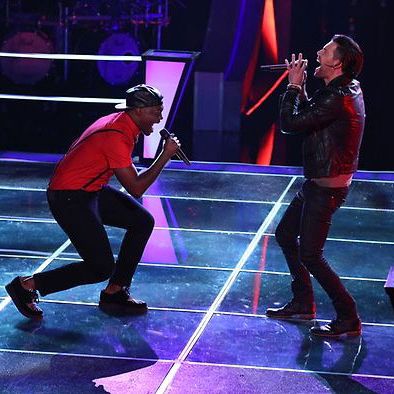 This was a relatively slim episode for those of us inclined to watch their This Is the Voice in several hour increments. I have to say, I enjoyed the brief and breezy pace, but it also made me realize how much I missed the hard-hitting interviews and the desperate tweeting of one Christina Milian. Carson is even more undead without her. He is reminding me of the Monk in Mathew Lewis's The Monk. That is how pale his skin is! I heard Chrissy was kicked off of Dancing With the Stars. Can she come back in a blaze of disgrace? I will pay five dollars at least to see that happen.
Jacob Poole vs. Matthew Schuler, "My Songs Know What You Did in the Dark"
To my eternal shame, this is a song I actually kind of like. It has everything I love in a Fall Out Boy song: superficially clever lyrics that don't actually make any sense and screaming. So I thought it was a great song choice on the part of X-tina and Orange-haired Noel Coward. I actually thought both of the guys sounded fantastic as well. The harmony was amazing! I did not think there was a clear winner at all. Yet, I also knew the minute they hyped up that montage person Jacob, he had to lose. It was his fate. Also, Matthew is terribly handsome, but why was he wearing a leather Dennis the Menace cap and a delicate watch chain in his collar?
Kat Robichaud vs. R. Anthony, "Don't Want to Miss a Thing"
This was super stacked in Janey Jimplin's favor, didn't you think? I mean, there was no way R. could out-sing her on an Aerosmith song. She actually sounds like a female Steven Tyler. This kind of bummed me out, because I actually thought R. had one of the prettiest voices in the Blinds, and I was confused as to why Cee Lo obviously wanted him gone. Too bad no one stole him.
In other news, many, many people were victorious in a montage. EG Daly killed that Frank Sinatra impersonator in "Something to Talk About" and wore some kind of strange contraption on her feet while she did it. They seemed to be cowboy boots, but with so much fringe! Someone named Cole Vosbury won singing "Africa" (sad we didn't see that, because I do like that song). And Ashley DuBose crushed that country guy on "Just a Fool." I sort of think she could win the whole thing, even though this montage treatment is telling me I am mistaken on that front.
Monika Leigh vs. Ray Boudreaux, "Some Kinda Wonderful"
Oh my God, Cher is back! And this time she got really mad at that girl Monika who sings the blues. At one point, Monika, who was having trouble with her runs, asked Cher for an "example" of what she was doing wrong and Cher said in a huff, "You sing it different every time!" You know what I like about Cher aside from everything? She doesn't ever sing on this show, not even a scrap of melody for instruction's sake. She is too good for that shit and she is wearing a very heavy red wig.
As for this battle? Honestly, I thought they were both terrible. I totally don't get it with Monika and I really don't get it with Ray. I mean, that guy who battled Dennis the Menace earlier is way better than Ray, am I wrong? They both even look the same to me, except I like the other guys' haircut slightly better. Tell me what I am missing about Ray in the comments section.
Anyway, Blake picked Ray for some reason unknown and left Monika out to dry. But never fear, America, because Cee Lo Green, man of the hour, saved Monika for no reason. So she is still in the competition, which, yay?
And that was our show, so brief, like cherry blossom season in Washington, D.C. And now, I think it's time for us to make some predictions. I like for us to start betting early on. Who do we think SHOULD win, and who do we think WILL win? These are obviously two different questions. Is Christina Milian fated to come back, or will she be too shamed by her loss on Dancing With the Stars to return? Also, why is Christina Milian friends with Paris Hilton? So many questions …