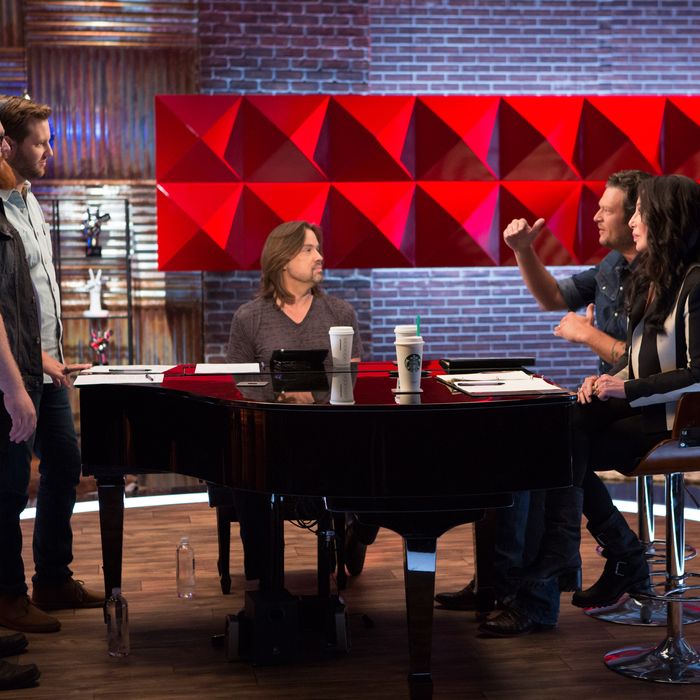 This was a pretty fun episode of television! Cher returned and gave lots of great advice. Ed Sheeran didn't do much, but at some point I realized that he might have an entire sleeve of tattoos. They were peeping out of his Oxford collar! Does this mean that tattoos are officially over?
Josh Logan vs. Michael Lynch, "Harder to Breathe"
I never realized when I was just a wee babe living in Providence, Rhode Island, and screaming Maroon 5 out a window, that I was singing the lyrics that a murderer might sing to his prey. Listening to this dumb battle last night, I finally realized "Harder to Breathe" is the most insane song I have ever known. To wit: "Does it kill / Does it burn / Is it painful to learn / That it's me that has all the control." Those are the lyrics and Adam Levine wrote them! Is he a murderer? Because in some ways, he is JUST handsome enough. Obviously, also, it was too dark for the large staring eyes of Michael Lynch. I mean, all he really wants to sing are warbly songs about county kilkenny or possibly "Bailamos" again! So the guy in the bowler hat won.
George Horga Jr. vs. Juhi, "Best I Ever Had"
Wow. Was Juhi penalized for wanting to get an education at the same time as doing music? I feel like she was. She was the clear winner, right? I mean George sang that weird note in the beginning. Yet at the same time, I admire Cee Lo for saving George Hoga Jr., who really is sort of adorable and has "no plan B." And maybe that should be rewarded? I am confused. At the very least, Juhi was saved by Adam. And the discography of Gavin DeGraw, which usually serves as a graveyard of dreams on this show, could now be regarded as a place of triumph.
Austin Jenckes vs. Brian Pounds, "To Love Somebody"
Cher was full of amazing advice for these two, even threatening to put on jeans at her house because they were both wearing jeans. Austin was the clear winner here, I felt. He really has a certain grittiness to his voice that I like.
James Irvine vs. Matt Cermanski, "Counting Stars"
This, to me, was a clear non-choice. James was the definitive winner. Here's a really good side note: Ryan of OneRepublic fame has an extremely high voice. Both of the guys seemed to have trouble at points with the key and they were at least a half step lower than the original key for this song.
Destinee Quinn vs. Lina Gaundenzi, "Not Ready to Make Nice"
It's very rare when watching The Voice that I am confronted with a truly idiosyncratic fashion sense. Everyone is usually wearing tiny hats or aquamarine mullet skirts combined with a leather jacket. That's just how This Is the Voice is. So it was a surprise to me when Destinee's true sense of aesthetics was on display. The woman wore a flower crown to her audition. I had forgotten about that but it was genuine eccentricity in the corporate environment. As for their performances, I was not too intrigued by either one. They are both serviceable belters but neither, to me, seems to have the stuff to go the distance (i.e., live the rest of life in obscurity). I might have picked Lina by a hair, but Christina picked Destinee and Lina was stolen by Adam.
James Wolpert vs. Will Champlin, "Radioactive"
Have you ever heard of a book called The Same Man? It is a book about how George Orwell and Evelyn Waugh were the same man. I'm not joking! It's a real book. And this battle really reminded me of it. Really James Wolpert and Will Champlin are the same man! They are different coastal versions of the same hipster. James wears old man sweaters, has strangely elaborate glasses, and once worked at the Apple store. That is an East Coast hipster. But Will Champlin is the son of a famous man and also has strangely elaborate glasses. That is a West Coast hipster. And there is only room for one hipster on this show!
Honestly, I was rooting for Will. I thought he gave a far superior performance to James, who warbled like an old-timey radio and ironically punched the air before performing. Both have terrible rhythm but such is to be expected from hipsters. Yet like many, the judges seemed to be seduced by the facile appearance of modesty on the part of the East Coast hipster. Everyone kept remarking of James's old man clothing and Cee Lo said he would give the win to James "for his own intrigue and amusement." Adam eventually picked James, who in his backstage interview said he was excited to "blow some minds again." He might be the George Orwell in all of this. Luckily Christina saved Will so it was okay.
And there it is! The end of the line! So Christina Milian is not coming back? Whatever, I don't care.