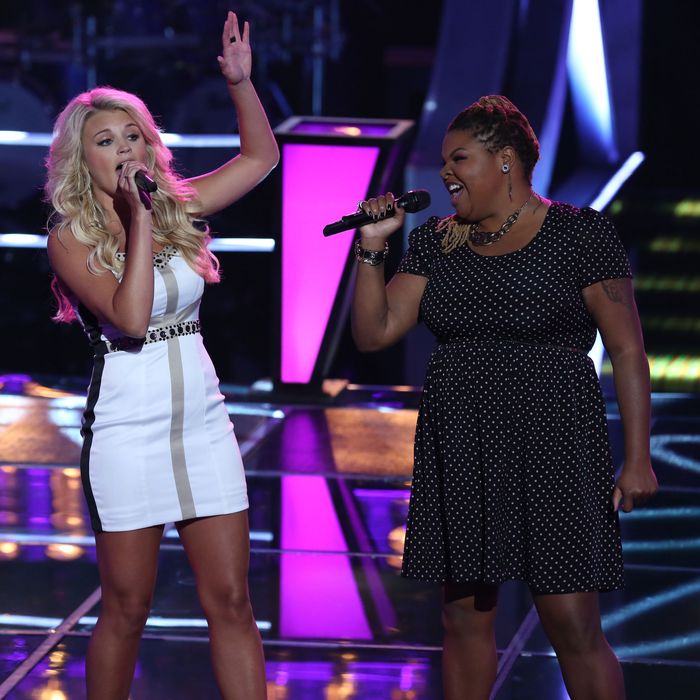 Photo: NBC/2013 NBCUniversal Media, LLC
Wow, guys. They really saved the worst for last on this show. Amirite? There wasn't a single battle that stood out to me at all. They were all sort of meh. Plus, they put two Cher advisory segments and a "Torn" performance into a montage? It's like, do you hear the people sing? They are singing to hear the full version of "Torn."
Shawn Smith vs. Johnny Gray, "Refugee"
This is one of my favorite Tom Petty songs, because I have bad taste in classic rock. I'm sure if a real music critic heard me say that, they would tell me that was the worst song Tom Petty ever wrote. Apparently Cee Lo gave the song to Shawn and Johnny (two ex-military guys) because it is about "liberty, freedom, and justice." However, if you look at the lyrics of the song, Cee Lo's claim makes absolutely no sense at all. I think the song is about a girl (presumably) being really screwed up and living like a refugee.
Anyway, Johnny and Shawn were both super likable. Shawn is really nice (he was excited to perform with a "fellow military guy"), and I sort of have a crush on Johnny even though he wears purple pants rather too much for one's liking. Anyway, Johnny clearly won. He has such an interesting voice. I really hope he goes far.
Barry Black vs. Preston Pohl, "I Wish It Would Rain"
Adam said he gave this song to Barry and Preston because they "both love soul music" but that's not really true, either, because only one of them loves soul music and that is Preston. Barry enjoys cutesy folksy music and actually makes the sound of a horn with his mouth. In fact, Barry wanted to do the horn during this Temptations song even though it made no sense to do and there was no horn in the song. Adam said he trusted Barry to decide whether he wanted to do the horn or not, which I felt like was code for "please don't do the horn"?
During the actual performance, Preston killed it because he actually loves soul music and has a soul music voice and Barry did the horn. Actually, the horn was kind of good in context? It was probably my favorite part of Barry's performance. He is really good at it. But he obviously lost and Preston won because that was probably the design of the battle anyway.
Next, we had some montages. Tragic montages, really, because that super-blonde girl who sang "The Scientist" sang "Torn" and we couldn't even see it! Cher also seemed to give amazing advice to her about her eyes and we didn't even see that! Who edits this show?
Olivia Henken vs. Stephanie Anne Johnson, "Done"
Didn't it seem to you that Ed Sheeran had a crush on or at least was very partisan toward Stephanie? Like, he told her he really loved her KT Tunstall audition and he didn't tell Olivia anything like that. Then I felt Stephanie was developing a slight British accent in response to Ed Sheeran (which I SO feel, Stephanie — British accents are contagious!). I kind of loved it.
I think this song must be rather hard to sing. It is in a difficult key for a woman (not quite high enough or low enough); it's fast and not particularly beautiful or subtle. Christina usually picks good songs for her team, but this didn't really do Olivia or Stephanie Anne many favors. Technically, they both did a decent job with it. I like Stephanie's voice better in isolation, but Olivia's was more accurate.  This appears to have been the consensus view of the judges as well. Adam liked Stephanie better and Blake liked Olivia better (obviously, because she is his physical and emotional kryptonite and as Adam said, "looks like his wife"). Christina picked Olivia, which made sense, but Cee Lo stole Stephanie Anne, which I was excited about. I want her love affair with Ed to continue!
Anyway, that is the show! I'm pretty excited for the knockout rounds. They are so brutal (although now they are mitigated by extra steals?). What was your favorite battle this time around?