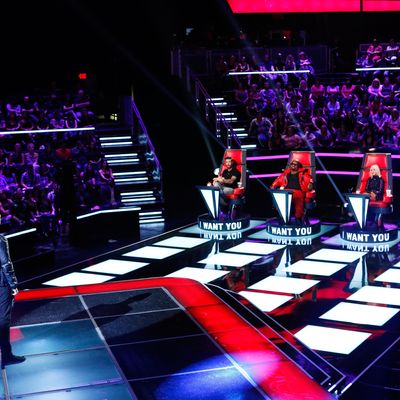 I knew this was going to be a fantastic episode of television, friends, when it started off with a close-up of Carson Daly's pallid yet strangely bilious face plugging a "hot new episode of Chicago Fire." Later, he mysteriously said, "So many Voice fans are also Chicago Fire fans." I must ask: Is that true? Am I in the same depressing Venn diagram as Chicago Fire? I shudder to think!
Will Champlin, "Not Over You"
I knew Will's father was important or something when Will walked up to the Voice office park wearing suspenders, white spectacles, and an assortment of tattoos. Guess what? His father was important! He was in the band Chicago. (A great band.) Did you notice a certain tension when Will's father was talking about the changing music business in front of Will? I did. I thought Will had really excellent pitch. All the men turned around for him, but he went with Adam because of their obvious spiritual affinities.
Macey Estes, "The Way"
I kind of felt bad for Macey, honestly, because I think this song is unreal hard. Like, it barely has a tune. You have to have laser-sharp accuracy to do it. It reminded me of how good Taylor Beckham was last season. I wonder what she is doing now.
Stephanie Anne Johnson, "Black Horse in the Cherry Tree"
For some reason, I found Stephanie Anne Johnson really likable. Perhaps it was because she wore large glasses as a child. Or possibly it was the fact that she works on Alaskan cruise ships for eight months of the year. I don't know why, but she seemed really fun to me. Anyway, she sang "Black Horse in the Cherry Tree" and it was such a weird song for her, too low and really fast, but she did a good enough job. She ended up going with Christina.
Sam Cerniglia, "It's a Beautiful Day"
Sam is a wedding singer in Chicago. He has one of those Michael Buble sort of voices, without quite the expansive confidence of a Michael Buble. I realized this kid was insane, however, when Cee Lo told him, "you sounded like the perfect gentleman" but he went with Blake anyway. I mean, what?
Jennifer Newberry, "Locked Out of Heaven"
I felt so bad for this Swedish girl and her Robyn haircut. Her voice was kind of sweet sounding, but she had such indifferent pitch that no one turned around for her. It was okay though because she still has a truly incredible haircut that I want for myself
James Irwin, "Losing My Religion"
I remember James Irwin from last year. I actually thought he was really good at the time, but no one turned around for him. This time, he got a four-chair turn. Victory! Adam sort of negged him about his pitch in the latter half of "Losing My Religion" and he went with Adam as his coach, because everyone is powerless in the face of all that "mean dad" crap.
Olivia Henken, "Two Black Cadillacs"
When I saw Olivia for the first time, I actually thought "This is Blake Shelton's kryptonite." I mean, think about it: The girl is a pretty southern blonde who sings country music and has a Reese Witherspoon thing going on. Blake would normally be counted on to turn around for her in one second. And yet he did not! In fact, only Cee Lo "I Don't Want a Country Artist" Green and Christina turned around. Blake stayed suspiciously quiet the whole time, like he had been chastened by a mysterious event in his past …
Jason Kersten, "Lips of an Angel"
When Jason was 7, he was grounded for three weeks (why was he grounded for three weeks at 7? Aren't you only in like first grade? What did he do??) and taught himself to play guitar. He sang a song I originally thought was called "UPS of an Angel" in a very manly way considering his youthful age. No one turned around for him, which was too bad. I wanted to find out why he was grounded and it would have come out eventually.
R. Anthony, "Hall of Fame"
R had a really cute outfit on and also the nicest wife ever. She was so encouraging of him and his talent. She was like Alison Brie on Mad Men.  "STICK WITH YOUR WIFE FOR LIFE!" I might have yelled at the television. Xtina and Cee Lo turned around for him (I feel like they have similar taste a lot of the time). He went with Cee Lo.
Justin Chain, "She's Country"
Justin was involved in, as Carson Daly put it, a "no joke" motorcycle accident and was bedridden for a long time. He did a fine job on "She's Country." Only Blake turned around for him, because at this point, no one even tries to compete with Blake for country artists.
Ashley Dubose, "Diamonds"
Ashley Dubose is a single mother and her baby actually sang the little promo song for This Is the Voice on key right before Ashley went onstage, which was the best. Ashley got a four-chair turn for a really excellent rendition of "Diamonds." She ended up going with Adam. Side note: All the judges were saying Rihanna songs were hard. Are they? They don't sound that hard!
And that's our show! Are you a fan of Chicago Fire?