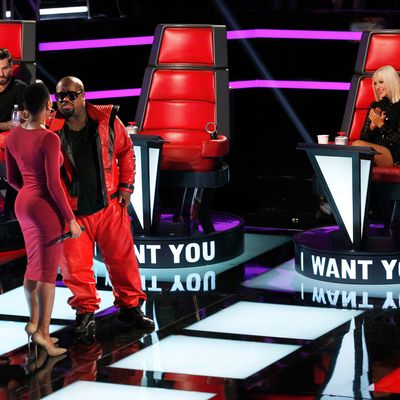 Rejoice greatly, O daughters of Zion! It's the end of the blind auditions! The glorious conclusion of being forced to watch the same outfit for weeks on end like a punishment in A Clockwork Orange! I am so happy. I did not like that weird bejeweled turtleneck on Christina. It was like some sort of Eleanor of Aquitaine body armor.
Matt Cermanski, "Have a Little Faith in Me"
I always like it when someone returns after being critically drubbed on a previous season. Matt sang "Teenage Dream" last year and no one turned around for him. Adam called his previous performance "weird," which it was I guess it was? I don't know if it was "weird" necessarily. Adam, Cee Lo, and Blake turned around for this kid and he picked Adam.
Diego Roman Navaira, "Rebel Yell"
Diego's dad is a super-famous Tejano singer, but Diego styled himself a bit more Sum 41 than all that. I actually thought he sounded kind of interesting on "Rebel Yell," but no one turned around for him. Adam said they had to be "stupid picky" because they all only have one more person left to fill on their teams. But do they? Like can't this all be recut since it is all taking place in one day and its not happening in real time? I don't know.
Tamara Chauniece, "[+]"
Tamara started out singing in church. In his pre-audition interview, Carson Daly asked her when she started taking her career more "serious" (his words, not mine or anyone's), and she said it was when she recorded an album when she was 11. Youth is for the young, I say! Christina and Cee Lo turned around for her. She went with Cee Lo because he did an excellent job flirting with her, I think.
Brandon Chase, "Wanted"
Brandon graduated college at 17 and at some point, Sooth-Sayer Carson Daly asked what everyone watching this show was thinking, i.e., "Are you sure you want to be a musician? You are very overqualified for this position." But, for some reason, Brandon does want to be a musician and so we had to watch him sing this dreary song. Cee Lo and Blake turned around for him and he went with Blake because, I don't know, I guess a plaid shirt is a cultural signifier now.
Lupe Carroll, "If I Were a Carpenter"
This guy is a flower deliverer. I feel like that would be a superficially fun job that eventually could become very annoying after a while. He had a boring voice. Cee Lo turned around for him, which was nice.
Grey, "Catch My Breath"
"Grey" works at Anthropologie and you could totally tell because she was wearing a funky necklace and a maxi skirt. She had a nice low voice. All the guys turned around for her and she picked Adam. (And then Icona Pop's "I Love It" started playing, which was weird. Does that mean it was a bad choice?)
Dominic Scott Kay, "Easy"
Isn't Dominic the best name? It's what I want to name my dog if I ever get one. This Dominic is a child actor, but now he wants to get into music, because what actor doesn't? No one turned around for him, which was sad, even though he didn't seem too bummed about it. Or is that because he is a good actor?
Michael Lynch, "Bailamos"
Michael started studying Spanish in high school and decided he was a Latin artist. Is that even allowed? I ask as a serious question that we must all debate in the comments section. But never mind the debate! Michael did this Irish tenor thing on "Bailamos," and I personally was really into it. He was like the W.B. Yeats of salsa! His pitch was dead-on as well. Christina, Cee Lo, and Blake all turned around for him. He picked Christina.
Deanna Johnson, "Stars"
This is a woman who defies demographic trends. I could not believe it. She could stop the government shutdown. Deanna is a southern girl who goes to rodeos, yet actually wants to sing indie pop on The Voice's stage. No one turned around for her because the world isn't ready!!
Brian Pounds, "Wagon Wheel"
One day my brother and I were walking down a street and he told me that "Wagon Wheel" was a song people play when bars close. I didn't originally know this because I had never been at a bar when it closed. Brian, however, seems cool enough to know this, probably. Cee Lo and Blake turned around for him, but since plaid shirts are like the cowboy boots of 2013, he chose Blake.
Shawn Smith, "Chicken Fried"
Shawn did a decent enough job on "Chicken Fried." He really did have charisma to spare. Cee Lo completed his team with him, which I felt was right.
The end! The teams have been assembled. Will Twitter maven Christina Milian come back now that she is affianced? Will the battle rounds be an improvement? I think they will be. Stay tuned for Cher!