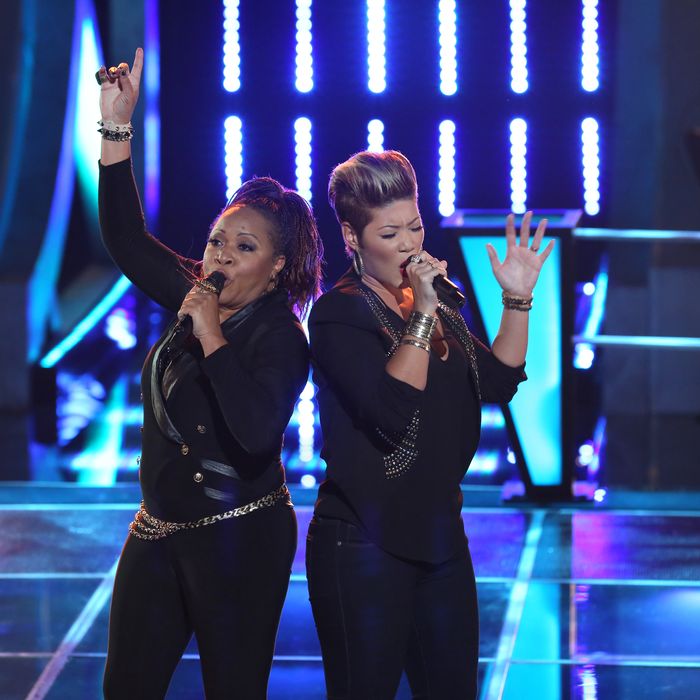 Here is a question I have wanted to pose for a while now: Do you believe in life after love? I now do, because I saw Cher as a mentor on The Voice last night. My Lord, she was transcendent! She laughed while discussing Blake's career. She wore a beautiful red wig like Lindsay Lohan. She didn't even know who Adam Levine was! She made this show the dream I always knew it could be.
Nic Hawk vs. Grey, "Domino"
Last night, I was shopping downtown when I met a former contestant on This Is the Voice. He told me a LOT of incredible information, the best of which was that all those shots of contestants waiting to go on the stage (you know those scenes where people look obviously nervous and standing on one foot, before running through doubles doors to the stage like John Mayer, etc.) are actually filmed at a separate sound stage not remotely close to where the judges or auditions actually are. People are just acting their nerves! I could not stop thinking this when I saw "Grey" pacing around the backstage area with her eyes closed. "This is not an Anthropologie!" I wanted to yell. Anyway, I thought she sounded fine on "Domino," but the winner of the battle in my opinion was Nic Hawk. His pitch was razor sharp. I was glad Blake stole him. Good call, Blake!
Amber Nicole vs. Timyra Joi, "Listen"
Although Cher was obviously the best guest judge, Ed Sheeran really gave her a run for her money. He was such a little moppet. He was like this elf version of Hugh Grant, saying all these fun, self-deprecating things he probably did not even mean. For example, when Timyra was struggling with nerves, Ed Sheeran said, "We'll be nervous together." It was like Four Weddings and a Funeral!
So this battle was kind of sad to me. Both of these girls were really fantastic and they were both so young. Amber did have the edge, I think, on this song. She has a much clearer, more flexible tone and sounded far more like Beyoncé herself than Timyra, but Timyra has such a unique sound. And she is a baby! I was surprised she wasn't stolen by anyone.
Justin Chain vs. Shelbie Z,  "Don't You Want to Stay"
Blake Shelton said, "I have forever trumped any coach" when he brought on Cher to be a mentor on The Voice. How right he was! She was incredible last night. She actually gave good advice to the singers. At one point, she told Blake, "You're a good boy and I want to congratulate you on your career." And then she started laughing. What a night of television! I really would like it to win an Edward R. Murrow award.
As for the battle itself, I mean, I don't know. It was a country battle. They sang some soppy song about staying. It was fine. I actually thought Justin had a slightly better vocal, but he was never going to win because Shelbie has a showier, bigger voice.
Anthony Paul vs. Caroline Pennell, "As Long As You Love Me"
The interesting thing about "As Long As You Love Me" is that it is the saddest song I have ever heard in my life? I can't believe Justin Bieber sang it as a 1-year-old. Did he even know? Show choir Anthony did a surprisingly subtle job on the song, but I also appreciated Caroline's 1965 Greenwich Village version. Cee Lo picked Caroline but Anthony was saved by Christina, so all was right with the world.
Donna Allen vs. Tessanne Chin, "Next to Me"
God, this was a hard one. Like, I really wanted Donna to win, but The Voice is probably the most ageist show on television, so I knew she would not.
Both Donna and Tessanne just indiscriminately screamed their way through "Next to Me." I guess Tessanne had better dynamics, so she eventually won, but I wished Donna had been stolen by someone.
Briana Cuoco vs. Jacqui Lee, "The House of the Rising Sun"
I gathered from the comments section last time that many of you felt Briana Cuoco was not quite deserving of her place on This Is the Voice. Well, guess what? She is here to stay! I hate "The House of the Rising Son." (Hugh definitely hates it, too. I liked when he was talking about how every fool with a guitar plays it), but both girls really did a good job on it. Christina gave the win to Jacqui, but Briana was stolen by Blake AND Cee Lo. (This was a little much I think. Especially if we are to imagine that Donna Allen is not worth the steal at all.) She went with Blake and then Cee Lo said this incredible thing about having more "tricks up his short sleeves."
So what was your favorite Cher moment?  Did you like when she told everyone she couldn't really sing harmony?  Were you impressed when she called both of the country singers Chickadees?  Please weigh in below!