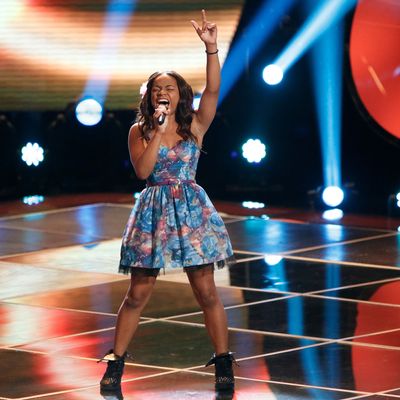 Photo: NBC/2013 NBCUniversal Media, LLC
Sometimes, when I am watching this show, I plug my ears when the judges speak to each other. I am humiliated by proxy! Xtina, sensationalist, seems bored, like a Woman Under the Influence. Blake keeps bragging about his wins even though he definitely doesn't care about them in real life. Cee Lo is amazing, but everyone ignores him. And Adam has launched this strange new complimentary personality in order to antagonize Blake, I think? Is he the Henry Cabot Lodge of This Is the Voice?
Ray Boudreaux, "Use Me"
I loved that Ray's shirt was buttoned up all the way to the collar. His hard-luck backstory was that he had an adorable daughter and sometimes he made disgusting-looking sandwiches with her. They showed it in a montage. His daughter was kind of a genius, actually. She ate those sandwiches without complaint and was so good at talking. As for Ray's singing potential, I mean, who knows? I happen to like this song a lot, although I didn't love this rendition. Bill Withers sounds sort of bemused in the actual song. Ray sounded intensely serious. Blake and Cee Lo turned around for him and he went with Blake because he's from Louisiana and there is no other way.
Lina Gaudenzi, "Landslide"
I really did not know how to feel about Lisa's hard-luck backstory. Like, what was it? Apparently, her mom was a model and then she became a model but then she went through puberty and she stopped being a model and moved to Paris. Isn't that the plot of the best story ever? Side note: Does this woman have a French accent? I thought she was from Miami! Blake and Christina turned around for her and she picked Christina.
Juhi, "Mercy"
Juhi is apparently really smart and has a 4.0 GPA. A hard-luck story! She actually sounded quite a lot like Duffy. Both Cee Lo and Christina turned around for her. She went with Cee Lo, which I think is a good choice. Cee Lo gave her the ultimate compliment, which was that she was the type of person he "would have been friends with at school" because she was "wacky."
Malford Milligan, "Let's Stay Together"
Malford had a really moving story to tell. He worked in the cotton fields until he was 12. He was horribly bullied in school because he was albino. Later, he got into music and ended up touring with BB King. He did a good job with "Let's Stay Together," but no one turned around for him and it totally sucked.
Justin Blake, "Sure Be Cool If You Did"
Did you not think that this was a legitimately great Blake Shelton song? It might be my favorite ever. I am listening to it now! I liked this kid and I liked his voice. Surprisingly (or unsurprisingly, now that I know him), Blake didn't like that he sang one of his songs and did not turn around. But Adam did! And so much self-congratulation ensued that I felt like a Victoria's Secret model was there.
Timrya Joi, "Girl on Fire'
Timrya seemed like she had a really supportive team on her side. Her family actually lived with her vocal coach for a while. Her vocal coach even came to her This Is the Voice audition (This vocal coach was amazing, by the way. What a diva.) Timrya's timing might have been a little shaky, but her pitch was incredible. She actually sounded like Alicia Keys at some junctures.
Monika Leigh, "The Thrill Is Gone"
This girl has the most incredible hair. It looked like a waterfall. What does she do to condition it? Please let us speculate about it in le section de comments. Everyone turned around for her except Christina. She chose Blake even though she said she "wasn't very country," which is the start of a very good romantic comedy.
Zach Hinson, "Drunk on You"
Zach is a firefighter. He was handsome and wore a white cowboy hat. I loved his parents. No one turned around for him.
Briana Cuoco, "You and I"
When you are watching The Voice as part of the way you make a living (like me), you have to find little things that sustain you in your task. And I must say, Dear Readers, the promise of Kaley Cuoco's sister appearing on this variety show of dreams was very exciting. I mean, Recently Engaged Kaley Cuoco of The Big Bang Theory has a sister?? And she is going to sing Lady Gaga on This Is the Voice? How energizing!
Briana Cuoco's "hard-luck backstory" was interesting from a Kaley Cuoco PR standpoint. In it, Briana was established as Kaley's personal assistant and Kaley orders her to walk her dog. Then Kaley Cuoco was like, "I love my sister. She never puts herself first. I am the biggest fan of The Voice here, actually." It must be hard to have your sister for a personal assistant, I think. Xtina and Cee Lo turned for Briana Cuoco, and she picked Xtina.
George Horga Jr., "Treasure"
George has a nice high-tenor voice. His parents were immigrants from Romania and did not seem to respond well to Carson Daly, even though he looks like a vampire.
Preston Pohl, "Electric Feel"
I thought this guy was really excellent. He really did make that song sound quite unique. Everyone but Christina turned around for him, and he went with Adam.
So that's it! Could you be your sister's personal assistant?  Do you support the League of Nations? Weigh in below!