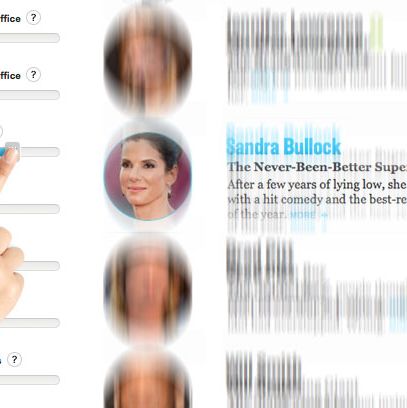 Do you agree with how our Most Valuable Stars list shook out, or do you think that some of your favorite actors deserve better placement? With a little bit of customization, you can make your own ranking: Just manipulate the levers for each stat we've measured (you'll find them in the left margin on the main post) and you can maximize or minimize the movie-star traits you deem most important. Do you think that actors with the highest Critics' Score should be ranked highest? Push that lever up! Want to find out whom audiences find most appealing? Push up the Likeability meter! And the more you mix and match these statistics, the more likely you are to make some revealing discoveries. For example …
Which stars have an image problem?
Crank up the Likeability meter to the exclusion of all other statistics, and you're left with a forlorn bottom five, with Zac Efron, Tom Cruise, Robert Pattinson, Sean Penn, and Kristen Stewart all delivering super-low E-Poll scores. Men tend to give lower likeability scores to male movie stars who star in romances, which dings Efron and Pattinson, but Stewart can't even count on her own gender to boost her score. Meanwhile, the Tom Cruise–Katie Holmes divorce put Cruise back into the doghouse, and Penn is a lightning rod for any conservatives who might be rating him.
Women are still under-represented in Hollywood, but it's getting better.
Last year, only 30 of the 100 Most Valuable Stars were women, and this year, that stat crept up slightly to 32. But far more encouraging is where those women placed: On last year's list, Angelina Jolie and Meryl Streep were the highest-ranked actresses at No. 8 and No. 9, but this time, Jennifer Lawrence and Sandra Bullock stormed the top five at No. 3 and No. 4.
Which celebrities dominate Twitter?
Channing Tatum's big summer movie was sort of a bust, but his fans on Twitter didn't care: He was the third most tweeted about celeb on this list, after Justin Timberlake (whose music career, to be fair, is most responsible for his mentions) and Zac Efron (who can light up Twitter for a week with a single shirtless shot). And though you might expect Jennifer Lawrence to be the most tweeted about actress, since she has dominated the press for a full year, she's actually ranked No. 11, behind Kristen Stewart, Mila Kunis, and Emma Watson, young women who've all been at this fame thing a lot longer than relative newcomer J. Law.
Which stars get the biggest blessing from studio executives?
If you want an immediate green light for your project, you'd better get Brad Pitt to say yes, since he's the star who scored the highest numbers from our panel of studio executives. Meanwhile, if you need more proof that the worldwide movie market is more important than ever, just crank up the studio score and peruse the stars pooling at the bottom of the list: You'll see names like Jason Segel, Paul Rudd, Owen Wilson, and Kevin James, all of whom make comedies with little international appeal.
Which critically acclaimed actors have yet to score an Oscar nomination?
Pump up the Critics' Score and compare it to an Oscar-leaning list to see which well-reviewed performers still have yet to score a nomination. The most bereft? Michael Fassbender, who is the eighth most acclaimed actor on the critics' list and will likely get his first nod this year for 12 Years a Slave. Ranked just below Fassbender, Harry Potter alums Daniel Radcliffe and Emma Watson have a highly praised franchise and respected post-Potter ventures to their names, but they still haven't come close to Oscar gold.