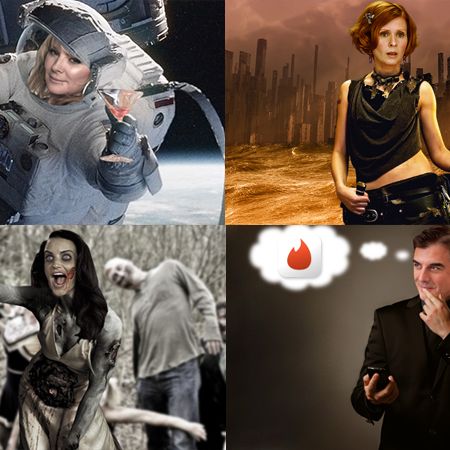 Photo: HBO (Samantha, Miranda, Charlotte, Big),Shutterstock(apocalypse, zombies, man with phone), iStockphoto (female zombie)
Imagine a Sex and the City sequel. Not Sex and the City 2: The One Where They Ride Camels — one for the modern day. Would Carrie Bradshaw use Tinder? Is Charlotte BFFs with Banksy? Can Samantha do Miley Cyrus's PR? Did Big ever upgrade to iOS7? Daniel D'Addario does just this every day, over at @SATC3quel, where the puns are everything and the spirit of Carrie Bradshaw lives on. We asked him to expand, and here's the SATC3quel you've been waiting for.
THE FIRST SCENE
INT. ENORMOUS MANHATTAN APARTMENT - NIGHT
CARRIE BRADSHAW, a writer, is hard at work at her laptop. She sits at her antique desk and types away, nodding solemnly at certain turns of phrase. We hear her thoughts as she types.

CARRIE (V.O.)
It's been four years — and in four years, incredible things can happen. Things that take you out of this world …
CUT TO: SAMANTHA JONES floating in deep space.
… Things that make you hungry for more …
CUT TO: CHARLOTTE YORK rampaging through the ruins of the Upper East Side as part of a horde of zombies, catching up to and eating the brain of Anthony, her onetime wedding planner
… Things you'd never have expected …
CUT TO: MIRANDA HOBBES surviving on a raft floating through New York, past the submerged torch of the Statue of Liberty.
… Things that are so enormous, you just call them Big.
BIG enters.

BIG
Well, I installed iOS 7.
CARRIE (V.O.)
Just like Big's iMessages, our relationship had too much white space. When you're not satisfied with the layout of your relationship, can you revert to a past system? Or was it time for me to switch devices?
LUNCH WITH THE GIRLS
INT - THE COFFEE SHOP - BRUNCH

CARRIE (V.O.)
I decided to use my AppleCare — three sex-savvy Big Apple ladies who'd always care about helping me install more memories.
MIRANDA
Well, I've got splinters all up my arms from paddling my raft all day. I can't believe the ice caps melted — and Steve left! Now I'm stuck in these wars between the clans. Boy, I wish Magda hadn't gone back to her home planet.
CARRIE (V.O.)
Miranda had left Steve — she'd heard Steve-ia could kill you. But while the other three of us had sought higher ground, Miranda was just treading water — though her love life was chilly, the globe was warming. Brooklyn was submerged — and so were her prospects. And, at brunch with the girls, while I played referee, Miranda was a refugee.
CARRIE
Ladies, I think the ice caps are coming back — between me and Big.
MIRANDA
Oh, okay.
CARRIE
I miss the laughter; I miss sex; I miss his brain.
CHARLOTTE rattles the chains keeping her tethered to the table.
SAMANTHA
Don't get her riled up!
CARRIE (V.O.)
And from zombies to mommies, Miranda was having a tough time harvesting enough kelp to keep Steve's mom from joining a fellow gang of boat people.
SAMANTHA'S JOURNEY
CARRIE (V.O.)
Samantha had finally put space between herself and Smith — she'd gone from doing the nasty … to flying with NASA. But once she splashed down, the gravity of the situation overwhelmed her. She decided to go for a run.
SAMANTHA
        (standing at lectern in neon-toned pantsuit)
We are the ones we've been waiting for! If you know what I mean.
Audience makes befuddled muttering noises.
CARRIE
        (grabs microphone)
It's a sex thing!
Everyone applauds.

CARRIE (V.O.
And just like that, Samantha won the Iowa caucus. But from Des Moines to the mines, Miranda's new boss at the beryllium mine, providing much-needed energy after the oil reserves ran out, was heating things up.
A FIGHT WITH BIG
CARRIE (V.O.)
Samantha was headed to the Oval Office, but Big and I were caught in a triangle.
CARRIE
What's that on your phone?
BIG
Work stuff! Don't worry about it!
CARRIE (V.O.)
And then it hit me. Big had met a ginger on Tinder — and try as I might to be okay with Cupid, he and I were no longer in e-harmony.
TRYING NEW THINGS
CARRIE (V.O.)
I decided to spend some time with my best girlfriend, Miranda, aboard her small sea vessel. The rising waters might have been the only thing that could lift my spirits — and the ocean's acidity was the only thing to cure just how basic I felt.
MIRANDA
We have to recycle our urine to stay alive.
CARRIE
No we don't — look what I brought!
    (holds up bottle of premade Cosmopolitans)
MIRANDA
Carrie! You're a genius! We can use this to barter with the rival clans.
CARRIE
Is this a Waterworld or a what-a-world?
MIRANDA
What's that? I didn't hear — I think I caught the zombification plague from Charlotte.
CARRIE
Jeez, with everyone in this city undead, it's no wonder it's so hard to get a date. Miranda? Why aren't you laughing.
MIRANDA lunges at Carrie.
A NEW JOB
                                CARRIE (V.O.)
After I swam to high ground, I decided to try my hand at social media. I didn't need 140 characters to tell a story; I'd only ever needed two. Me and Big.
CARRIE types her first tweet: "Hello world, it's me, @shoegal123. #teamfollowback"
CARRIE (V.O.)
After three hours, I had no new followers. And feeling fallow, I found myself wishing for one very big push notification: a baby.
BIG AND CARRIE REUNITE
CARRIE
    (speaking into cell phone on sidewalk)
I was wrong, Big. I know your account is private right now, but …
Zombies close in on her.

BIG
    (driving past in hover-limo)
Carrie. Get in.
CARRIE (V.O.)
And just like that, our relationship went from undead to very much alive. I'd always believed all it took to make Big want me was a pop of lipstick — but it turned out that it was the apocalyptic. And as we refreshed to a brand-new timeline, I couldn't wait to push my character limit. They say that, in the past ten years, a girl in New York can have jobs, cash, or hope — and I'd chosen the last one.
An Ariana Grande cover of "You Got the Love" plays.