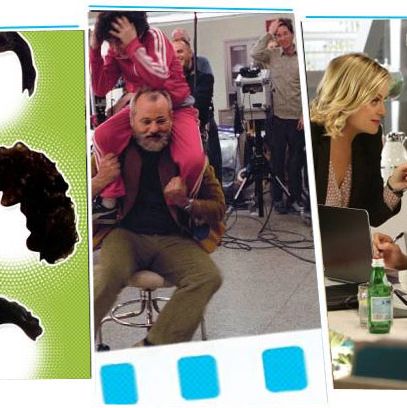 Every week, Vulture faces the big, important questions in entertainment and comes to some creative conclusions. This week, we told you how to make a movie, enumerated all of the things Jonathan Franzen hates, and hung out on set with the cast and crew of Parks and Recreation. You may have read some of these stories below, but you certainly didn't read them all. We forgive you.
Q: How do you make a movie?
A: We're glad you asked! We set about answering that very question with our sprawling series creatively titled "How to Make a Movie," in which we had experts tell us stuff like how to create an awesome film score, how to edit an improvisational film, and how to make a superhero costume look modern yet classic. We also got insights on the industry from Juno screenwriter Diablo Cody, Enough Said director Nicole Holofcener, and former New Line studio head Mike De Luca.
Q: Is it true Jonathan Franzen hates the Internet?
A: Well, he definitely hates the "commercial Internet." Also: Twitter, "smart-ass adolescents … undermining substance with irony," and listicles. We're guessing he hates us, too?
Q: Who won the Nobel Prize in Literature? 
A: Canadian writer and master of the short story Alice Munro. Our book critic Kathryn Schulz had this to say about Munro's writing: "Like their seeming ordinariness, the seemingly narrow scope of Munro's stories is a fake-out. The smallness in them unfailingly magnifies: a crack widens to a breach, a slight lodges in the ego forever, a single incident alters the course of a lifetime."
Q: Did Kanye lose his shit on Jimmy Kimmel's show?
A: Not really. It merely registered a four on the Crazy Kanye Meter, featuring the usual Kanye rants and/or digressions. We did get this exchange, though:
Jimmy: "Where were you when you were writing those tweets? I like to imagine on the toilet."
Kanye: "Yeah, that's when I come up with my best shit."
Q: How's the new season of American Horror Story?
A: Even though he's only watched the first episode of the new season, Matt Zoller Seitz writes, "I can report that the WTF needle starts spinning instantly and doesn't stop." This is true from the get-go. "The first ten minutes — which are set in the future home of the Academy, in 1834 — rank with the most disgusting, disturbing sequences ever aired on American television." Also, in a conversation with Vulture, Ryan Murphy promises some dismemberment, a witches' tribunal, and an old high-school rivalry.
Q: Contemporary art seems built on a foundation of bullshit. Wouldn't you agree?
A: Our art critic Jerry Saltz would certainly agree: "A phalanx of work has appeared that might be called "Modest Abstraction" or "MFA See, MFA Do." It's everywhere, and it all looks the same." It's even appearing as album art (see: Jeff Koons for Lady Gaga). That said, there is some good work out that involves libidinal panthers.
Q: What's it like hanging out on set with the Parks and Recreation crew?
A: Like bathing in awesome sauce.
Q: Is Tom Hanks any good in his latest movie, Captain Phillips?
A: According to David Edelstein, he's great: "The performance is internal, but we're guided by the flickers of his eyes. When Phillips is paralyzed with fear as his life seems about to end, Hanks makes us hate his captors. When Phillips tells them there's no way they can win and gazes on them with pity, he makes us see the larger horror of their situation." Also, take this Tom Hanks Hair Quiz to see how well you can match Hanks's many coiffures to his many movies.
Q: How did The Royal Tenenbaums come together?
A: Our TV critic Matt Zoller Seitz has a new coffee-table book called The Wes Anderson Collection and he spoke with Anderson about the making of The Royal Tenenbaums. It was difficult getting Gene Hackman to agree to play the role of the family's patriarch! As a bonus, there are behind-the-scenes photographs shot by Owen and Luke Wilson's mother, Laura Wilson.
Q: Isn't it too early to talk about the Oscars?
A: Never.