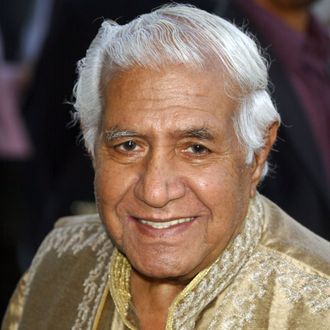 Photo: ?2004 Vincent Zuffante_Star File/?2004 Vincent Zuffante_Star File
Beloved actor Kumar Pallana has passed away at the age of 94. Born in India in 1918, Pallana was, according to a wonderful interview with The Believer, entertaining from a young age, learning how to juggle and do gymnastics tricks. He eventually dropped out of school, traveled the world, and finally moved to the United States, performing under the name "Kumar of India." He'd go on to perform in Las Vegas and on TV shows like The Ed Sullivan Show and the The Mickey Mouse Show. From there, he attempted to make it as an actor, taking roles playing Native American in Westerns.
When that didn't pan out, he settled with his family in Dallas, where he opened a yoga studio and worked at his son's café, the Cosmic Cup. It was at that coffee shop that he met frequent customers Wes Anderson and Owen Wilson. Upon meeting him, the writing partners were inspired to write him into their movies. He'd go on to appear in four of Anderson's movies — Bottle Rocket, Rushmore, The Royal Tenebaums, The Darjeeling Limited — making a lasting impression in small roles. Undeniably charming and weirdly funny, Pallana helped to define that specifically Wes Anderson tone. Watch a few of clips of him in and out of movies below. The man was a joy.