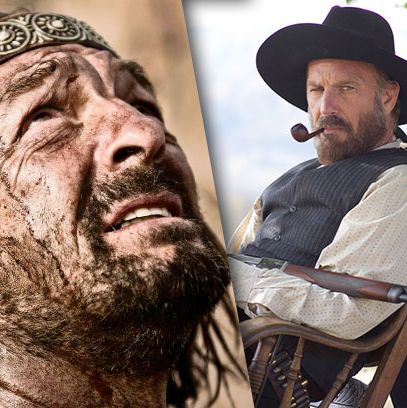 So, it looks like we're not getting a Hillary Clinton miniseries after all. That's a shame. But fear not, miniseries fans, because there are so, so many miniseries in the works right now. So many. Here's but a sampling of what's to come.
I would like to watch something about history.
You're in luck: Discovery Channel has green-lit a Braveheart-era miniseries about the Scottish fight for independence in the thirteenth century.
No, older!
The megapopular Bible miniseries is getting a sequel (another testament, if you will), covering the parts that occur after Jesus' crucifixion.
OLDER!
Lifetime is working on a Cleopatra four-parter.
Ack! Too old! Something about America.
There's the remake of North and South that covers pre–Civil War through the Reconstruction. Set a little earlier than that is The Hour of Peril, the true story of how two detectives foiled a plan to assassinate Lincoln before his inauguration. (That one doesn't have a network attached yet.)
Hmmm … a little older than that — but still slavery-centric.
BET and Canada's CBC are teaming up for an adaptation of the novel The Book of Negroes (sold in America as Someone Knows My Name), the Revolutionary War–era story of a woman who is kidnapped from West Africa as a child, enslaved in South Carolina, and eventually escapes to Nova Scotia.
Okay. Same era, not slavery.
Magicians? There's Jonathan Strange & Mr. Norrell, set in early 1800s England.
Give me more magician options.
Adrien Brody is set to star in History Channel's Houdini miniseries biopic. Is that magical enough?
Not historical enough! More history.
Napoleon? Steven Spielberg is working on a Napoleon miniseries, with a script by the late Stanley Kubrick.
Now that you mention it, I'd love more Steven Spielberg things.
You're in luck! He's working on another World War II miniseries with Tom Hanks. Of course.
But will that be rugged enough? I like a good rugged miniseries, with beards and filth and maybe grunting.
Then you seek Klondike, the Discovery miniseries about the Gold Rush, starring Sam Shepard, Tim Roth, Richard Madden, and Abbie Cornish.
Eesh, too rugged. Maybe something that's still a period piece but not so outdoorsy.
Mob City, on TNT, is Frank Darabont's new spin on L.A. noir set in the fifties.
Oooh, crimes. More crimes!
Bonnie and Clyde comes out in December. That's crime-y.
No, I want different crimes!
ABC is working on a Cold War miniseries about a CIA mole. That's also crime-y.
No, different-er crimes!
Murder? HBO's working on Criminal Justice, with Robert De Niro as a defense attorney representing a cab driver accused of murder.
Oh, Robert De Niro. Sounds prestigious! I love prestige.
Then get ready for Olive Kitteridge, starring Frances McDormand, Richard Jenkins, Jesse Plemons, and Zoe Kazan, and directed by Lisa Cholodenko. Suuuuper prestigious.
I demand yet more prestige!
Maggie Gyllenhaal stars in The Honourable Woman, coming to Sundance. She plays the daughter of an arms dealer who finds herself trying to broker peace between Israelis and Palestinians.
I take it back. Too much prestige. What about something with a twist?
Behold M. Night Shyamalan's Wayward Pines, a Twin Peaks–esque (we'll see) miniseries set in Idaho. Terrence Howard plays the local sheriff.
Anything with a different kind of twist?
Syfy's dystopian Wizard of Oz seems pretty weird.
Any more twists?
J.J. Abrams is trying to turn an unproduced Rod Serling teleplay into a miniseries. Plot details are nonexistent, but between Serling and Abrams, it's basically Twist City.
I give up! Just … something normal.
There's a Johnny Carson biopic miniseries in the early stages of development at NBC.